Published on August 22, 2022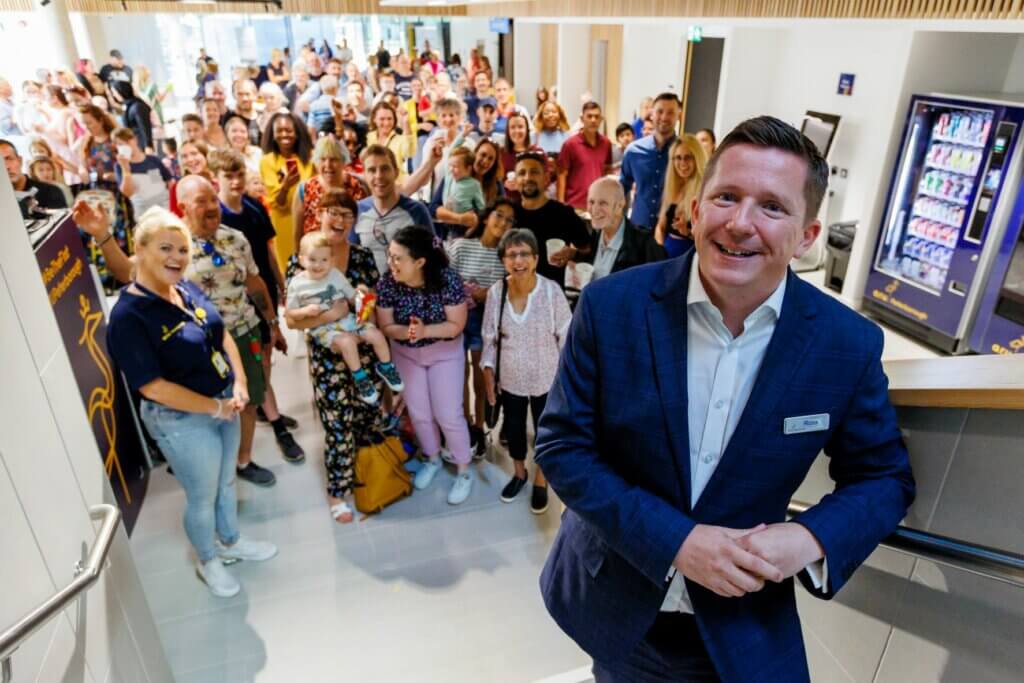 Community Day celebrates completion of first teaching building at Peterborough's new university
A fun-filled Community Day with hands-on family activities and tours marked the completion of construction work to allow Peterborough's new university to open to students in September.
Around 2,000 people were welcomed to ARU Peterborough, on the Embankment site off Bishop's Road, to find out more about what the new university will bring to the city. Guided tours were given of the new teaching building, including the state-of-the-art facilities, and communal areas like the café and terrace.
Organised by ARU, the Community Day also showcased some of the courses and skills on offer. That included testing out virtual reality (VR) technology used in the university's mobile gaming and computer science courses and using computer code and artificial intelligence (AI) to help robots navigate a maze.
People tried nursing and midwifery skills in the dedicated teaching labs, and biomedical scientists demonstrated the latest in disease diagnosis and treatment.
Young visitors were entertained by the Cambridge Science Centre, where different tricks and experiments were carried out with colour, light, temperature and weight. More fun was had with balloon modelling, a giant bubble show and the chance to taste a cloud. Live music and food and drink rounded out the entertainment.
ARU Peterborough is a partnership between the Cambridgeshire & Peterborough Combined Authority, Peterborough City Council and Anglia Ruskin University (ARU).
Funding for the building was provided though £12.3 million from the Combined Authority and £12.5 million of Local Growth Fund funding via the Cambridgeshire and Peterborough Combined Authority Business Board. Peterborough City Council provided £1.6 million in land investment. It was built by construction firm Bowmer + Kirkland.
The building has a modern, distinctive design which will set the tone for a strong visual identity for ARU Peterborough as it develops, and is built to high sustainability standards. The university campus is being developed with an open feel, allowing public access and encouraging them to find out about what's going on. The new Wirrina Café, for example, is open to the public.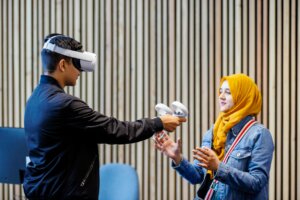 The second phase, the Innovation and Research Centre is set to complete in January 2023, and open in the Spring. The third phase is a second teaching building and the Living Lab – a science centre which will host public exhibitions and events as part of a new university cultural quarter. It is planned to open in Autumn 2024.
The longer-term ambition is to add more phases to the campus over the decade and beyond.
Professor Ross Renton, Principal of ARU Peterborough, said: "After years of hard work behind the scenes, it was a wonderful moment to welcome over 2,000 members of the local community into University House to experience Peterborough's new university for themselves.
"From day one we've said that ARU Peterborough will address skills shortages and boost social mobility in one of the most extreme cold spots for higher education progression in the country. We know there's no shortage of talent here in Peterborough, and our city's new university will unlock this potential both in Peterborough and the wider region. We are delighted that almost half of all applications so far are from people living in PE postcodes."
Cllr Lucy Nethsingha, Deputy Mayor of Cambridgeshire and Peterborough, said: "A university has been a 40-year ambition for Peterborough, so it was fitting that the community was invited to celebrate the completion of the first campus building.
"It has been delivered on time, despite the challenges of Covid-19 and global shortages of building materials.
"Initial investment from the Combined Authority has unlocked tens of millions more which has led to two more buildings, including the exciting Living Lab, being fully funded.
"ARU Peterborough will have a transformative effect on the city, addressing low participation in higher education, boosting the economy and business, supporting well paid jobs and improving people's access to opportunity. I'm delighted we're now just weeks away from the start of the first academic year and the beginning of an exciting new chapter for Peterborough and the region.
Councillor Wayne Fitzgerald, leader of Peterborough City Council, said: "This is an important milestone in the history of our city. There are many residents in Peterborough for whom university has previously not been an option. The opening of ARU Peterborough will make university more affordable and accessible to our residents, allowing them to command greater wages in their working lives and increasing the economic prosperity of the city as a whole."
Al Kingsley, of the Business Board, said: "ARU Peterborough will be a crucial part of driving up skills, productivity, entrepreneurship and investment into the local economy.
"This fantastic first phase is just the start of a long-term ambition for the university to play a crucial role in making Peterborough an even more attractive place to live, learn, work and do business."
"ARU Peterborough's Community Open Day has been such a huge success. This marks the completion of the first teaching building for ARU Peterborough and I look forward to new students starting there in just a few weeks time.
MP for Peterborough, Paul Bristow, said: "I'm so proud of Peterborough and this new university will help unleash our city's potential. Whether in agri-tech, health and social care, law, business, management, science, computer science, building and construction, ARU Peterborough has worked with local business to help prepare our young people for some amazing career opportunities right here in Peterborough.
"With the opening of the Innovation and Research Centre coming up within the next year, I know that ARU will go from strength to strength and provide our young people with the training and skills to prepare them for the jobs of the future right here in Peterborough."
The curriculum has been co-created with local employers, to help give students the skills which are in demand and will lead to opportunities for great careers.
Courses include degrees, degree apprenticeships, outreach courses and short courses. Clearing is now open and there are places on a range of courses available to start next month. To find out more about studying at ARU Peterborough, visit: https://aru.ac.uk/peterborough