Published on November 2, 2021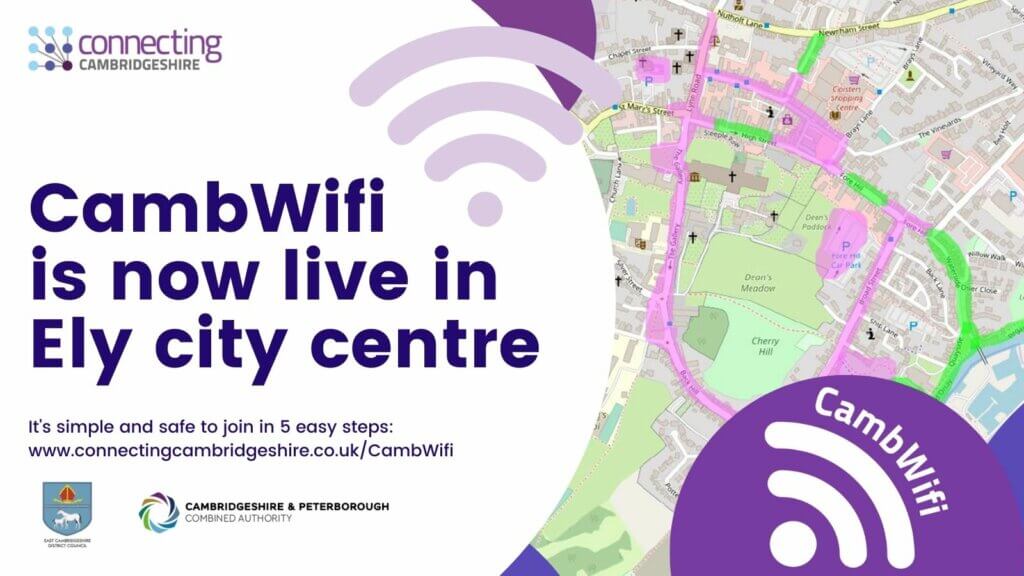 Extending Free Public Access Wi-Fi in Ely
Ely's free public access Wi-Fi service is being upgraded and expanded to become part of the Cambridgeshire and Peterborough wide CambWifi service – extending seamless Wi-Fi connectivity in East Cambridgeshire and hundreds of other locations around the county.
Funding from the Cambridgeshire & Peterborough Combined Authority is supporting the wider rollout of secure, public access Wi-Fi to more open spaces in Cambridgeshire and Peterborough in collaboration with the county and district councils so that more people can get online and benefit from digital connectivity. The CambWifi rollout is being extended to Soham and other areas in East Cambridgeshire very soon.
Dr Nik Johnson, Mayor of Cambridgeshire & Peterborough, said: "Digital connectivity and free public access Wi-Fi have a significant part to play in supporting high street businesses and encouraging our local economic recovery. By expanding the existing service in the city we're making free and secure CambWifi available to as many people as possible, including those who may not have access to the internet at home.
"Public access Wi-Fi contributes to supporting the well-being of residents and visitors to any area where it is freely available. As well as keeping people in touch and backing local businesses, the extended free Wi-Fi coverage will support ongoing Covid safety measures such as contactless payments, finding local information, including bus and train times, and accessing the latest health advice and support."
Thanks to East Cambridgeshire District Council, free Wi-Fi is already available in open spaces in Ely for use by residents, businesses and visitors. Existing users of Ely Free Wi-Fi will simply need to create a login for CambWifi the first time they use the service and will then benefit from being automatically connected every time they're in a CambWifi location across Cambridgeshire
Visitors to the library and other public buildings in Ely will already be familiar with CambWifi as it is currently provided there and at over 200 sites across the county – including other libraries and public buildings, leisure centres, community centres, village halls and open spaces.
Having a seamless free public access Wi-Fi connection in the city helps people stay digitally connected wherever it is available, and it means people can easily and conveniently access the internet wherever they need to. This helps businesses too – including the local market traders who can utilise contactless payments and stick to the current social distancing guidelines.
Cllr Anna Bailey, Leader of East Cambridgeshire District Council, said: "Access to the internet and being able to use free Wi-Fi has more significance now than ever. We whole-heartedly support digital inclusion in East Cambridgeshire and don't want anyone to be at a disadvantage, especially when out and about.
"We welcome the expansion of CambWifi as it means our residents will benefit not only from the greater reach of the secure CambWifi service in our city and open spaces, but they can now enjoy the same connection without having to log in separately wherever they travel around the county. Visitors to Ely who have logged on to CambWifi elsewhere will also now automatically connect to the same free Wi-Fi in East Cambridgeshire."
Outdoor coverage is currently available in Ely around the Market Square, Market Street, the High Street and Fore Hill. This will now extend to wider areas including the area around the station, Back Hill, Broad Street, Riverside, Jubilee Gardens, Waterside and various other parts of the city centre.
How to access CambWifi 
It's safe and simple to join:
Find CambWiFi_Public in your Wi-Fi settings and connect
Enter your name and email address, accept the terms and 'Register'
A new web page will open. Click the 'Login' button. The page will refresh and send you to the Connecting Cambridgeshire website's CambWifi page (please note: if you are logging in through a mobile phone or tablet and click 'Done' to close the screen, you are not fully logged in – still go to step 4).
Check your email within 10 minutes and verify your email by clicking 'click here' in the email (you may need to check your junk mail).
A new login page will open up – click 'Connect' and you are now connected!
Users will now be connected automatically when in a CambWifi location.