Published on August 6, 2021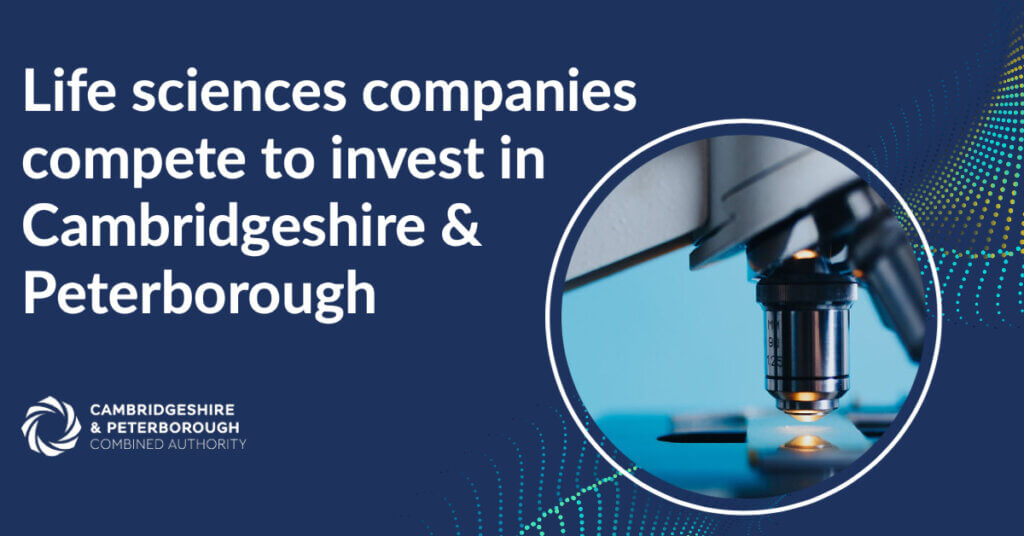 Global life sciences companies compete to invest in Cambridgeshire and Peterborough economy
Life sciences companies from across the globe have been pitching for support to help them invest in the Cambridgeshire and Peterborough economy.
Mayor Dr Nik Johnson joined a specially arranged panel to hear the pitches from companies from countries around the world including USA, Spain, Japan, Brazil, South Africa, Israel and India amongst others.
A Market Access Programme was launched earlier this month by the Combined Authority's new dedicated inward investment service, Locate Cambridge, to help identify growing, dynamic and innovative companies which plan to set up in the UK in the next 12-18 months and that would complement the innovative life sciences ecosystem of the region. Locate Cambridge, the internationally focussed division of Growth Works, the Combined Authority's Business Growth Service, will support and hand-hold these companies to help them establish a presence in the region efficiently and quickly and so that the region can continue to be a leader for life sciences and innovation for the UK.
Locate Cambridge, as well as the wider Growth Works programme, is focussed on driving business growth, innovation and creating new jobs in the local economy.
Ten finalists were selected out of more than 30 viable applicants and were given the opportunity to pitch their business and innovation to a panel of experts. The panel included key sector based organisations including those that could support in the commercialisation of intellectual property, Cambridge based accelerators Illumina and Start Codon, and a MedTech serial entrepreneur, investor and mentor to comment on the pitching and provide insight and guidance on the companies' market entry.
The pitches saw companies demonstrating their growth ambitions and innovations and they described how investing in the region could accelerate their business and complement the economy.
The inward investment team has arranged meetings with the finalists as well as with the panellists for a deep dive into their plans and requirements to put together a bespoke support programme for each of these businesses. The companies which were not selected for the final tended to be earlier stage companies, and follow up meetings are being had with them to understand their market readiness and to establish whether or not they might be able to increase growth through some of the region's accelerator programmes.
While some of the companies were planning on establishing a subsidiary in the region, others were planning to move their headquarters and intellectual property into the area. When these companies get established, there will be benefit to the entire economy, not just through direct investment from overseas, but also through increased supply chain benefits and non-direct job creation.
The Greater Cambridge economy is a globally renowned powerhouse in life sciences, attracting investment and talent from all over the world. Among the strategic economic priorities of The Combined Authority and Business Board are supporting this sector continue to grow – a key area of focus highlighted in the Cambridgeshire & Peterborough Local Industrial Strategy.
Mayor Dr Nik Johnson said:
"We know about the global attraction of our economy, but nothing brings that home like seeing and hearing directly from entrepreneurs in life sciences across the world vying to invest in our region.
"As an NHS children's doctor, I've always taken a keen interest in our region's life sciences sector and seeing what these companies could bring is very exciting. Some of the innovations and breakthroughs coming out of our economy, not least the recent work on the Covid vaccine by AstraZeneca, have underlined just what a vital, precious sector this is for the UK generally. And of course, it is a major driver for jobs and prosperity for local people.
"The Combined Authority and Business Board is working hard, and through our inward investment service, we aim to ensure life sciences in Cambridgeshire and Peterborough continue to grow, compete and excel on the world stage."
Tony Kypreos, who acted as moderator for the panel and is a life sciences entrepreneur, investor and mentor, said:
"This was one of the best and professionally put together events I have been engaged with and I do a lot of them!
"The entries were all serious scale-ups, with validation, traction, funding and IP that push forward healthcare innovation on many fronts.  They were all serious in terms of setting up operations or even global headquarters and would be a great complement to the region."
The whole Growth Works service aims to create at least 5,200 jobs, an extra 1,400 new apprenticeships, 1,700 learning opportunities for people, and generate significant inward investment in Cambridgeshire and Peterborough over the next three years. It had a soft launch in February 2021 and launched publicly in May. The inward investment service has already seen commitments made to invest in the region as a result of other strands of its work.