Published on May 18, 2023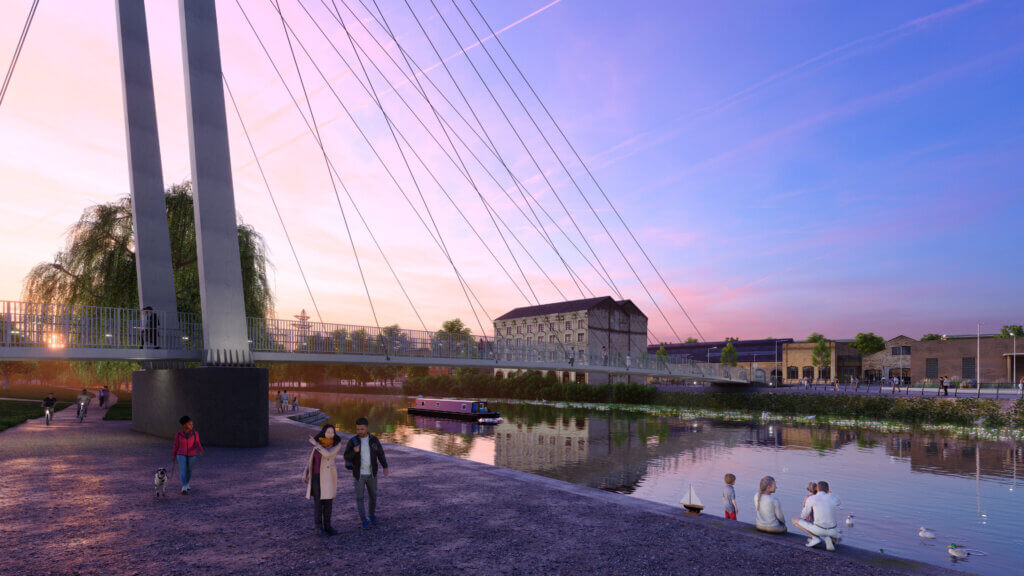 Green Nene: Have your say on walking and wheeling bridge
Peterborough residents and visitors are being invited by Peterborough City Council to share their views on the proposed walking and wheeling bridge across the river at Fletton Quays.
The active travel crossing over the Nene will be for non-motor vehicles. It will offer a safer and greener alternative to the busy main road for pedestrians, cyclists, and people scooting or wheeling themselves from Fletton Quays to the Embankment.
As part of its ongoing investment in Peterborough, the Combined Authority has contributed £3.4m, the lion's share of funding, alongside £2m from the government's Towns Fund, with remaining costs to be met from Peterborough City Council's redevelopment budget.
Mayor of Cambridgeshire and Peterborough, Dr Nik Johnson:
"I hope many citizens will share their views and stamp their mark on this bridge into Peterborough's future, one that will help reduce motor traffic, boosting public health and air quality for everyone.
"Transport is about people, not cars, and we're all working together to create a network that answers everyone's varying travel needs."
In time, the bridge for wheelers and walkers may become a riverside landmark in its own right as well as a useful link from Fletton Quays to the campus of ARU Peterborough, the new University which was itself chiefly funded and built by the Combined Authority.
The current timeline estimates construction of the bridge will start in mid-2024 and finish in mid-2025.
Peterborough City Council's Have-Your-Say runs until 5 July.
In person events are also taking place on:  
 Saturday, 20 May from 11am to 2pm at Nene Park Festival 
Wednesday, 24 May from 9am to noon outside the Town Hall on Bridge Street

 

Thursday, 25 May from 5pm to 8pm outside the Town Hall on Bridge Street
As well as commenting on the plans and whether there should be an art installation, bins, and benches on the bridge, people are invited by Peterborough City Council to vote for their preferred name for the crossing:
King Charles Bridge
Embankment Bridge
Charles Swift Bridge
Walter's Bridge
Cygnet Bridge