Published on May 17, 2023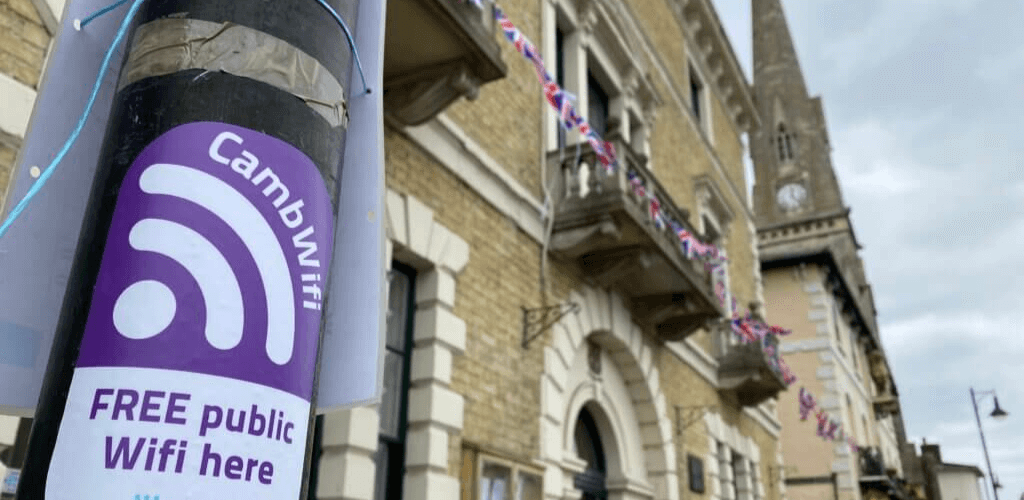 Wifi in a Jiffy: New stickers in market towns show free Wifi zones
Thanks to funding from the Combined Authority, free public access CambWifi continues to expand across Cambridgeshire's market towns, ramping up digital inclusion and helping everyone to get connected.
In a campaign to remind locals and inform visitors that they can get online for free while on the go, eye-catching new stickers show Wifi areas in Ely, Huntingdon, Ramsey, St Ives, St Neots, as well as in the city of Peterborough.
Following the launch of  CambWifi into Peterborough last year and to complement a slew of ongoing digital technology developments across Cambridgeshire, free-to-use public Wifi is being rolled out to more locations with Oxmoor, March and Whittlesey next on the list to be connected.
The secure public access Wifi network is being installed through the Connecting Cambridgeshire programme with funding from the Combined Authority – transforming market towns by improving connectivity to strengthen local economies.
In addition to market towns, the free Wifi network is now widely available in hundreds of public buildings, libraries and leisure centres across the county, and Cambridge Park & Ride sites, so that ever more people can get online for free.
Dr Nik Johnson, Mayor of Cambridgeshire & Peterborough:
"The Combined Authority is passionate about strengthening connectivity within our communities. As well as helping people to stay connected while visiting our city and market town centres, having free CambWifi will enable local councils and business groups to improve services and offerings to attract more visitors.
"We're committed to supporting residents and the provision of free-to-use, safe and secure Wifi in public areas is just one of the ways we're doing this. A big thank-you to Connecting Cambridgeshire who continue to raise awareness and have been putting up these stickers to let people know where they can save data and get online for free."
To support local market towns and businesses Connecting Cambridgeshire is delivering a range of digital projects, also funded by the Combined Authority, which aim to strengthen the local economy and improve connectivity within the county.
These include air quality and flood monitoring sensors and the rollout of a new LoRa network, to benefit residents and help businesses and the market towns involved to grow in a sustainable and resilient way.
The Connecting Cambridgeshire programme is also delivering Cambridgeshire & Peterborough Combined Authority's Digital Connectivity Infrastructure Strategy 2021-2025.
How to access CambWifi 
 Quick and simple to join:
Find 'CambWifi_Public' in your device's Wifi settings and connect.
Read and accept the Terms.
Click the 'Log In' button.
Wifi in a jiffy! You'll now be connected to the free Wifi service automatically whenever you're in a CambWifi zone.