Published on July 15, 2022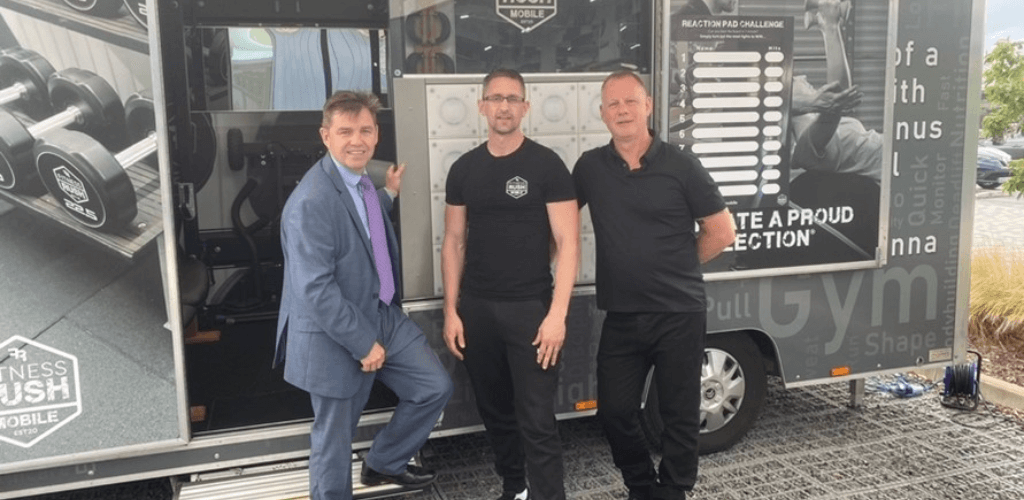 How Fitness Rush proves that 'winner's never quit, quitters never win'
The owner of a fitness enterprise has told how support from the Cambridgeshire & Peterborough Combined Authority's Growth Hub has helped his business go from strength to strength.
Fitness Rush, based in Old Hurst, near Huntingdon, was created by owner and founder, Liam Rushmer more than 10 years ago from his parents' garage where he learned the art of bodybuilding through nutrition and exercise.  Fitness Rush was born following the expansion of his first business, Just In Gyms, offering a friendly but focused training atmosphere.  Liam is proud to see the transformations that occur in users of the gym he worked so hard to build. 
The mission for Fitness Rush is to encourage all individuals to begin, enjoy and benefit from fitness.  Liam believes that exercise should be used as a tool to increase physical attributes as well as our mental state. The focus is on providing exclusive personal training facilities to maximise clients' results, whilst making them feel relaxed and comfortable in their environment.  
As with many leisure facilities, Fitness Rush was severely impacted by the pandemic.  Liam said: "I personally struggled with my gym being closed throughout the lockdown periods and adjoining factors which continue to affect business growth today.  As a small business owner, it can be a lonely and overwhelming situation when faced with uncertain times". 
Liam found out about the Combined Authority's dedicated business and skills service Growth Works, and also the Start and Grow programme being run via the Combined Authority's Growth Hub through attending a local business exhibition.  He subsequently enrolled on the Start and Grow programme and has not looked back since.  He said: 
"I was amazed at the attention to detail and the continued support which helped me gain funding, not only helping my business continue to help local communities thrive but create long-term career opportunities within our organisation."  
By working with Business Advisor, Mark Longman, Liam has been able to develop a growth plan for his business and has also successfully applied for a grant via the programme.  Liam said: 
"Thanks to the grant, we are now providing support to local businesses through wellness seminars with our first  seminar taking place at the Bradfield Centre in June and attended by members of the Start and Grow team.  This reinforces that they are committed to helping businesses succeed in the long-term and will be there every step of the way to support how they know best." 
Liam's seminar, which was also attended by Mayor of Cambridgeshire & Peterborough Dr Nik Johnson kicked off with a talk about the importance of exercise and mental health in the workplace, and how the Fitness Reach mobile gym could help. There was discussion about the different ways they could support businesses in the region, and in the following Q&A session Mayor Dr Johnson said he was fully behind and supportive of the scheme.  After the seminar, there was an opportunity to walk around the mobile gym  and to view some of the new items Fitness Reach will be buying with their Start and Grow grant, which Liam says will enhance the overall user experience. 
Mayor Dr Nik Johnson said:  
"As an NHS doctor I'm passionate about supporting better public health, through the public, private or the third sector. I think the workplace is an ideal place to get more people switched on to both the physical and mental health benefits of exercise. I was really pleased to how this Start and Grow initiative is supporting Liam and Fitness First in reaching out to more employers across our region as well as supporting his business generally." 
"The Combined Authority was one of the most successful applicants in the country to the Government's Community Renewal Fund, through which Start and Grow programme is funded, and it is great to see it already making a difference to our region and its people and businesses." 
Liam believes in the mantra, 'Winner's never quit, quitters never win`. He says that he believes anything is possible with the right mind set, but it's impossible if you quit. So, the only thing to do is 'don't quit`. Liam says it might feel like the mountain is too high or the journey is too long but with a positive mental attitude, self-belief and lots of willpower, our furthest goals are with in touching distance. Liam ensures that Fitness Rush holds these values and encourages clients towards this positive way of thinking.  
During and after the worries and challenges of the pandemic, and with a little help from the Start and Grow programme, Liam has proved he is no quitter, and his business continues to go from strength to strength. He said: 
"I now truly understood the meaning of community spirit through the willingness to help a small business owner like myself". 
In January 2022, the Growth Hub launched Start and Grow – a new, intensive programme of structured business support and grants, funded by the UK Community Renewal Fund (CRF) and Local Authority partners – Peterborough City Council and Huntingdon & Fenland District Councils.   
The Start and Grow programme is designed to help to support entrepreneurs thinking of starting a new business, plus existing businesses who have been trading for less than three years with less than 3 employees.   The programme helps clients to develop their business skills through attending workshops, gain access to growth grants, and offers 1-2-1 coaching with business advisors to talk through specific challenges and to help to develop business plans. 
For more information about the Start and Grow programme, please visit https://cpcagrowthhub.co.uk/community-renewal-fund-crf/ . The programme is running until 30 September 2022.