Published on April 12, 2018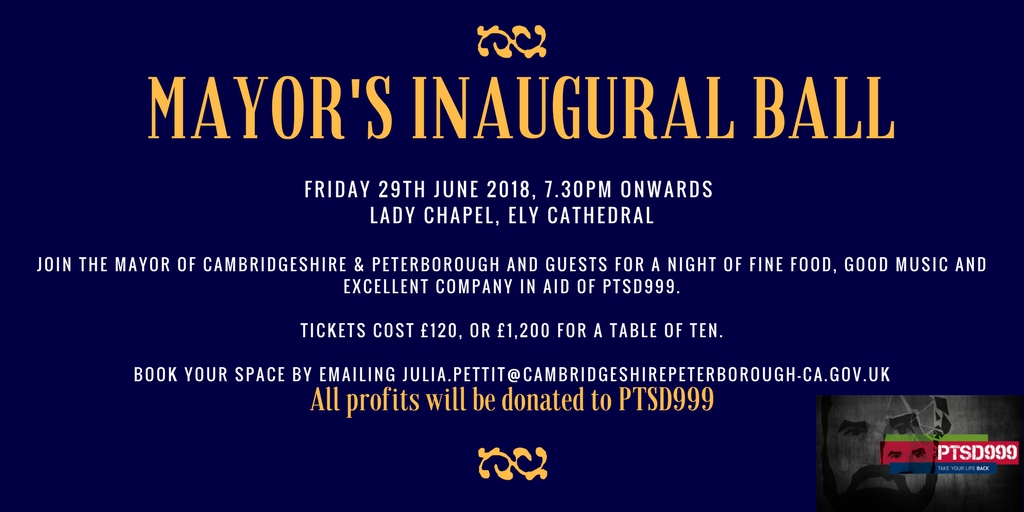 Inaugural Mayor's Charity Ball launched
The inaugural charity ball hosted by Cambridgeshire and Peterborough Mayor James Palmer will see proceeds go to PTSD999 which helps emergency services personnel who are suffering with post-traumatic stress disorder (PTSD).
Cambridgeshire-based PTSD999 was co-founded by former soldier Simon Durance and former police officer Gary Hayes, both of whom have suffered with post-traumatic stress disorder.
The black tie event will be held on Friday, June 29 in the spectacular surroundings of The Lady Chapel at Ely Cathedral and will aim to raise as much funding as possible for the cause. Highlights of the evening include drinks and canapés on arrival, a sit-down three-course fine dining menu, and music and dancing later in the evening. The entertainment will also include an auction to which businesses, organisations and individuals are invited to donate prizes to help raise more money on the night.
The Mayor is appealing for support from the Cambridgeshire and Peterborough community, both with ticket sales and from anyone who may be able to donate a prize to the auction.
Anyone interested in joining the mayor in aid of a good cause is encouraged to book their tickets soon. The Mayor is also looking for generous people, organisations or businesses who may be able to help with prizes for the auction.
Mayor Palmer said: "The Lady Chapel at Ely really is a stunning backdrop for what should be a hugely enjoyable night of fine food, good music and enjoyable company. We've got a fun schedule lined up for the night and I'm hoping to raise as much money as possible for this very worthy cause.
"I'm appealing to those in the community who can help me make this both a sell-out event and a memorable night."
PTSD999  offers support and guidance for blue light workers all over the UK who may be suffering from post-traumatic stress which can be triggered by an isolated, distressing case, or repeated exposure to harrowing and affecting experiences. PTSD can cost jobs, ruin lives and, in some cases, can lead to suicide.
Other special guests and entertainment for the evening are yet to be confirmed. The auction of promises will see the guests bidding on a selection of exclusive prizes, all with the goal of boosting the fundraising total for PTSD999.
Charity co-founder Gary Hayes was a former soldier and police officer who lost his job due to PTSD triggered by his experiences following the July 7 bombings in London. Gary's personal story instigated the founding of the charity with Simon, who himself suffered from PTSD following his experiences as a soldier where he served in locations including the Balkans and Northern Ireland.
Gary said: "PTSD999 is so humbled to have support from the Mayor of Cambridge and Peterborough. We had asked James if he would open our new office and drop in centre last year; he said yes and spent several hours with us leaning more about what we do and how our emergency services see and deal with more traumatic situations than our armed forces and unfortunately have nothing tangible in place to deal with post-traumatic stress.
"In January James asked if he could support the emergency services again by raising awareness of the amazing work our emergency services do by holding his inaugural ball in support of PTSD999.
"PTSD999 is the only organisation in the UK that supports all emergency services, both serving and retired suffering the effects of mental trauma, we are currently treating retired personnel who dealt with Lockerbie bombing all the way through to the terrorist attacks of last year and Grenfell."
Mayor Palmer said: "I had met Simon during my mayoral campaign and I was hugely impressed by his energy and all that he was doing with PTSD999 to help in a hugely important area.
"We rightly praise our emergency services for their tireless work and bravery, but what perhaps doesn't get the attention it deserves is the aftereffects on those personnel of being in life-or-death and distressing situations.
"PTSD999 not only supports our valued emergency services workers, but also campaigns to put the effects of PTSD out into the public eye and open up the conversation.
"Mental health has so many impacts – personal, societal and economic – so I'm delighted to make this cause the first to be supported in what will hopefully be a successful night."
The event takes place on Friday, June 29, 2018 at the Lady Chapel, Ely Cathedral, starting at 7pm.
If you would like to put forward a prize for the auction, please email Julia Pettit: julia.pettit@cambridgeshirepeterborough-ca.gov.uk
For tickets, which are priced at £120 each or £1,200 per table, please complete this booking form and then email it to julia.pettit@cambridgeshirepeterborough-ca.gov.uk