Published on November 11, 2020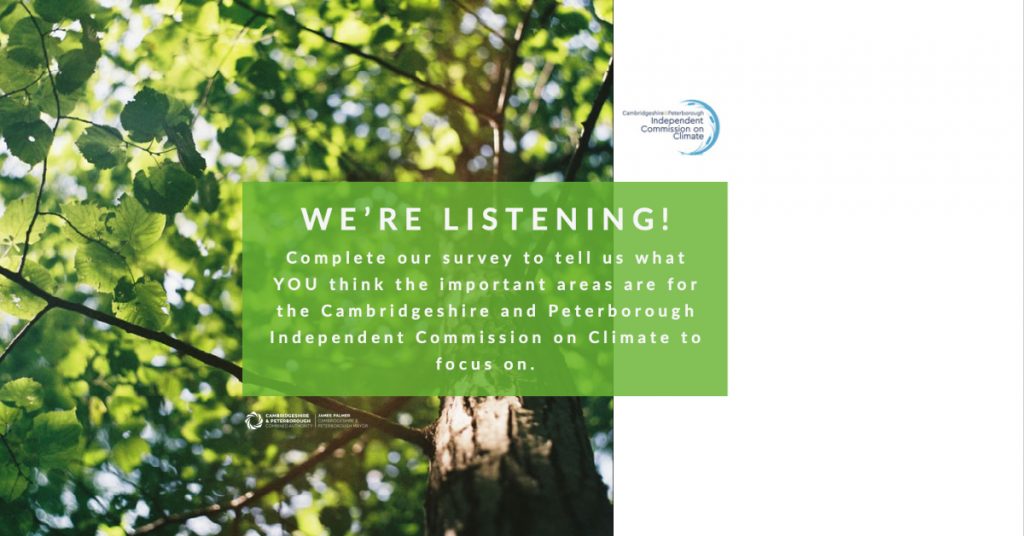 Last chance for public to have their say on most pressing climate issues for Cambridgeshire and Peterborough – survey closes in five days
Last chance for public to have their say on most pressing climate issues for Cambridgeshire and Peterborough – survey closes in five days
The Cambridgeshire and Peterborough Independent Commission on Climate, set up by James Palmer, Mayor of Cambridgeshire and Peterborough, is currently running an open public survey on the most pressing issues of climate change across the region and what action should be taken.
The survey, which can be accessed here will run for five more days until 16th November.
Mayor James Palmer said: 
"It is vitally important that people from all corners of the region come forward to give their views on what the Cambridgeshire and Peterborough Climate Change Commission should be focusing on, so that we can take meaningful action on climate change that will improve people's lives."
"The work of the Climate Change Commission will give us what no other local area has; a strong evidence base and a well thought through plan of action, based on local environmental needs."
The Cambridgeshire and Peterborough Independent Commission on Climate was established by the Cambridgeshire and Peterborough Combined Authority to conduct a thorough review of the ways that climate change is impacting our local economy and communities, and to determine what could and should be done so that the region can adapt to or mitigate these effects.
The Commission, chaired by Baroness Brown of Cambridge, Julia King, is focussing on the issues that really matter to people and businesses and making sure the actions it recommends to address climate change also bring wider benefits to the region wherever possible.
Climate action across Cambridgeshire and Peterborough has the potential to impact positively on other aspects of life.  For example, making sure the region has thriving nature, including increasing biodiversity and green space for people and wildlife, is an important part of climate change mitigation and adaptation, which will also benefit well-being, physical and mental health.
Making our homes more efficient can reduce energy bills as well as reducing emissions. There will be job opportunities to meet the demand to upgrade existing buildings, and as businesses develop new products.
The Commission is seeking the views of the public to help identify priority areas, gather insight on how willing people are to change their behaviours, and what the current barriers are that would need to be addressed.
Baroness Brown of Cambridge said:
"I am delighted to be chairing this important Commission. Cambridgeshire and Peterborough are well placed to play a leading role both to reduce emissions and develop resilience to our changing climate. It is so important that the public come forward and share their views on what the important areas are for the Commission to be focusing on, along with what they see as the greatest opportunities and potential concerns.  We will use these critical insights in developing a meaningful strategy for action on climate change that will ensure this area can deliver a net zero future and remain a great, green place to live and work."
The Commission was set up by Mayor Palmer to provide recommendations on local Climate Change actions for Cambridgeshire and Peterborough to level up work already underway to reduce reliance on fossil fuels and protect and enhance its green spaces. This will help meet the commitment to eradicating net carbon emissions across the area by 2050 (or earlier).
The Commission will identify both challenges and opportunities and recommend actions and solutions on the full range of issues faced by the region from the impacts of climate change, producing interim findings in February 2021 and a final report in Summer 2021.
The recommendations will be considered by the Combined Authority and its partners and will help provide an authoritative evidence base for action on reducing carbon emissions and building resilience against climate change across the region over the next 30 years.
Find out more about the Cambridgeshire and Peterborough Independent Commission on Climate here.