Published on October 25, 2021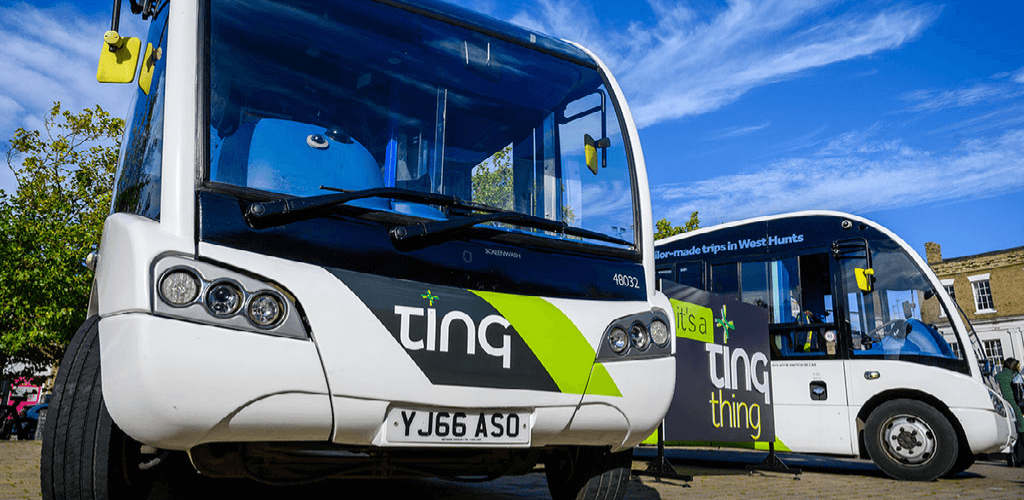 Launch of a new, on-demand bus service for the western part of Huntingdonshire
TING, Cambridgeshire & Peterborough Combined Authority's new on-demand service, to support rural communities across the western part of Huntingdonshire, goes into operation today (25 October).
The new 'Uber' style bus service, which is being operated in the area by Stagecoach East, is a great way to get about in West Huntingdonshire without having to rely on a car.
ting isn't fixed to a specific route or timetable. It provides passengers the option to book an on-demand, tailor made service in real time by using the ting trips app, or calling our local call centre, allowing people across all age groups to order a bus from even the most remote locations and travel any one-way ride for just £2.
Clever technology uses algorithms to join up several people's needs, combining them into one trip to make sure they all get to where they need to be. Users can book their seats up to seven days in advance or on the same day of their journey, just as you would a taxi in a town centre. The demand responsive service runs between 7am-7pm Monday-Friday and 8am-4pm Saturday. ting doesn't however operate on Sundays or Bank Holiday Mondays.
The ting branded fleet of four Optare solo, single deck vehicles, provide an overlay service, and operate in addition to the existing bus services currently running across the area. It isn't a replacement of services and it's not the same as a dial-a-ride service.
The six-month trial has been put forward by the Combined Authority as a much-needed public transport option to get people out of their cars and supports its plans to help the region meet the 2050 Net Zero target for carbon emissions and to make its own operations net zero by 2030.
Speaking ahead of the launch, Dr Nik Johnson, Mayor of Cambridgeshire and Peterborough said:
"Using the car is often the only option for residents in many of our rural communities. They simply don't have the same access to the public transport services which are available to their counter parts in our market towns and cities.
"Demand and the need for public transport is changing and so is the technology that supports it. This new ting service is an amazing opportunity. It provides people of all ages, living in our rural communities with a viable option at the end of their fingertips, helping them meet up with their friends or teammates, get to their workplace, go shopping or connect to other public transport hubs, like trains and bus stations to take them further afield without first having to jump in their cars.
"I want to be able to offer the people of Cambridgeshire and Peterborough a world class, connected public transport service, and the outcome of this trial will be used to help decide whether demand responsive bus services can become a valuable addition to our public transport service in the future.
"I believe this trial provides a more carbon friendly, flexible, reliable, affordable and convenient solution for rural communities, and I would encourage everyone living in West Huntingdonshire to make use of the ting service."
Darren Roe, Managing Director of Stagecoach East, said:
"Stagecoach East are excited to be partnering with the Cambridgeshire & Peterborough Combined Authority to launch our brand new on-demand, responsive bus service – 'ting'. ting will transform how customers use our services and will help to break down the barriers to bus travel, that some people experience, by allowing customers to facilitate on-demand, tailor-made bus trips that are not restricted by timetables.
"By using the ting app, passengers can travel to any location, at any time they choose, within the service operation times and zone, by hailing a bus directly from their smartphone. ting will also make bus travel more assessable for more people, by serving the rural communities of West Huntingdonshire.
"We are excited to launch this new technology and give our passengers more control and freedom when it comes to bus travel. For more information, please visit: https://www.stagecoachbus.com/promos-and-offers/east/Ting#