Published on December 6, 2021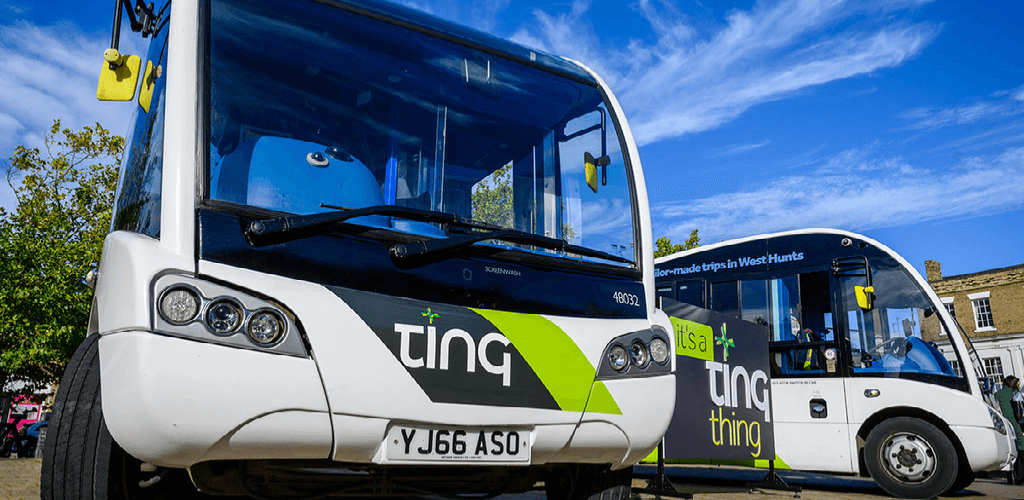 Looks like it's a good thing, this ting!
That is the opinion of 2,500 passengers who have made use of the new on demand bus service currently being trialled in the western part of Huntingdonshire.
In the first six weeks since its launch on 25 October 2021, the 'Uber' style bus service, which is being operated in the area by Stagecoach East, has received a 4.9 star rating from passengers and is considered a great way to get about in the area without having to rely on a car.
Over 4,000 accounts to use the service have been created which is seeing a week-on-week increase in booking and in the last six weeks more than 12,000 enquiries have been made either through the ting trips app or over the phone.
Dr Nik Johnson, Mayor of Cambridgeshire and Peterborough said: "I'm really pleased that this new 'uber' style bus service is proving to be a hit within the communities living in the western part of Huntingdonshire.
"We can all see that demand and the need for public transport is changing and so is the technology that supports it.
"The fact that almost 4000 people have ready created an account and are downloading the 'ting trips' app is proof that demand response travel can provide people with a viable option for passengers at their fingertips. And this helps them to get out and about, keep in touch, go shopping or connect to other public transport hubs, like trains and bus stations, to take them further afield without first having to jump in their cars.  
"Over the next couple of months, I hope more people will discover and make use of 'Ting' and help provide the trial with a successful outcome."
Darren Roe, Managing Director of Stagecoach East, said: "Stagecoach East are delighted that our brand-new demand responsive bus service, 'Ting' has successfully completed its first month of service. The initiative, which marks our joint partnership with the Cambridgeshire and Peterborough Combined Authority, offers passengers the option to travel to any location, at any time they choose, within the service operation times and zone, by hailing a bus directly from their smartphone using the Ting app. 
"We are thrilled to witness the success of the service after just one month since its launch.
"We are really pleased that Ting has been so well received, particularly by the more rural communities across West Huntingdonshire, and it is fantastic to hear such positive feedback so far. We would like to extend a massive thank you to our team at the Fenstanton depot who operate the service and our support teams for all their hard work in making Ting a success.
"We hope more people will take advantage of the scheme in the coming months and discover the benefits of this new technology, which breaks down the barriers to bus travel by allowing customers to travel more freely and facilitate on-demand, tailor-made bus trips that are not restricted by timetables."
For more information about Ting, please visit: www.ting-trips.co.uk