Published on December 10, 2021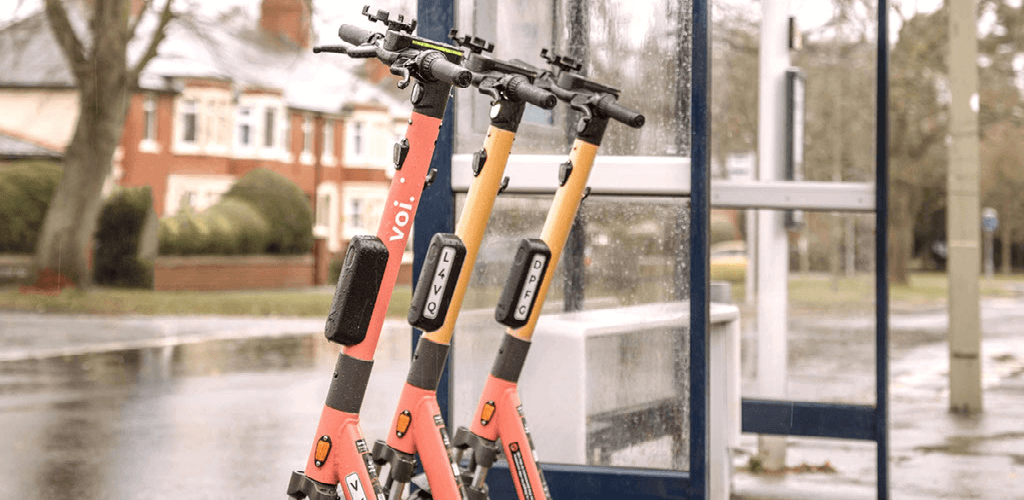 Voi places 'golden ticket' scooters to support inclusive cycling charity, Cycling Projects this Christmas
Voi launches golden ticket Christmas campaign in Cambridge to support Cycling Projects charity, encouraging active travel for all.
The campaign will also be launched in 8 other towns and cities across the UK where Voi operates.
Users encouraged to seek out 'golden wrapped' e-scooters to automatically unlock a donation.
Voi employees to offer voluntary services to Cycling Projects' Wheels for All centres.
Cambridge, 9th December 2021: Voi, Europe's leading micromobility operator, supports cycling accessibility charity this Christmas with 'golden ticket' rides across Cambridge being donated to Cycling Projects charity.
The shared e-scooter operator, Voi, wants to encourage everyone in Cambridge to adopt sustainable and active modes of transport, reducing reliance on polluting vehicles and further increasing the modal shift that is already happening in other cities and towns where the company is present. Cycling Projects has been singled out by Voi as a charity that not only merits Christmas donations but also nationwide recognition by the micromobility industry.
With over 50 Wheels for All centres, providing cycling tracks and bikes for children and adults with disabilities and differing needs, Voi is delighted to have partnered with Cycling Projects for a Christmas scheme. Voi riders in Cambridge and other places like Birmingham, Bristol, Bath, Liverpool, Northampton, Southampton, Portsmouth, and Oxford simply need to seek out e-scooters that have been wrapped with golden festive cheer. Voi will then donate the unlock fee for all rides completed on these Christmassy e-scooters to Cycling Projects*.
Voi will also be offering ongoing volunteering services of employees to Cycling Projects. With a wide array of mechanics, logistics experts and mobility tech teams available to volunteer in the Cambridge and the other 16 towns and cities where they offer micro mobility services, Voi sees this collaboration with Cycling Projects as an extension of their roadmap to create inclusive transport in the communities they serve. At Christmas, however, they hope to also spread just a little bit more of the Voi joy, showing that micro mobility is a force for good, empowering local communities, and is proactive in catering to everyone's transport needs.
Ian Tierney, Chief Executive Officer for Cycling Projects said:
"We're delighted to be working with Voi this Christmas to raise funding and awareness for our Wheels for All network. This partnership will support disabled people to be able to have fun cycling in our Wheels for All centres across the country on trikes, handcycles, tandems and many more adapted cycles."
Jack Samler, General Manager at Voi UK and Ireland, said:
"We are very excited to have made this connection with Cycling Projects, who have been serving people with disabilities and differing needs for over thirty years around the UK. We have been promoting inclusive transport since arriving in Cambridge, and so we have a lot to learn from the experts at Cycling Projects. We want to support and empower everyone across the UK to adopt active transport modes and Cycling Projects have long led the way in this regard.
"A modal shift in transport can only be achieved by close collaboration between all low-carbon transport providers. As part of our pledge to be carbon positive by 2030, there are many more positive steps like this that we all can take in the industry to flick the sustainable and accessible switch.
"As well as the donations facilitated by our riders, we have been planning to grow our capacity for volunteering in the micromobility sector, and so we're delighted that our collaboration with Cycling Projects will be for all seasons, not just for Christmas. However, if we can help facilitate a few more bikes being brought down the chimney this year for people in Cambridge, this will bring us plenty of Voi joy this Christmas."
Dr Nik Johnson, Mayor of Cambridgeshire and Peterborough said:
"I'm hugely in favour of the safe use of any active mode of transport, like e-scooters, that provide people with a viable low- carbon transport alternative to the car wherever possible.
"Any initiative which builds on the existing success of Voi's micromobility project in Cambridge and gives back to charity, like Cycling Projects, gets the thumbs up from me. You don't have to be a Veruca Salt, a Mike Teavee or a Charlie Bucket to find golden tickets this Christmas. I'd encourage everyone in Cambridge to look out for and to use Voi's Christmassy e-scooters"