Published on September 17, 2020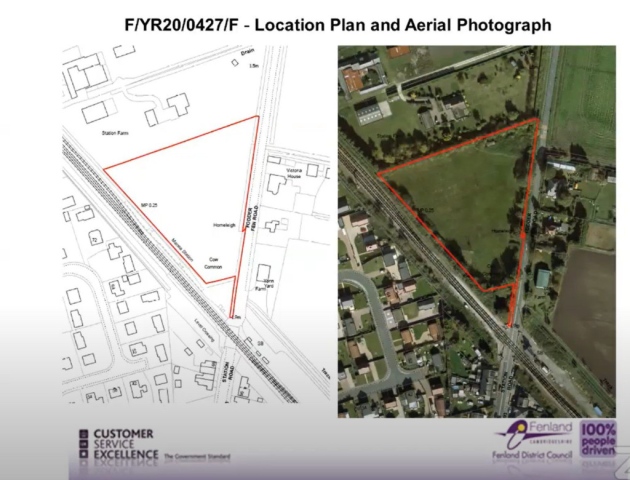 Manea car park gets thumbs-up from Fenland planners
Fenland district councillors have given unanimous approval for a car park at Manea station, funded by Cambridgeshire & Peterborough Combined Authority, so that the much-needed project can now forge ahead.
Proposals for the new car park, to be built on land north of the station with access from Fodder Fen Road, went before Fenland District Council's planning committee on Wednesday.
Recommended by council officers, the application was unanimously approved. The finished car park is expected to offer over 100 spaces.
A car park for Manea station has been discussed for many years, and it is just one of many improvements Fenland District Council put forward in its masterplan for regenerating the district's stations.
Cambridgeshire & Peterborough Mayor James Palmer:
"People in Manea have waited a long time for this and it's fantastic that the Mayoral Combined Authority can use its unique position to pull together the funds and partnerships needed to get things going.
"Fenland communities have historically been short-changed over transport and my objective is to redress that. Getting Wisbech back on the railway is a priority, so is pushing for better and later train services, and so is creating parking to help Manea travellers swap long car journeys for greener and cleaner public transport.
"The Combined Authority I lead has put millions of pounds into regenerating Fenland stations and I'm determined that our investment is matched by train operators beefing up the quality and frequency of services  – so that stations become transport hubs that really connect people across the fens with the places they want to be".
Thanks to the  £3.6 million given by the Mayoral Combined Authority as part of its Fenland commitment, new car parks, passenger waiting-shelters, and improvements to buildings, lighting and access are all being brought forward by the rail project boards for the stations at Manea, Whittlesea and March. These project boards were set up by the Mayoral Combined Authority to push through regeneration initiatives designed to benefit the whole fenland community.
Shortly after the car park application was granted, train operator CrossCountry announced it is now reinstating the stop at Manea which it axed last week. The climbdown followed the company's talks with Mayor James Palmer, who had voiced outrage at CrossCountry's withdrawal of Manea's stopping service.