Published on March 22, 2023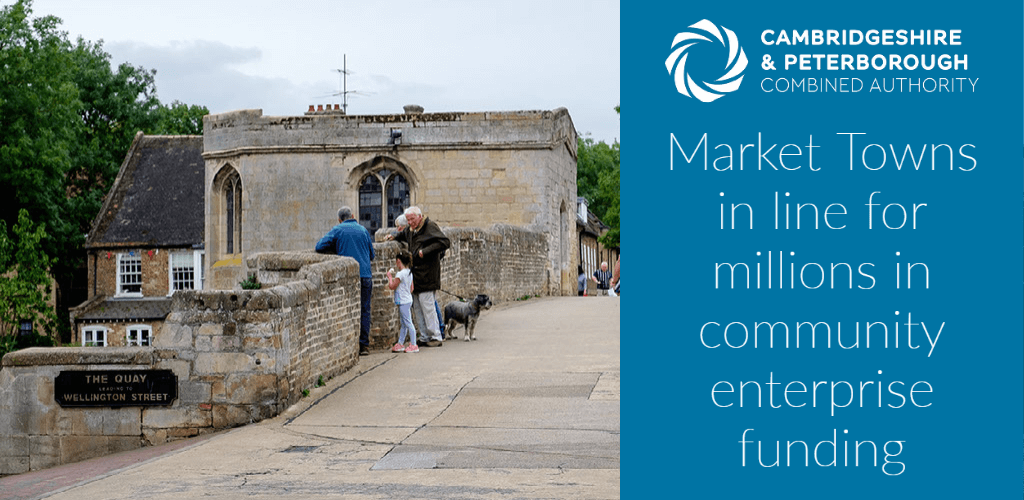 Market towns in line for millions in community and rural enterprise funding
Pop-up science centres for children are among the community enterprises that could benefit from the latest phase of Combined Authority investment in Cambridgeshire's market towns.  
Members of the Combined Authority Board today unanimously approved the full business case for Phase 2 of the Cambridgeshire & Peterborough Market Towns Programme, putting £2,500,000 of Combined Authority gainshare funding into supporting social and community enterprise in the region's market town areas and their rural hinterlands. 
Mayor of Cambridgeshire & Peterborough, Dr Nik Johnson: 
"This builds on the great work the Combined Authority has been doing from its first days, with over £13 million going towards bringing the market town masterplans to life and then revitalising the high streets as part of Covid recovery.   
"This is a highly effective and people-centred development of that first phase, embracing rural locations around the towns, concentrating on the community and plugging the gap in support for social enterprise, and bringing redundant community assets back to life, like village pubs or clubs, drawing them into community ownership.  
The broad mix of businesses and organisations that this programme aims to help means a variety of financial products from the overall £2.5m budget. The proposed project will deliver 3 key support 'Streams', including:  
Stream 1 – Community Ownership: to establish acommunity "support package" and bursary funding for community businesses and groups, concentrating on revitalising assets in market towns and rural hinterlands. 

Stream 2 – Social Enterprise Hubs: to create one or more social enterprise hubs in Cambridgeshire & Peterborough, supporting social entrepreneurship in market towns and rural areas. 

Stream 3 – STEM exhibition programme:capital funding for an educational programme, delivered via pop-up science centres in community buildings in Cambridgeshire & Peterborough market towns. The pop-up centres, for children, families, schools, and adult groups, aim to inspire STEM related study and careers.
These funding streams aim to boost local business and skills in market town communities, and address challenge in access to services, including extracurricular education activities.  
Overall, this project packs a big social and economic punch in and around the market towns, creating and safeguarding jobs in community-owned businesses, social enterprises and the third – not-for-profit – sector. The objectives of the project will be to:  
Boost performance of the market towns. 

Boost social capital by promoting growth in Social Enterprise and Community Ownership, thereby building a much stronger bond between individuals, community, and place. 

Reduce rural isolation by creating and retaining places for people to meet. 

Increase local access to services (particularly retail and hospitality). 

Create and safeguard jobs in SE and Third Sector, enabling wider social benefits. 

Boost aspirations of young people through engagement with high quality STEM  extracurricular activities.
Board members heard how this project emerged from a long-running concern about getting market towns and rural areas their fare share of sustainable investment, with market towns being a significant part of the Cambridgeshire and Peterborough economy. 
In July 2020, the Combined Authority allocated £13.1m capital investment to the mobilise eleven market town masterplans to support improvements tin the market towns and to be a funding catalyst to attract additional investment.