Published on September 20, 2023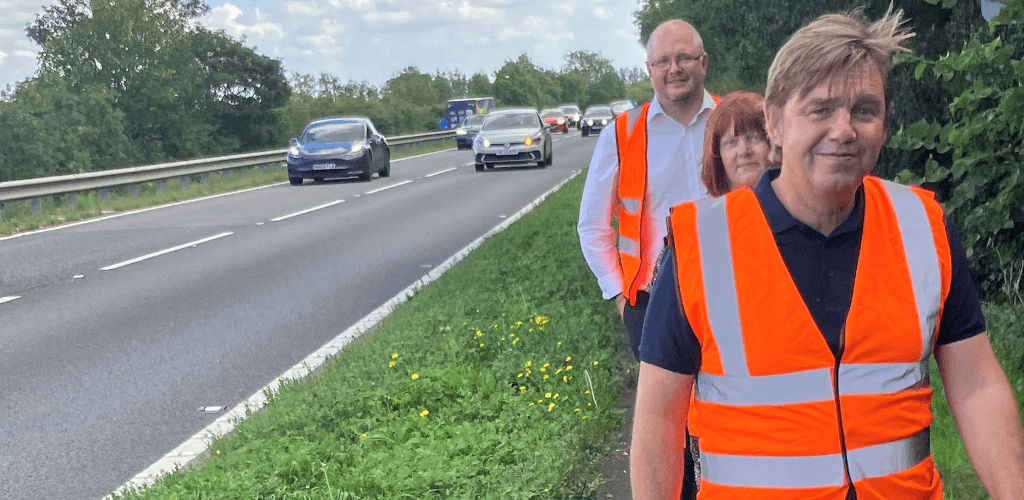 Mayor and deputy Mayor work on restoring vital bus routes after visiting Wittering, Castor, Ailsworth and Wansford
Mayor Dr Nik Johnson and Deputy Mayor Anna Smith have put forward proposals to restore a key bus route in Wittering after visiting Wittering and the surrounding villages and witnessing first-hand the importance of the bus route in that area.
Mayor Dr Nik Johnson and Deputy Mayor Anna Smith, on a separate visit, were taken on site tours of Wittering, Castor, Ailsworth and Wansford by a Bus Campaign group.  They were shown the negative impact of the isolation these villages face without the previous bus route, as well as how a lack of transport connection can affect mental health, with the cost of taxis being £25 or more for vital appointments, education, work, and leisure, impacting villagers' daily lives.
After hearing residents' views, Dr Nik Johnson and Anna Smith have been working with the Cambridgeshire and Peterborough Combined Authority Transport and Infrastructure committee to put together a proposal for restoring the bus route, which will be considered as part of an ongoing network wide review of the Cambridgeshire and Peterborough bus services.
A representative for the Bus campaign group said:
"The Cambridgeshire and Peterborough Authority, have seen and acknowledged the isolation of the villages, Wittering , Wansford, Castor and Ailsworth. This acknowledgment represents isolation from health facilities, work, education and leisure.  They also acknowledged the danger that Wittering residents place themselves in to get to access to the above by walking alongside the A1!!
"With having our need recognised for reinstating our bus service, it has given the campaign group a huge lift that we are  being listened too and thank you to the Authority for listening."
Mayor Dr Nik Johnson said:
"It was a reality check and very important to see first-hand the impact of the lack of bus services has on people's lives and to hear the stories of how this can affect everything from job opportunities, to social isolation to health.  I'm glad to have had the opportunity to speak to this community and look forward to working with them further on improving transport links for the area."
Anna Smith, Deputy Mayor for the Combined Authority, said:
"I had an incredibly useful site visit, and want to thank local residents for making me so welcome and showing me the issues they are facing. Rural connectivity is crucial. It's vital that everyone has the option to leave the car at home, and that's especially important for people who don't have access to a car.
"Local residents have been without a scheduled service for four years. I've asked officers to put together proposals for a service that can be explored as part of the upcoming network review, and am delighted at the progress they are making."
The Cambridgeshire and Peterborough Combined Authority is currently undertaking a review of the entire bus network and will be looking at where services can be adapted so that they better serve the needs of communities."
The Combined Authority is delivering a wider programme of Bus Reform with ambition to create a bus service of a quality not seen before in the UK.