Published on September 19, 2023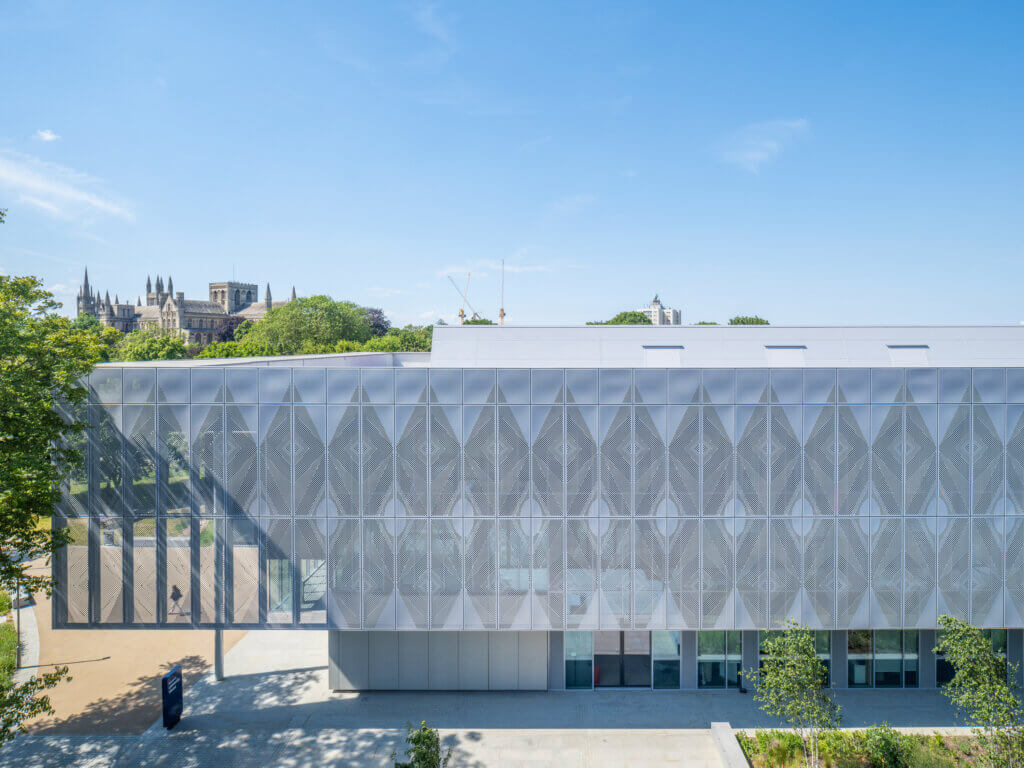 ARU Peterborough shortlisted for prestigious architecture award
Picture credit: Richard Fraser Photography  richardfraserphotography.co.uk 
University House, the first phase of ARU Peterborough, has been shortlisted for the prestigious AJ Architecture Awards 2023, aimed at "celebrating and rewarding design excellence in UK architecture".
The annual awards, organised by the Architects' Journal, sees ARU Peterborough feature in an eight-strong Higher Education category alongside entries from Jesus College at the University of Oxford, Ulster University in Belfast, the University of York, and Lucy Cavendish College at the University of Cambridge.
ARU Peterborough is a partnership between Anglia Ruskin University, Peterborough City Council and the Cambridgeshire and Peterborough Combined Authority, and it welcomed its first students to University House in September 2022.
The £30 million University House development was designed by Cambridge-based MCW architects, who have helped turn a brownfield site into a green, accessible campus which is both visually stunning and environmentally friendly.
With teaching and lab spaces over three floors, University House features aluminium solar shading inspired by the design of Peterborough Cathedral's ceiling, a green roof with photovoltaics, a Sustainable Urban Drainage System (SUDS) to help support local biodiversity, and fossil fuel free heat and hot water generation.
Architects MCW have continued their work with ARU Peterborough by designing both the Innovation and Research Building and the university's third phase, which features additional STEM teaching facilities and a publicly accessible science space. Work on this third phase is now under way following a turf cutting ceremony in June.
The campus was designed to directly reflect the principal values of the institution – open access for the community, visibility of learning, and cross disciplinary collaborative working in a building that is accessible, contemporary, welcoming, and sustainable.
Professor Ross Renton, Principal of ARU Peterborough, said: "From the outset we've wanted ARU Peterborough to be an inspiring, inclusive, environmentally friendly campus that the people of Peterborough can be proud of, and MCW have been instrumental in helping us realise this vision.
"University House, our new home, is a stunning first building, combining cutting-edge facilities with a wonderful, welcoming atmosphere. We're delighted that MCW's tremendous work on this project has been recognised by the judges of the AJ Architecture Awards, and we're very pleased to be working with MCW on the third phase of ARU Peterborough, which is due to be completed next year."
Lien Geens, Associate at MCW, said: "Purpose-built from the ground up for the city and the wider region, it's been a pleasure to create industry standard facilities for ARU Peterborough, all housed inside brand-new buildings.
"Working with a client that really cares about creating an inspiring, inclusive, and sustainable campus — that will have a significant impact on the local community — makes it that much more fulfilling. It's great to see this ambition and creativity recognised by the Architects' Journal."
Mayor of Cambridgeshire and Peterborough Combined Authority, Dr Nik Johnson, said: "I'm delighted for ARU Peterborough – it's such a striking design and really does deserve this recognition.
"When we were appointing the project team our aim was to set the tone for a sustainable, attractive, and accessible campus, right in the heart of the city, so being shortlisted like this speaks volumes about what's been achieved. And with work already underway on a second teaching building, with the same architectural priorities in mind, I'm hugely optimistic about how this outstanding community asset continues to evolve."
The winners of the AJ Architecture Awards 2023 will be announced at a ceremony at the Hilton Metropole hotel in London on 22 November.