Published on February 9, 2018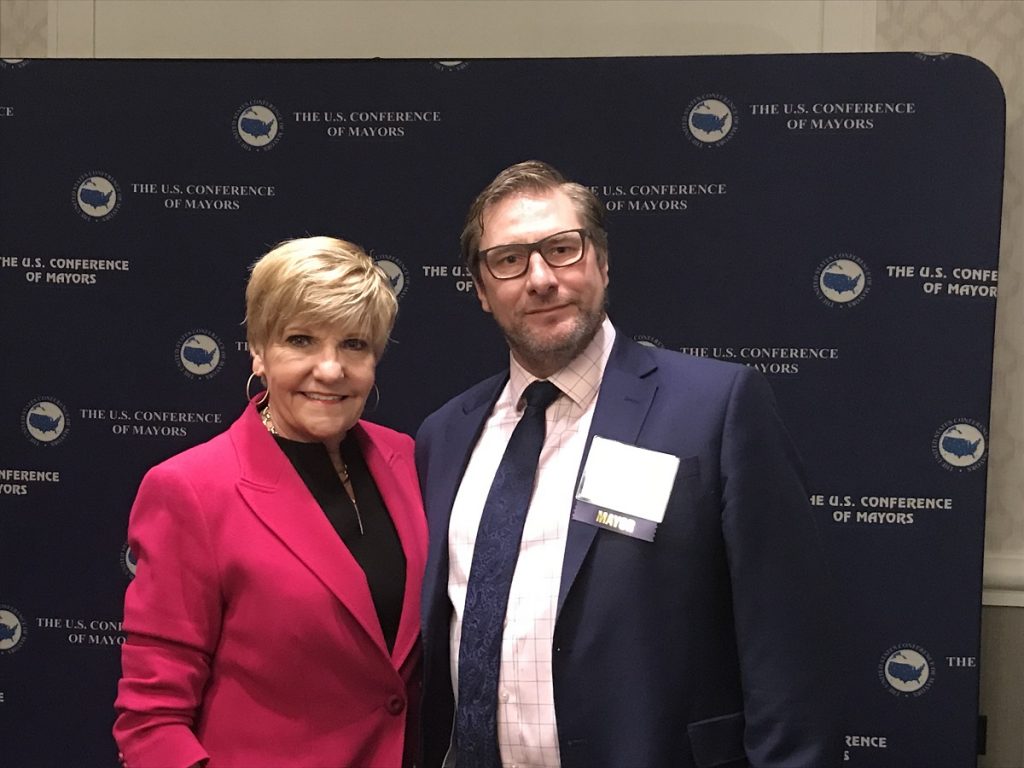 Mayor hopeful for Cambridgeshire-Boston trade agreement following US Mayors Conference
Mayor Palmer with the Mayor of Fort Worth, Betsy Price
Late last month Mayor James Palmer participated in the 86th Winter meeting of the United States Conference of Mayors in Washington DC at the invitation of the British Ambassador to the United States.The aim of the visit was to promote greater trade and investment opportunities between UK and US cities. Mayor Palmer was accompanied by Harriet Fear who is the former Chief Executive of Cambridge based life sciences organisation One Nucleus and also one of the Prime Minister's official ambassadors for the life sciences sector.
Following the visit, Mayor Palmer made the following comments:
"It was an extremely productive visit. I enjoyed the opportunity to be part of a number of policy forums and to meet with Mayors from across the United States. Due to the Mayoral system being so new to us, part of the value is in lesson drawing from US Mayors and the way they go about tackling challenges in their areas.
"When I was discussing housing issues with the Mayor of Oakland, it was very clear how similar our challenges are. When an area thrives economically and there is significant jobs growth this presents challenges with regard to housing and transport infrastructure.
"A key focus for Mayor Schaaf has been finding innovative ways to help mobilise the YIMBY's, young people who want increased access to affordable housing and the opportunity to get a foot on the property ladder. I completely agree with Mayor Schaaf that younger people who are keen for greater housing availability should be more vocal and have a real say through the planning process. It can't just be those who are anti development that get their voices heard."
During the Conference Mayor Palmer also met with Mayor Marty Walsh, the Mayor of Boston. The Summer meeting of the US Mayors Conference will be taking place in Boston and will be proceeded by the 6th Annual World Life Sciences Conference. Mayor Walsh has invited Mayor Palmer to both events.
Last October Mayor Palmer spoke at the launch of a new Primera Air service from London Stansted airport to Boston. The service will start this April, just two months before the Conference in Boston.
Mayor Palmer said:
"Bearing in mind the great synergies there are between the economy here in Cambridgeshire and Peterborough and Boston's, ahead of the trip I was determined to meet with Mayor Walsh to discuss the ways in which we might be able to work together to promote trade and investment between our two great areas.
"Mayor Walsh mentioned to me that four years ago Boston struck a Sister City agreement with Belfast aimed at promoting cultural understanding and economic development. He said that he wants a similar agreement with Cambridgeshire and Peterborough.
"I'm extremely supportive of the possibility of such a formal agreement linking our areas and would hope that such an agreement could be announced at the next Conference of Mayors in Boston. The timing could not be better bearing in mind there will shortly be direct flights from Stansted to Boston. When the new Cambridge South station opens this would further increase the accessibility of the biomedical campus to Stansted.
"Boston is the number one centre in the world for life sciences and we are the number one centre in Europe. There are so many reasons for us to work together. Between us, we also represent three of the very best universities in the world."
Ken O'Toole, CEO of London Stansted, said:
"It's really positive to see Cambridge building on its already impressive global reach as a centre for biomedical sciences through this excellent initiative, linking two world-leading areas. At London Stansted we are clear on our critical role in enabling growth for Cambridge and the East of England. From April'18 our introduction of new airlines such as Primera Air and Emirates, offering long-haul routes including Dubai, Boston, New York and Washington, will significantly increase the region's international connectivity and competitiveness.
"We look forward to continuing to work closely with key figures such as James Palmer in order to help them build new working relationships worldwide."
The Sister City agreement between Boston and Belfast was signed in May 2014 and was the first such agreement to be agreed by Boston since 2001. The agreement is designed to foster stronger economic development, trade and investment, tourism, youth, cultural, faith-based exchange and educational linkages between the two cities, and to increase awareness of both cities as being growth cities in the connected health and life sciences, creative industries, tourism, financial services and the knowledge economy sectors.
Mayor Palmer added:
"My understanding is that the agreement between Boston and Belfast was primarily driven by the large Irish community in Boston. I would imagine that the agreement between Cambridgeshire and Peterborough and Boston would be driven more by economic factors and therefore could well be different in scope and focus on different issues to the Boston-Belfast agreement."
During the Conference Mayor Palmer also met with Tom Cochran, the CEO and Executive Director of the US Conference of Mayors. Mr Cochran stated his ambition for the top twenty most powerful US Mayors to visit the United Kingdom for a Conference with the seven UK Mayors at some point this year. Mayor Palmer made clear his desire for the conference to take place in Cambridge.
Mayor Palmer said:
"I'm very happy to help facilitate a delegation of US Mayors to the United Kingdom. However, I was keen to stress my desire for any such conference to take place in Cambridge. I have since written to the Prime Minister letting her know about our plans and whether she is able to attend.
"Fortunately the UK has a very active Consulate in Boston and the British Consul General has already been in touch to offer help."
During the Conference Mayor Palmer also met with the Mayor Don Wagner from the City of Irvine, Orange County. There has been a significant growth in the life sciences sector in Orange County over the past few years and Mayor Wagner will be visiting Cambridge this month to discuss further trade and investment opportunities.