Published on December 17, 2020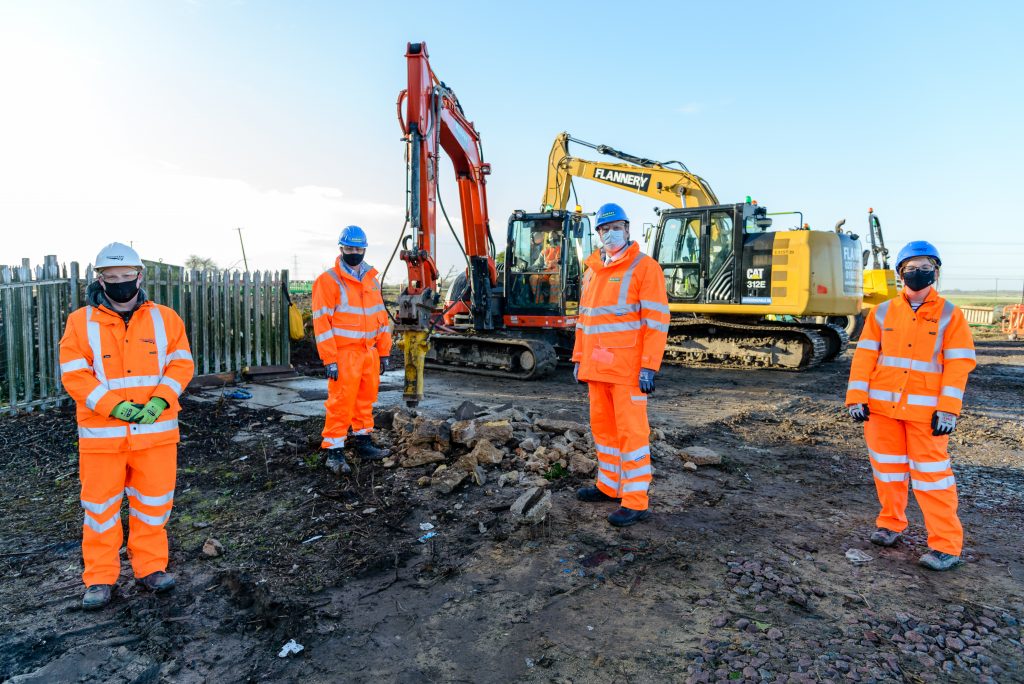 Mayor joins workforce on site of Soham's new station
Mayor James Palmer this week visited the site of the new railway station at Soham which is being funded with £18.6m from the Cambridgeshire & Peterborough Combined Authority which he leads.
Network Rail staff and construction workers from the contractor J Murphy and Sons showed Mayor Palmer around the site where early construction work is well under way, When completed, Soham station will bring train travel back to Soham for the first time in over half a century.
The station will be delivered next year and train services are scheduled to begin towards the end of 2021.
It is the is the realisation of a long and passionate campaign by people of the East Cambridgeshire market town to rebuild the station – opened in 1879 but closed to passengers in 1965.
Greater Anglia's Ipswich to Peterborough service will stop at Soham, connecting residents and local businesses to a range of destinations. The new station will facilitate tourism, greener travel, open up jobs to Soham people, and support more investment as part of the mayoral Combined Authority's vision for the wider area.
The station is one of several key schemes championed by the Mayor to boost rail use and improve transport links across Cambridgeshire, especially for market towns like Soham.
Mayor Palmer tweeted from the site: "Today I have been to visit the works on site at the new railway station at Soham, the first trains will be stopping here in December 2021.
"Soham is part of a wider investment into rail across the Combined Authority area."
Mayor Palmer's plans to link up more areas of Cambridgeshire with viable and reliable train services include pressing for Wisbech to be reconnected to the network, creating car parks at Manea, Whittlesea, and March, revamping March's platform building, constructing a new station at Cambridge South, and getting funding to unblock the notorious bottleneck at Ely which has a constricting effect on freight and passenger services throughout the eastern region.
Soham's new station will include:
a single 99 metre platform including waiting shelters, lighting, information screens and a public address system,
a stepped footbridge across the railway, linking to an existing public right of way, designed for any future lifts to a potential second platform,
a drop-off point and a car park to for some 50 vehicles and five spaces for blue badge holders, plus lighting masts.
bike parking and ticket sale machines on the forecourt