Published on March 14, 2018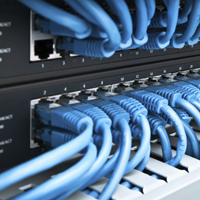 Mayor welcomes £4m funding boost to future proof fibre networks
The Mayor of Cambridgeshire and Peterborough has welcomed the Chancellor's commitment to provide up to £4m Government funding to help to bring full fibre broadband connectivity – capable of gigabit speeds of over 1000Mbps – to Cambridgeshire and Peterborough.
The Connecting Cambridgeshire programme, led by Cambridgeshire County Council, is one of just 13 selected for Wave 2 funding from Local Full Fibre Networks (LFFN) Challenge Fund by the Department of Digital, Culture, Media and Sport.
The Spring statement (13th March) confirmed the allocation of the first wave of funding from £190m LFFN fund, providing over £95m for 13 areas across the UK to stimulate the market to expand the UK's full fibre networks as part of the modern Industrial Strategy.
The innovative Cambridgeshire project aims to expand the gigabit capable fibre footprint to ensure the county has the digital connectivity needed to support future growth and prosperity.
It builds upon Connecting Cambridgeshire's strength in delivering leading digital programmes, particularly the successful rollout of superfast broadband, which has already reached 96% coverage and is on track to achieve 99% by 2020.
The package of measures to be delivered by March 2021, includes:
Creating a 40Km stretch of fibre ducting from St Ives to Linton – linking fibre in new and existing routes and making it available to commercial operators to bring Gigabit networks to nearby homes and businesses.
Providing fibre upgrades to around 30 public buildings, including schools, libraries, fire stations and GP surgeries, across nine locations in Cambridgeshire, to benefit surrounding homes and businesses.
Supporting businesses, leading business parks and clusters of SMEs to access the new gigabit fibre networks
Welcoming the announcement, Councillor Steve Count, Leader of Cambridgeshire County Council, which leads the Connecting Cambridgeshire programme, said:
"I am delighted to hear today's announcement by the Chancellor confirming Connecting Cambridgeshire successful bid for up to £4 million Government funding to help to bring full fibre connectivity – capable of gigabit speeds of over 1000Mbps – to Cambridgeshire and Peterborough.
"Connecting Cambridgeshire has been very successful in expanding the coverage of superfast broadband to homes and businesses across Cambridgeshire and Peterborough ahead of target. While the programme continues to work towards achieving >99% superfast broadband coverage by 2020, we are already looking ahead to the ever increasing demand for digital and mobile connectivity to support economic growth and sustain our position as a leading digital county."
"This project means we can increase the availability of gigabit services for homes and businesses across the county by using public sector assets innovatively and creating conditions that make it commercially viable for full fibre rollout."
The Mayor of Cambridgeshire and Peterborough, James Palmer said: "I am delighted that our area has secured additional Government investment to support the growth and enhancement of our digital infrastructure. Being prepared for the ever increasing capacity requirements for digital connectivity is essential to the economic growth of Cambridgeshire and Peterborough because it means businesses across this largely rural county can thrive and compete in an increasingly digital world.
"This is an excellent opportunity to utilise the Local Full Fibre Networks fund to increase the availability for premises to connect to a gigabit capable broadband service, and I look forward to seeing the money put into action."
The Connecting Cambridgeshire partnership bid was widely supported by local MPs, the Cambridge and Peterborough Combined Authority, academic and business organisations.