Published on July 21, 2021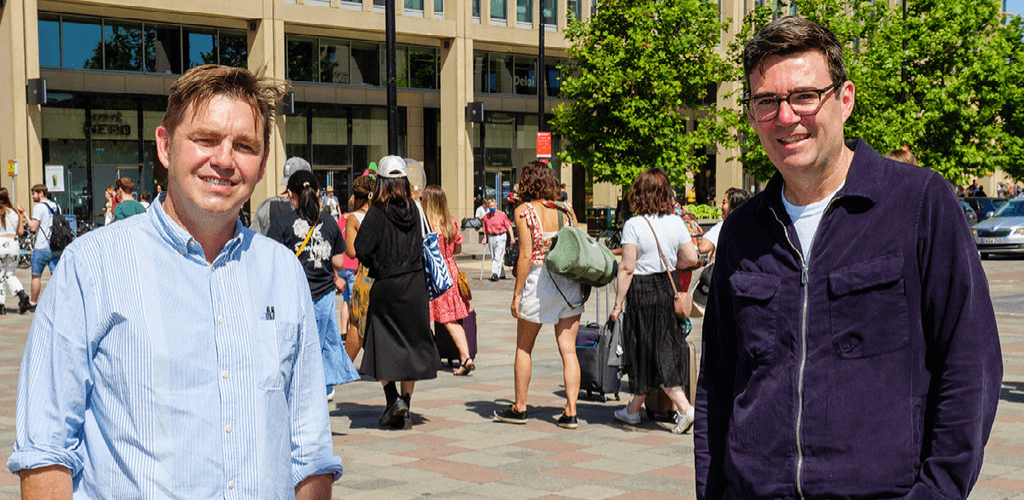 Mayor welcomes Andy Burnham to Cambridge
On Saturday (17th July) Mayor of Cambridgeshire and Peterborough, Dr Nik Johnson, welcomed Andy Burnham, Mayor of Greater Manchester to Cambridge to take a sunny tour of the city and to discuss how active travel and bus franchising are playing a role in Mayor Dr Nik Johnson's transport plans for the region.
The tour commenced at Cambridge Station where the Mayor's and Daniel Zeichner, MP for Cambridge were introduced to the #CowsaboutCambridge.
As part of the tour, the Mayor's discussed the use of active travel and particularly the use of e-bike's within cities. Cambridge and Peterborough are the two locations trialling e-bikes within our region. The vision is for e-bikes to be provided across the region, including in market towns, starting with St Ives. The Combined Authority has engaged in a trial of Voi e-scooters since October 2020 and since January 2021, e-bikes were added in Cambridge and Peterborough. As of June 2021, there have been 112,000 trips, covering 360,000 Km, completed by 28,000 users. In the first 8 months of the Cambridge trial, it is estimated that 50,000 fewer car journeys have taken place on local roads due to the scheme.
Additional highlights of the tour included a visit to Fendon Road Roundabout, to discuss how integration of cyclists and pedestrians in road plans can influence greater uptake in use of active travel. The Mayor's travelled on the Cambridge Guided busway from Addenbrooke's hospital to Cambridge train station.
Video of the meeting
Mayor of Cambridgeshire and Peterborough, Dr Nik Johnson, said: "It was wonderful to welcome Andy Burnham back to the city of his university days, for what was a really successful visit. Andy has been a great advocate for making public transport a more affordable and attractive option to people."
"I was very keen to speak with him about the direction of plans to connect our market towns to the city using high quality infrastructure which remains affordable for the people using it. Furthermore, it was great to gain insight on introducing bus franchising and how important that can be as part of an integrated travel system. I was pleased to see him describe Cambridge as a real model of how integrated travel plans can formulate in a hub of people who are enthusiastic about active travel and public transport."
"I look forward to working collaboratively with both transport providers and communities, to ensure transport works well for both Cambridgeshire and Peterborough's cities and market towns."
Mayor of Greater Manchester, Andy Burnham, said: "It's been brilliant to be back in my old stomping ground of Cambridge, it's very different to the place I left in 1991. It was fantastic to experience the guided busway and to see so many people, running, cycling and walking alongside. The Cambridge Busway is a great working example of how integrated transport can promote active travel in the region. Cycling has developed and grown to become a first choice of travel for many in Cambridge. By improving the affordability of public transport, by moving buses under public control, we can work to get more people out of cars, and on to buses in Cambridge and around the UK."