Published on March 24, 2023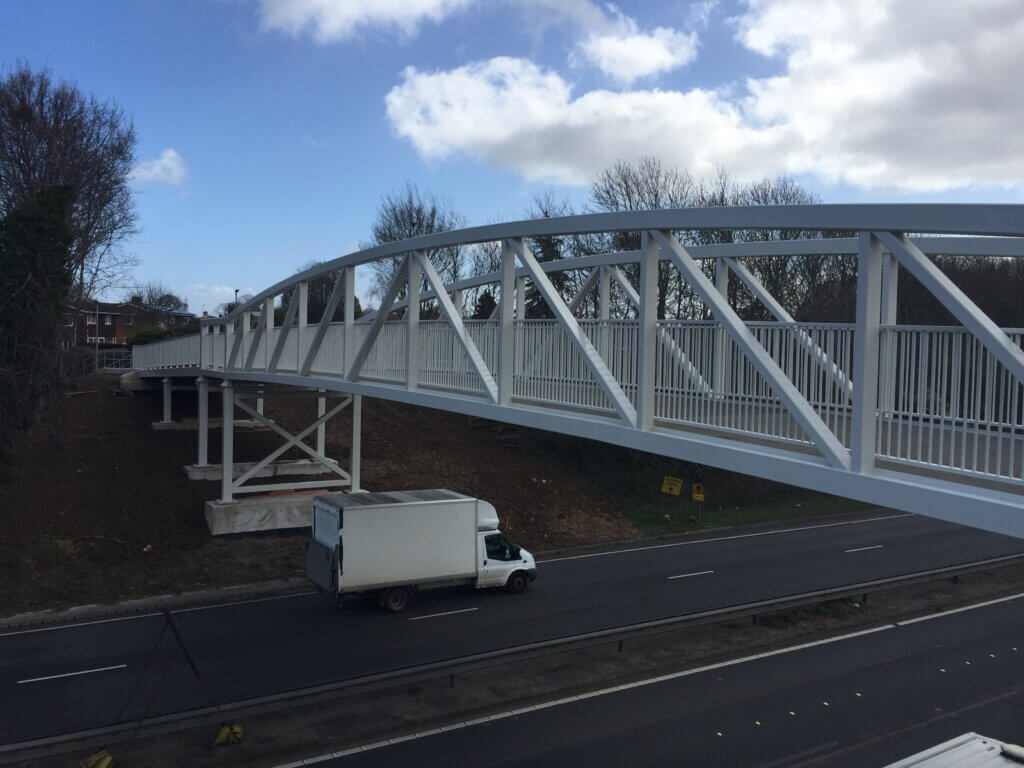 New A1260 footbridge completed and ready for active travel
A brand new footbridge was completed this week, one part of a multi-million pound scheme to reduce congestion and offer improved routes for active travellers trying to negotiate one of Peterborough's busiest traffic bottlenecks.
Opening to the public on March 27th, the replacement footbridge over the A1260 Nene Parkway in Longthorpe is one part of a £8.1million project around Junction 15 of the Nene Parkway, which has been funded by the Cambridgeshire & Peterborough Combined Authority.
The new bridge is wider than its predecessor with ramps less steeply inclined, making it easier for pedestrians, cyclists, and wheelers to use.
The A1260 project will help cut traffic jams at one of Peterborough's worst pinchpoints, reducing carbon emissions, journey times, making a much better route for active travellers and freeing up the transport network to help the city realise its ambitions for sustainable growth.
The footbridge has helped make possible a new third northbound lane between Junction 33  – Longthorpe Parkway – and Junction 15 – Thorpe Wood roundabout – of the Nene Parkway.
The ongoing highway improvements at Junction 15 are heading for completion later this spring, with carriageway surfacing due to start shortly.
The other enhancements around Junction 15 include:
Creation of a third lane northbound between Junction 33 (Longthorpe Parkway) and Junction 15 (Thorpe Wood roundabout) of the Nene Parkway.
Creation of a three-lane circulatory on Junction 15 between the A1260 Nene Parkway approach and the Bretton Way exit.
Following completion of the Junction 15 works, other highways improvements in Thorpe Wood, will include new crossings and boosted cycling provision, with kerb-segregated cycle lanes.
Initial designs for the work are currently being developed by Peterborough City Council after Active Travel England approved previous Active Travel Fund bids submitted by the Combined Authority.