Published on July 31, 2023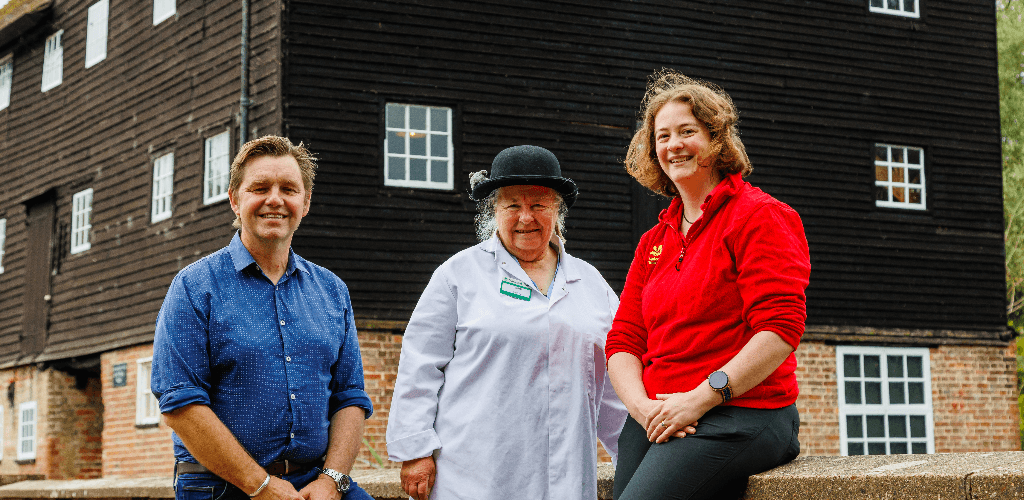 Next Stop Summer! Combined Authority and the National Trust launch green tourism campaign
The Cambridgeshire & Peterborough Combined Authority is collaborating with the National Trust to encourage more people to use buses to visit the region's many great tourist and leisure spots this summer while most journeys are just £2.
To mark the beginning of the campaign, Mayor Nik Johnson travelled by bus today from Huntingdon Bus Station to the National Trust's Houghton Mill; a beautiful 18th-Century watermill, located on the Great Ouse River, in the village of Houghton, Cambridgeshire.
The Mayor got to experience first-hand using the Stagecoach B service to travel from Huntingdon Bus Station to Houghton Mill, where they were welcomed by National Trust staff and volunteers and enjoyed a tour of the working watermill, and afternoon tea with scones made from the mill's own flour.
Next Stop Summer, a four-week campaign, that will run throughout August, will seek to encourage families and tourists to use buses to visit National Trust sites  and other local attractions including splash parks, art galleries, open-air markets, museums, wild-swimming spots and skate parks for just £2, during the summer holiday season.
The Combined Authority will seek to raise awareness of the bus as a cheap and green travel option this summer by putting out information on bus routes, helping people to understand what bus routes already exist that are located close to where they live and places, they are likely to want to visit.
Mayor Nik Johnson said:
"We are so rich in culture here in Cambridgeshire and Peterborough and taking the bus is a low-cost, green, and potentially fun way to make the most of what our region has to offer, especially for children for whom taking the bus can be part of the excitement of a day out.
"We know that protecting the environment is very important to people living here, and with fares offered at just £2 throughout the summer on most routes, now is a great time to try out one of our new electric buses, which can be used in conjunction with eScooters, eBikes, and ordinary bikes to make longer distance low carbon journeys.
"As a region, achieving our net zero carbon ambitions is dependent on more people using public transport, with public transport itself becoming cleaner and greener.  Going forward, we want using buses to become second nature for our residents as a result of the improvements we have underway, meaning they are more affordable, more reliable, more frequent and more convenient."
Emma Ormond-Bones, General Manager for the National Trust's Fenland portfolio, said: 
"We know that many of our visitors want to come to our places by means other than car travel and we're delighted to be working with the Cambridge and Peterborough Combined Authority to support more people in and around Cambridgeshire to do this. By taking public transport, or by cycling or walking to our places, collectively we can dramatically reduce both our impact on the climate crisis and our pressure on nature. We look forward to welcoming more people to Houghton Mill and other National Trust sites across Cambridgeshire this summer, via this £2 fare scheme."
There's lots going on at National Trust places across the region too this summer. During the summer holidays, Wimpole Estate and Anglesey Abbey will have a family-festival feel and designated areas jam-packed with outdoor games and experiences, many of which are free after admission. The National Trust's Peckover House & Gardens in Wisbech is also opening its gardens for free.
The Combined Authority is working on a wider programme of Bus Reform with ambition and objectives to create a bus service of a quality not seen before in the UK, in what is a largely rural region.
The Combined Authority has already supported 30 new zero-emission electric 'Zebra' buses into the Cambridge fleet.  It is working on the electrification of the bus fleet in Peterborough. This includes setting aside funding to bring forward a new depot in the city with room for charging points for electric buses and seeking additional 'Zebra' funding from Government.