Published on May 10, 2023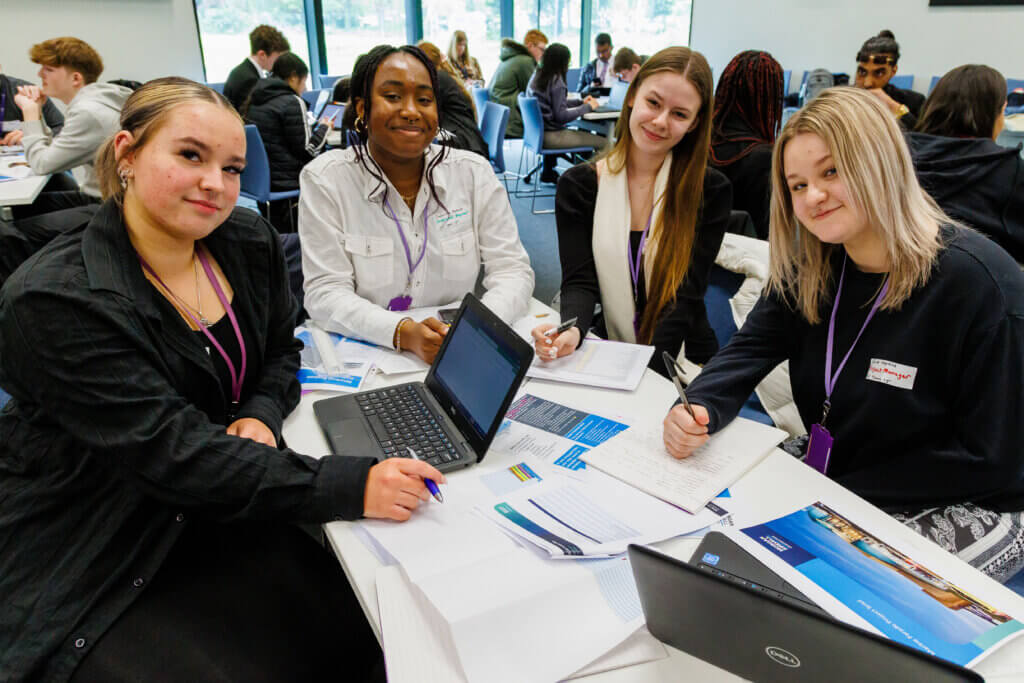 Peterborough students get a taste of construction careers at city's new university
ARU Peterborough, the city's new university, hosted 75 Year 12 students from seven local schools for some hands-on activities designed to change perceptions about a career in the construction industry.
Construction company Morgan Sindall Construction organised an interschool competition, supported by ARU Peterborough and the Cambridgeshire and Peterborough Careers Hub which is delivered by Growth Works with Skills, the Combined Authority's skills brokerage service. It aimed to inform and inspire young people about the wide-ranging careers on offer in an industry which needs a talent pipeline of an extra 45,000 skilled people annually until 2027 to meet predicted demand.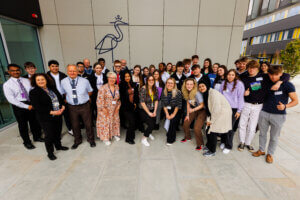 The students, divided into teams of six, had to complete a design challenge. They were separated into job roles of project manager, structural engineer, quantity surveyor, architect, planner, building services engineer. An experienced professional for each role was also supporting students with the challenge and gave them insights into what the job and career involved. They were also informed of opportunities through degree apprenticeships, offering a route into the industry at degree level, but where they can also earn while they learn.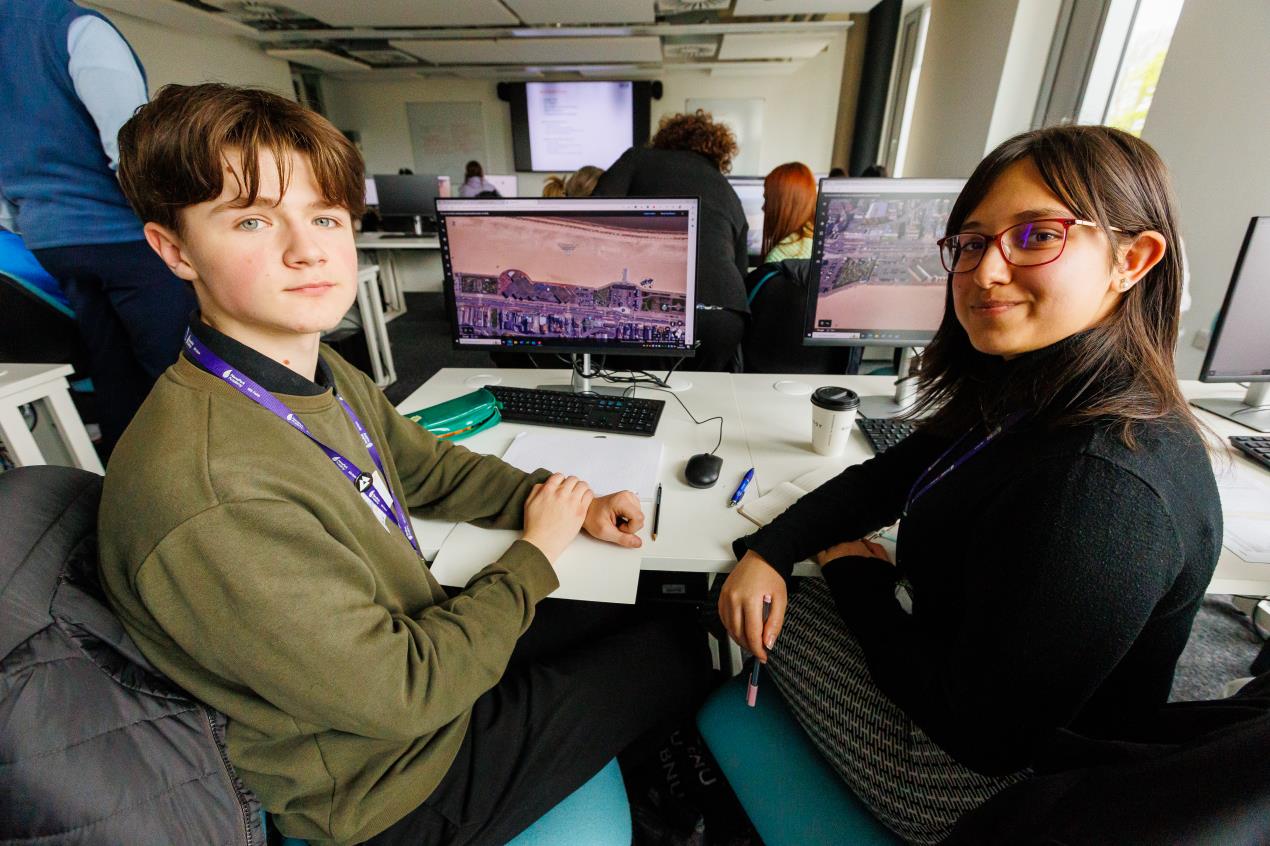 The schools which attended the competition on May 2 were: St John Fisher Catholic High School, Nene Park Academy, Ken Stimpson Community School, The King's (The Cathedral) School, Arthur Mellows Village College, Jack Hunt School and Queen Katherine Academy.
The industry experts that attended were Simon Smith – Smith and Wallwork; Antonia Crespi – MCW architects; Jack Lord – Morgan Sindall, Megan Bemrose – Burmor Construction; Phil Murton – Accent Group.
Other activities with local schools being planned are a site visit to the building site of the second teaching building and Living Lab public science facility where work is due to commence at the start of the summer. Some other activities will take place directly in schools.
ARU Peterborough, where courses have been developed in response to needs of local employers, offers degree courses in the construction industry including in Building Surveying, Construction Management, and Quantity Surveying.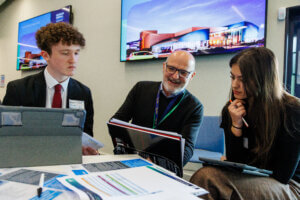 As well as delivering higher education linked to jobs in the local economy ARU Peterborough is also spreading further benefits to the city through supporting greater skills and careers education.
Mayor of Cambridgeshire and Peterborough, Dr Nik Johnson, said: "ARU Peterborough is helping to raise aspirations for great careers and education in the region in many ways. It is offering higher education opportunities through its industry-linked courses, and also acting as a focal point where young people can be enthused about pathways into rewarding careers. This initiative is another example of how this new university is bringing wider benefits for people across the city and region. It also complements our work with the City Council and ARU to further develop the ARU Peterborough campus with a second teaching building and an exciting public science facility – the Living Lab – and really trying to bring the community with us.
Dr Tom Williamson, Assistant Principal of ARU Peterborough, said: "Building the foundation for a brighter future starts with sparking curiosity in our young minds. By inviting local schools onto campus, we aim to inspire children to explore the endless possibilities of careers in the construction sector, and equip them with the tools they need to shape the world around them. Workshops like this are essential for empowering the next generation of builders, architects, and engineers."
Helen Clements, Senior Social Value Manager and Morgan Sindall, said: "Building Phase 3 of ARU Peterborough gives Morgan Sindall Construction and the wider industry a great opportunity to raise aspirations and understanding of the numerous careers the industry has to offer. The Building a Lasting Legacy initiative is designed to spark an interest and give the young people of Peterborough the opportunity to ask questions, whilst they are completing hands on activities. We were really impressed with the engagement of the 75 students on the day and they asked some great questions and 20 of them showed a real interest in finding out more about the industry and the roles available through apprenticeships and graduate opportunities."
Councillor Wayne Fitzgerald, leader of Peterborough City Council, said: "This is a great example of the far-reaching impact that our university is having in our city. Not only for students and staff, but within our communities.
"It's initiatives like this that bring education to life and help to introduce the possibility of going to university to our younger residents. This will only help us achieve higher wages and more skills and prosperity for our young people in the future."
ARU Peterborough is a partnership between Anglia Ruskin University, Peterborough City Council and the Cambridgeshire and Peterborough Combined Authority. Funding has also been provided by the Business Board.
<ENDS>