Published on May 12, 2023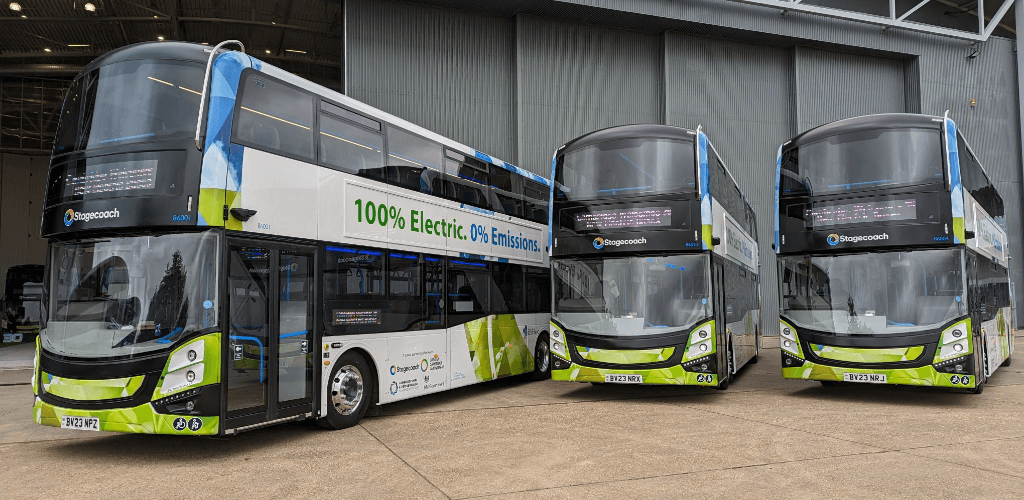 Excitement sparked at launch of 30 new electric vehicles for Cambridge
People will soon be able to travel on 30 new electric buses as part of the largest investment in Cambridge's bus network in a decade to help tackle air pollution and encourage more people to travel by bus.
Residents will be able to travel on the zero-emission, double decker buses as they are introduced into service from Sunday 14 May at the Madingley, Trumpington and Newmarket Road Park and Ride sites, from Sunday 4 June at the Milton and Babraham Park and Ride sites and from mid-June on the Citi 2 service. At this point the five Cambridge Park and Ride and Citi 2 services will be fully electrified and carbon-free, and Stagecoach's Cambridge bus fleet will be 31% electric.
The launch of the vehicles took place in Duxford today (Friday 12 May), signifying a major milestone in the commitment to a rolling bus replacement programme to replace 30 vehicles a year across the Combined Authority area, with an ambition to convert the region's entire bus fleet to zero emission vehicles by 2030.
Each vehicle costs close to £500,000 and has been funded by the Cambridgeshire & Peterborough Combined Authority, Greater Cambridge Partnership (GCP), Stagecoach East and the Department for Transport following a successful bid to the Zero Emission Bus Regional Areas (ZEBRA) scheme.
Mayor of Cambridgeshire and Peterborough, Dr Nik Johnson said "It's fantastic to finally see these buses in Cambridge and to have had the privilege of taking a journey on one of them today. This is a landmark moment for our bus network, and these 30 electric vehicles are marking a turning point for public transport in the region. Removing 30 diesel buses from our historic city and replacing them with these new vehicles will not only have a positive impact on the health of our region by reducing air and noise pollution, but will also help in the broader fight against climate change as we embrace these new and exciting technologies.
I look forward to seeing these buses on our roads and to the next steps we will be taking to ensure that all buses and taxis operating within the Combined Authority area are zero emissions by 2030."
Cllr Elisa Meschini, Chair of the GCP's Executive Board, said: "This new fleet of vehicles is a major step forward in transforming the bus network and demonstrates our collective commitment to improving journeys and tackling the climate challenge.
"We hope these cleaner, greener vehicles will encourage more people to get out of their car and take the bus to work, school or to see friends – helping to cut congestion and improve air quality to make our city a better place to live, work and visit."
Darren Roe, Managing Director at Stagecoach East, said: "Cambridgeshire has always led the way when it comes to encouraging a greener and cleaner approach to transport. That's why we're thrilled that this fleet of electric buses will give people a greener way to travel. It means nearly a third of our Cambridge fleet is now electric. It's a big investment and part of Stagecoach's sustainability strategy as we work alongside councils and other partners to decarbonise our nationwide bus network and transition to a 100% electric bus fleet by 2035. Everyone who switches to zero emission buses is doing their bit to tackle air pollution and helping to cut carbon emissions across our communities."
The launch event saw invited guests from across the region come together at the Trumpington Park and Ride to take one of the new buses to the Duxford Imperial War Museum, where they were welcomed at the main hangar where more of the buses were on display.
After short speeches by the Mayor Dr Nik Johnson, Stagecoach Regional Director for the South Rupert Cox and Chair of the GCP's Executive Board Cllr Elisa Meschini, guests were free to view the accompanying exhibition, enjoy a bus tour by Volvo and given the opportunity to drive a mini bus on a specially designed course.
After the launch event, the exhibition remained open to members of the public to find out more about the ZEBRA buses and how they will benefit residents and commuters.
A competition to name the buses has also launched today, with members of the public asked to take inspiration from people who have made a positive difference to their community. The online form to suggest names for the buses can be found here.
The state-of-the-art Volvo BZL buses are full battery electric vehicles which offer zero tailpipe emissions, enhancing the passenger experience by enabling a quieter and smoother journey.
The electric vehicles also emit 72% less well-to-wheel CO2 emissions than an equivalent size diesel bus. They can travel on average 200 miles between a full charge, which takes approximately 5 hours, and uses around 1.2 kWh of electricity per kilometre.
The buses also use state-of-the-art batteries that use regenerative braking to recharge every time the bus slows down.
To accommodate their expanding fleet, Stagecoach East is also investing £2 million into charging infrastructure for its Cambridge depot, to provide smart charging overnight.
The new buses take Stagecoach East's total zero-emission fleet up to 32, joining their current two electric vehicles which have been in service since February 2020 as part of a jointly funded partnership with the Greater Cambridge Partnership.
Since their launch three years ago, the two ULEB (Ultra Low Emission Buses) vehicles have covered over 124,000 miles between them, saving over 215 tonnes of CO2 and have carried over 200,000 passengers in 2022 alone.