Published on January 29, 2021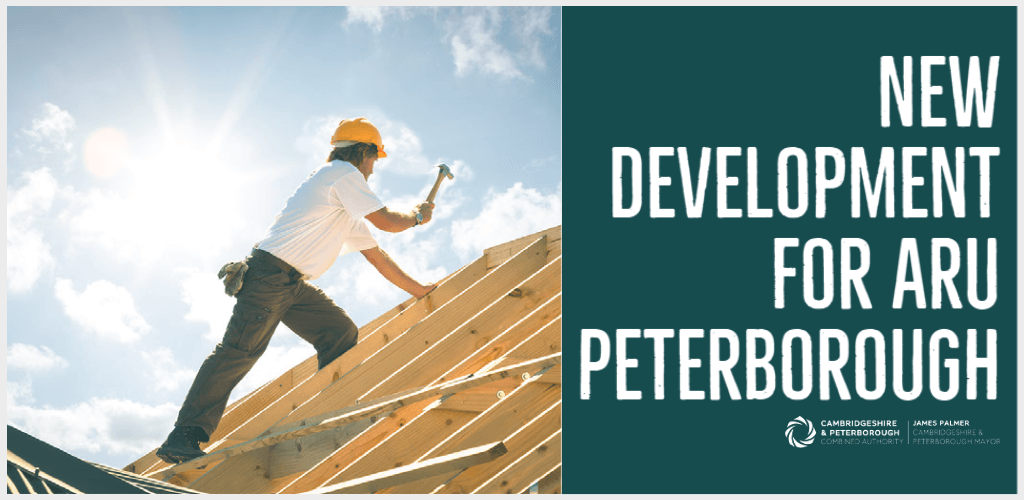 Residents and businesses invited to have their say on ARU Peterborough Research and Development Centre plans
The Cambridgeshire & Peterborough Combined Authority is giving residents and businesses the chance to have their say on the plans for a Research and Development Centre on the ARU Peterborough campus.  
A planning application for the new Manufacturing and Materials Research and Development Centre, which be jointly delivered by the Combined Authority and Peterborough-based business Photocentric, will be submitted to Peterborough City Council in late February. Before plans are submitted The Combined Authority is keen to engage with the community about the proposals.  
A two-week online survey will run from Monday, February 1st on the ARU Peterborough website; this will give people the chance to view detailed proposals and new imagery before a chance to air their views on the development.  
The new £30m university, which will open its doors to the first students in September 2022, is a partnership between the Cambridgeshire and Peterborough Combined Authority, Peterborough City Council and Anglia Ruskin University (ARU). 
To have their say, residents and businesses leaders should visit https://arupeterborough.co.uk/have-your-say/ from Monday, February 1st.  
Mayor of Cambridgeshire and Peterborough James Palmer said:  
"I am really excited to see these proposals unveiled and it is important we get the views of residents, businesses and community groups ahead of submitting our planning application to Peterborough City Council.  
"The proposed development looks great; it has been designed to both complement and be distinct from the first teaching building and be adaptable and flexible to accommodate future change. 
"It is characteristic of the vision we have brought to the University project since we joined as a partner; creating an employment-focussed university that will help local residents get good jobs, provide a skilled workforce for growing businesses and keep a promise to Peterborough that was unfulfilled for 20 years. 
"This stage of development is all about promoting the visibility of research, internally and externally, and will provide inspiring spaces to encourage innovation, collaboration and social interaction.  
"The plans detail how we will bring our plans to an employment-focused university to life, so please visit the website and have your say over the next two weeks."