Published on October 29, 2021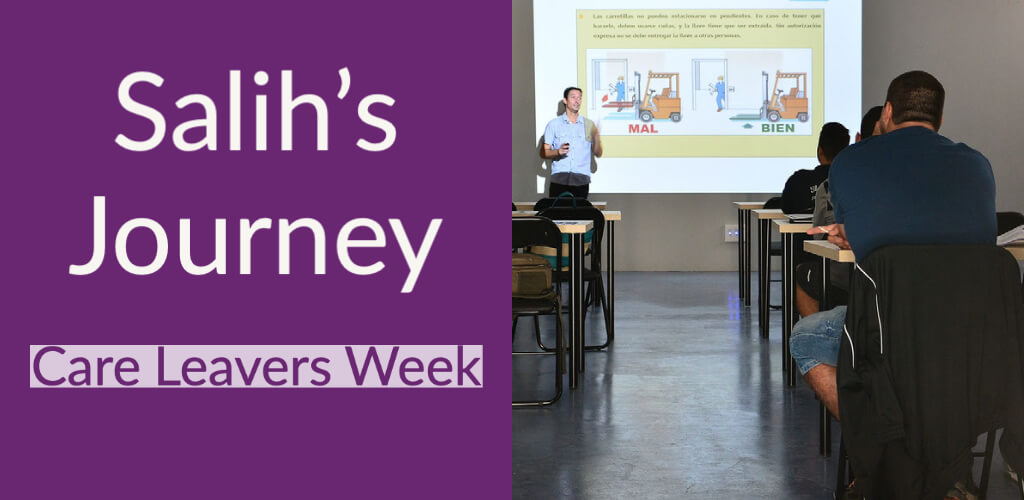 Salih's Journey: Care Leavers Week Case Study
Salih Ali's journey is full of hope, perseverance, and aspiration. When our learners get the right care, support, and encouragement they can achieve their ambitions, just as Salih has done, from ESOL to studying Civil Engineering at Kingston University!  
Salih arrived in Peterborough in 2015, fleeing conflict in the African country of Eritrea following the civil war there. He was forced to leave behind his family, community and home and travel to Europe for sanctuary. He became an Unaccompanied Asylum-Seeking Child in the care of the local authority. Salih enrolled at Peterborough College and studied ESOL as he spoke very little English.  
One of Salih's tutors at Peterborough College, Manuela Daniels, recalls how he flourished at college:          
"Salih found it difficult initially to mix with his classmates as he had low self-confidence. However, he worked hard and kept his head down and developed the confidence to speak English over the two years in ESOL." 
"Salih started his education with Entry Level 3 Maths and Entry Level English and he was successful in passing both," she added.  
"He developed good study skills, taking on board feedback by tutors and improving his overall communication skills. He wrote his own targets to improve his skills and independently identified areas for improvement."  
Over the next four years, Salih's confidence continued to grow as he was able to pursue his passion – construction. With his newfound confidence, he progressed from a Level 1 to Level 3 Extended Diploma in Construction.   
Ms Daniels writes: "I was impressed that was willing to take on the challenge of speaking to a group of new ESOL learners to motivate them to work hard to achieve their goals. He was a good role-model and inspired other learners. He was determined to succeed and progressed to his desired vocational area – construction." 
Salih is still in touch with his tutors at Peterborough College and recently wrote to his construction tutors: "I am really proud to be one of your students and please say hi to all my tutors!" 
Salih has transformed his life since he arriving in the UK as a vulnerable young man. Through determination and hard work, he has found his passion and the confidence to pursuit it. He will undoubtedly become a professional in the field in which he has chosen to study. We wish him the best of luck.