Published on October 30, 2023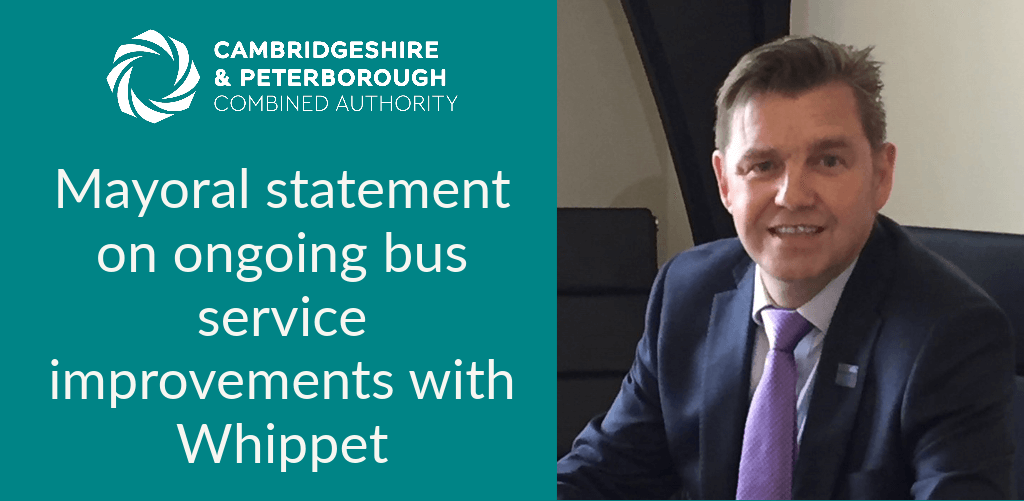 Statement from Mayor, Dr Nik Johnson: Ongoing bus service improvements with Whippet
The below is a statement by Mayor, Dr Nik Johnson, on the ongoing bus service improvements which Whippet are implementing following a meeting with Cambridgeshire and Peterborough Combined Authority, Dr Nik Johnson, said: 
"I have been consistent in our ambition to deliver a reformed bus network in Cambridgeshire and Peterborough. A bus network that is sustainable and reliable for residents.  
"We have listened carefully to residents' concerns about the level of service bus operator, Whippet, has been providing. I understand the frustration felt when you are unable to get to where you need to go. The Combined Authority and I have been in regular conversation with Whippet to address these concerns and ensure they tackle the causes.  
"Absolutely no-one benefits from late services or cancelations. Residents face difficult journeys and Whippet face fines. It is within everyone's interest to get the current level of service improved.  
"Following our meetings with Whippet, they have provided a 6-point action plan and have confirmed to us that they are committed delivering the level of service that is expected. I, and the Combined Authority, will continue to hold Whippet to account, to ensure this is the case."