Published on June 22, 2022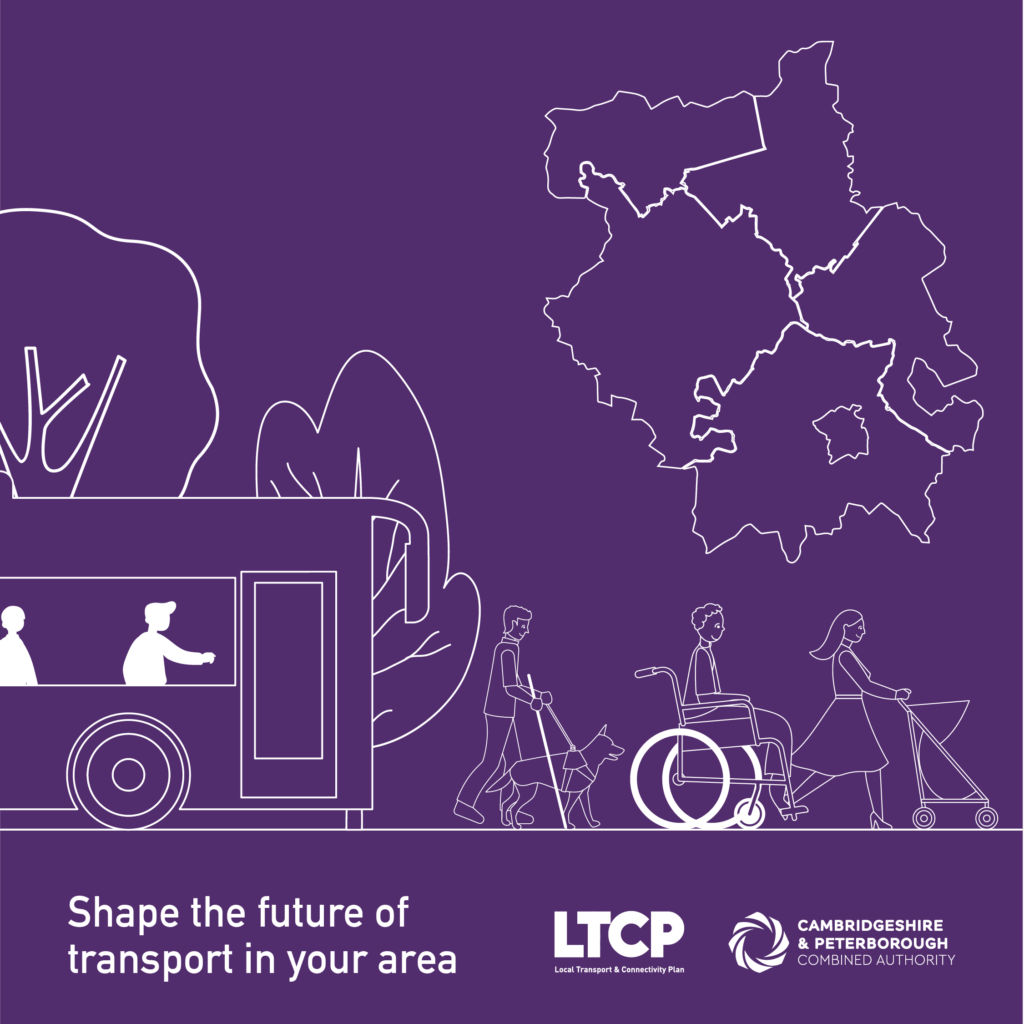 Still time to have a say on region's transport future
There is still time for people, businesses and other groups in Cambridgeshire and Peterborough to share their views in an ongoing consultation on the region's future transport strategy.
The draft Local Transport and Connectivity Plan (LTCP) sets out the transport strategy to meet the challenges and opportunities facing the region and describes some of the investments needed to make transport better and future-ready.
There are several ways people can share their views before the consultation ends on August 4. All feedback will be considered in the development of the final LTCP later in 2022.
People can take part in the consultation via:
The website: More information on the LTCP and the survey form is available via www.yourltcp.co.uk.
Drop-in consultation events: The events will allow people to find out more about the draft LTCP, speak to the consultation team and give feedback. The events are being held throughout the region.
The remaining events are at:
Thursday June 23, Ely: 12:00-17:00, The Lighthouse Centre, 13 Lynn Road, Ely, CB7 4EG.
Saturday, June 25, Cambourne: 14:00-19:00, Cambourne Church Centre, Jeavons Lane, Great Cambourne, CB23 6AF
Saturday, July 2, Peterborough: 10:00-15:00, Queensgate Shopping Centre, Long Causeway, Peterborough, PE1 1NT.
Tuesday, July 5, Huntingdon: 14:00-19:00 Huntingdon Town Hall, 53 High Street, Huntingdon, PE29 3AQ
Wednesday, July 6, Cambridge: 11:00-16:00, The Grafton Centre, 6 Grafton Centre, Cambridge,  CB1 IPS
Thursday, July 14, Sawston: 14:00-19:00, Spicers Pavilion, Spicers Sports Field, Cambridge Road, Sawston, CB22 3DG
Friday, July 15, Soham: 14:00-19:00, St Andrew's Church, Fountain Lane, Soham, CB7 5ED
You can also take part by:
Consultation brochure and survey form pick up points: Survey forms include a freepost address. A printed copy of the form can be sent out if required, by calling freephone 0808 258 3470.
Peterborough Central Library, Broadway, Peterborough PE1 1RX. Opening hours: Mon – Fri: 10:00–17:00, Sat: 9:00–15:00, Sun: Closed
Aldi Huntingdon, 4 Edison Bell Way, Huntingdon PE29 3HG: Mon – Sat: 8:00–22:00, Sun: 10:00–16:00.
Co-op Sawston, 29-31 High Street, Sawston CB22 3BG: Mon – Sat: 7:00 – 22:00, Sun: 10:00 – 16:00.
Cambridge Central Library, 7 Lion Yard, Cambridge CB2 3QD: Mon – Fri: 9:30 – 18:00
Sat – 10:00 – 18:00, Sun 12:00 – 16:00.
Ely Library, 6 The Cloisters, Ely CB7 4ZH. Mon: 9:30 – 13:00, Tues, Wed, Fri: 9:30 – 17:00, Thurs: 9:30 – 19:00, Sat: 9:30 – 16:00, Sun: Closed.
Wisbech Library, Ely Place, Wisbech PE13 1EU: Mon: 9:30 – 13:00, Tues: 9:30 – 19:00, Wed – Fri: 9:30 – 17:00, Sat: 9:30 – 16:00, Sun: Closed.
Email: Although filling in the survey form is preferred, feedback can be submitted via email: contact@yourltcp.co.uk
The LTCP, when finalised, will replace the current Local Transport Plan, first adopted in January 2020.
There is currently a big national focus on the future of transport, including issues which have led to the Combined Authority drafting a new LTCP. They include the effects on travel caused by Covid-19, the future of public transport, the Government's new national strategies to decarbonise transport and the Cambridgeshire and Peterborough Independent Panel on Climate's own recommendations to help tackle climate change.
The draft LTCP aims to support the Combined Authority's vision for a better, healthier, greener and more prosperous region, described in the 2022 Sustainable Growth Ambition statement. Priorities of the draft LTCP include improved public health, accelerated carbon reduction, protection of the environment, reduced inequalities, and making growth in housing, jobs, and the economy more sustainable by investing in better transport infrastructure.
Plans to improve digital infrastructure form part of the draft LTCP, which is why Connectivity has been included in its title. The impact on travel of internet and mobile technology on work, accessing services, leisure and socialising, which accelerated during Covid-19, remains significant.
Future transport projects for Cambridgeshire & Peterborough will be guided by the LTCP. They include projects by local councils and partners like the Greater Cambridge Partnership.
The public are asked to comment on the Plan's overall vision, goals and objectives, and the strategy and transport projects for the region, including strategies specific to local areas. General comments on transport in the region are also welcome.
A range of transport projects, from more cycling and walking investment, a reform of how buses operate, rail upgrades and road improvements to cut congestion are all included in the draft plan and can be commented on.
Mayor of Cambridgeshire and Peterborough Dr Nik Johnson said:
"There's still enough time for the public to have a say on our transport future. Anyone who lives, works or visits our region has a stake in what that future looks like, so I really want to encourage everyone to get involved.
"Hearing what people think is even more important in the current context of a cost of living crisis, the impact of Covid-19 and people reassessing attitudes to what a healthier work-life balance looks like.
"We all know that transport in our region needs to be improved, and this is the first draft of a plan to make that happen. To make that plan better, we need the people who use our transport network have a say.
"We need a revitalised transport system to meet the Combined Authority's ambition of supporting a sustainable, growing economy, that creates jobs, supports business, protects the environment, reduces inequalities and enables people to live happier, healthier lives.
"We'll do that through reducing car journeys by investing in public transport and committing to better cycling and walking infrastructure. I want our whole transport network to be quicker, safer, more reliable, less polluting and accessible to more people.
"Everyone's opinion counts, so before we make our plans final, we want to gather as many views as possible."