Published on November 16, 2021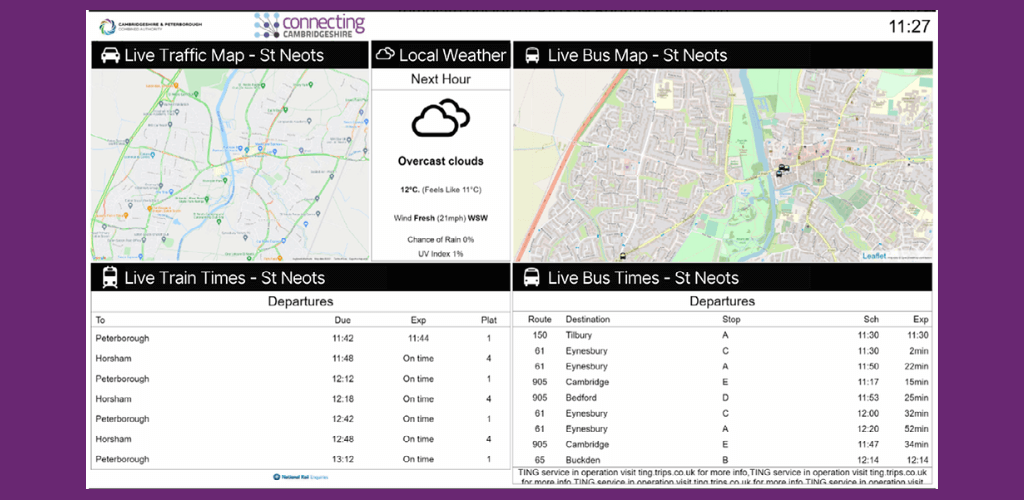 Travel information screens and smart sensor network set to transform market towns across Cambridgeshire
Market towns across Cambridgeshire are set to benefit from the installation of travel information screens alongside a new wireless sensor network which is being rolled out to help the local economy grow and create better and more sustainable places to live, work and visit.
On behalf of the Cambridgeshire & Peterborough Combined Authority, the Connecting Cambridgeshire Programme is installing the travel information screens and delivering a long-range wireless network, which will enable sensors to support services, businesses and communities in market towns and rural areas.
The travel information screens follow in the footsteps of the original SmartPanel screens, which have already been trialled in the foyers of public buildings and large companies in and around Cambridge city since 2018. Offering live and timetabled travel data they can be customised to each location to show live bus and train times, road traffic maps and weather reports. The screens use a combination of real-time and static data to provide more accurate predictions of travel times and encourage the use of sustainable transport options.
Travel screens have been installed in libraries at Chatteris, Huntingdon, March, Ramsey, St Ives and Whittlesey, the Priory Centre in St Neots and New Shire Hall in Alconbury. Further screens will be installed in Ely and Wisbech libraries and the Soham Co-Op later this month.
The sensor network project involves the rollout of a long-range, low-power wireless platform (LoRa). A LoRa network supports long-range communications between low-powered devices which have a long battery life, such as a sensor, so they can be used for Internet of Things (IoT) applications. The network allows secure data and information to be transmitted from these connected devices about things like air quality or flood warning indicators.
The rollout supports the Combined Authority's ambition for Cambridgeshire and Peterborough to be at the leading edge with a future-facing digital connectivity infrastructure that is well positioned to take full advantage of current and emerging technology advances. The LoRa network will enable businesses, local authorities, educational organisations, and the public, to explore, trial and implement IoT technology within market towns to help the local economy grow.
Local and district councils will be working with the Connecting Cambridgeshire team to determine the best way to use the LoRa network effectively and deploy IoT technology to help digitalise services to make them more efficient and better able to support local communities. This will include utilising the network for bin level sensors – to know when they need to be emptied – and monitoring changes in air quality, as well as the installation of water level sensors – capable of issuing flood alerts.
The team also plan to work with entrepreneurs and local organisations to help them understand the opportunities and support interested companies with utilising IoT within their businesses.
Cambridge-based company cThings were appointed to install the LoRa network due to their extensive knowledge and experience in delivering and operating professional and reliable long-range wide area networks.
Building on the current LoRa network which already exists in the Greater Cambridge area, the new rollout is starting with Ely and St Neots – but ultimately the aim is to expand across the whole county and ensure the smooth exchange of data with similar networks in neighbouring counties.
The expanded LoRa network has two elements: a public, open access network which will be available for anyone to use (including residents and schools); and a separate private network that will be available for local authority services and for commercial use by businesses.
Dr Nik Johnson, Mayor of Cambridgeshire & Peterborough, said: "Thanks to funding from Cambridgeshire & Peterborough Combined Authority, Connecting Cambridgeshire can now extend the availability of not only smart travel information screens but also enable this innovative sensor network to be deployed countywide. The LoRa network will ultimately help the local economy grow and create better places to live and work.
"Our investment will support services, businesses and people by encouraging local communities and entrepreneurs to trial and demonstrate their ideas and will be used to benefit residents with information regarding public transport, parking, air quality and flood alerts among many other services in the towns where they live and work."
What exactly can the LoRa network be used for?
A LoRa network offers the potential for a whole ecosystem of smart connected devices that can be used by individuals, organisations, and businesses. This access could transform our economy and local authority service delivery by:
Supporting new service delivery models and making the deployment of sensors and analysis of data affordable and intuitive for local organisations.
Enabling local council services to be optimised to reduce costs.
Inspiring the creation of new businesses in Cambridgeshire.
Encouraging local entrepreneurs to bring their ideas to life.
Providing residents with information regarding the towns they live in including public transport updates, car parking availability, air quality, flood alerts and Covid-recovery services.
Dominic Chapman, Director at cThings said: "We're thrilled to have been successful in winning the smart towns contact with Cambridgeshire & Peterborough Combined Authority via the Connecting Cambridgeshire team. We currently operate similar networks for clients based in 17 different countries allowing them to remotely monitor tens of thousands of locations across the globe. 
"Data is of most value when you can gather insights or intelligence from it and the LoRa network will help market towns build graphs and other visualisations to understand the data being collected."
The LoRa networks have so far been deployed in St Neots, Soham and Ely and have been made open to the public. Several other towns will be added to the project in the coming months.
Find out more about the LoRa network on the Connecting Cambridgeshire website.