Published on November 25, 2022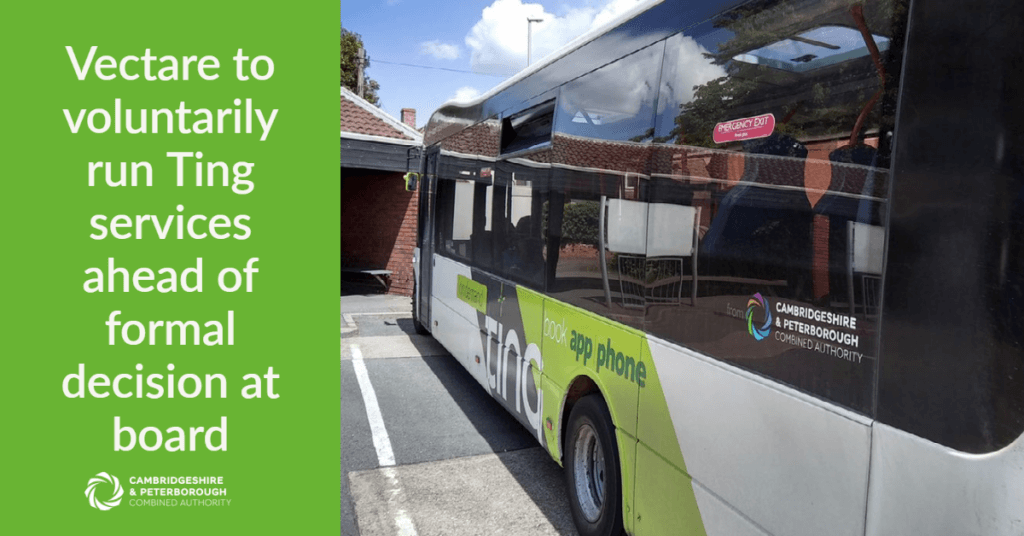 Vectare to voluntarily run Ting services ahead of formal decision at board
Due to a call-in that was requested after the Transport & Infrastructure Committee meeting on the 16th November, the decision to award the Ting contract to Vectare is to be reviewed at the Combined authority board meeting on 30th November.  
To avoid any interruption to services, Vectare will be voluntarily running the service commercially on Monday 28th, Tuesday 29th and Wednesday 30th November, at their own risk, with no expectation of receiving payment from the Combined Authority for these three days and bearing in mind the risk to the contract as a result of the call-in. We would like to express our gratitude to Vectare for making this decision and ensuring that those who use the Ting services are able to continue doing so without interruption next week.  Under Vectare, the Ting travel zones and fares will remain unchanged, but brand new electric vehicles will be introduced and Vectare's Passenger Promise, which ensures that no passenger will be left stranded, will apply to all journeys on Ting.  
To book your journey, the Vectare DRT app can now be downloaded from the App Store and Apple Store. Calls can also be booked by ringing the booking line on 0115 777 3187.