Published on November 22, 2021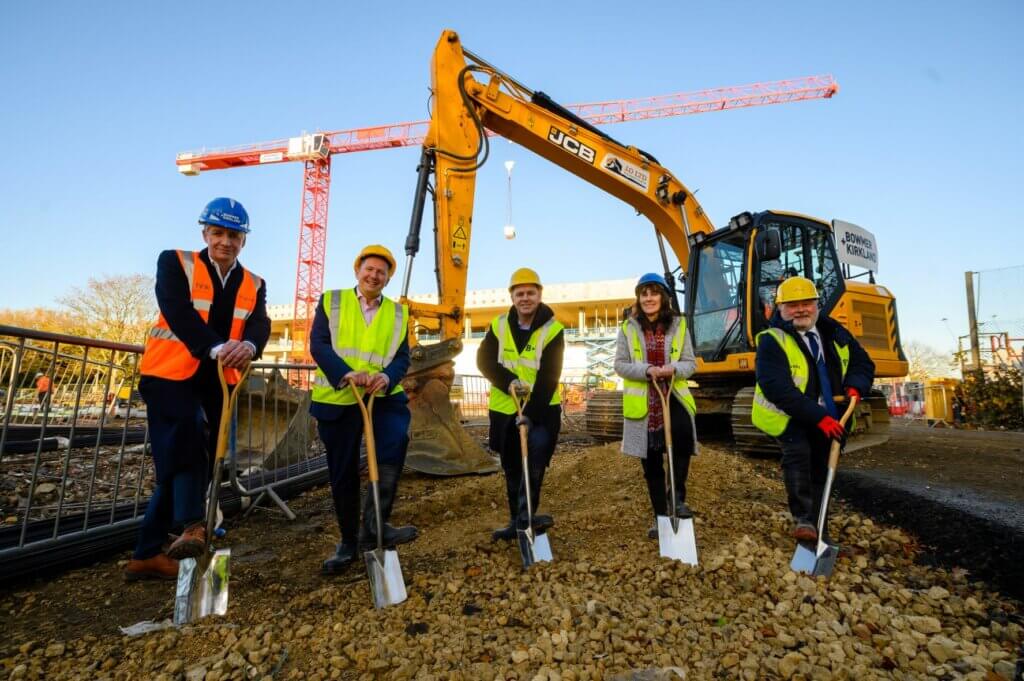 Work starts to build ARU Peterborough phase 2 research and development centre
Construction has started on a research and development centre at ARU Peterborough, which will form a second phase of the city's developing new university.
The key milestone was marked with a visit from Mayor of Cambridgeshire and Peterborough Dr Nik Johnson, Leader of Peterborough City Council Cllr Wayne Fitzgerald, ARU Peterborough Principal Professor Ross Renton, ARU Chief Operating Officer James Rolfe and Rebecca Stephens from the Combined Authority Business Board.
ARU Peterborough is a partnership between the Cambridgeshire & Peterborough Combined Authority, Peterborough City Council and Anglia Ruskin University (ARU).
The £16.7m Manufacturing and Materials Research and Development Centre building will be part of the ARU Peterborough campus on the Embankment and will feature 2,800 sqm of flexible research space over three floors.
The centre is a joint venture between the Cambridgeshire & Peterborough Combined Authority and Peterborough-based business Photocentric. Paul Holt, Managing Director of Photocentric was also at the ARU Peterborough site to mark the start of works.
The funding for its delivery comes from the Business Board's allocation from the Government's Getting Building Fund of £13.77 million and £3 million from Photocentric.
The new centre will link with local industry, fostering collaboration and innovation in a wide range of materials technologies, including 3D printing research, sustainable plastics, and new ways to make batteries.
The building will host established and start-up companies in support of the development of new technologies linked to advanced manufacturing. Photocentric itself is invested in technological innovations including creating better ways to manufacture products using innovative 3D printing concepts that they have developed.
The centre will form important part of ARU Peterborough's overall aim to tackle skills deficits in the city and wider region, to drive up local aspiration, support local employers and boost the economy. Not only will ARU Peterborough increase skills levels in the region, it will also aim to increase demand for those skills in the local economy. The research and development centre will play a part by fostering a vibrant and innovative business ecosystem, supporting existing and new local firms to grow and create skilled, good quality jobs, including for those studying at the university. Strong linkages between academia, R&D and enterprise have, for example, been identified as a key part of the success of Cambridge economy over recent decades.
Construction for the centre is planned to be completed in December 2022 and building work for the phase one teaching building is already well advanced. The building contractors, Bowmer + Kirkland, have been engaging with the local community as works on the site progress, including the current phase 1 scheme.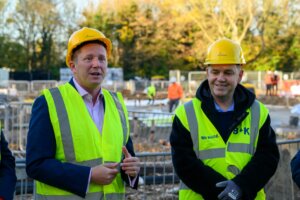 The University is set to open in September 2022 to its first 2,000 students.
Mayor of Cambridgeshire and Peterborough Dr Nik Johnson said:
"It was a real thrill to see another key milestone pass at ARU Peterborough and more progress to what will be a transformative university for the city.
"This research and development building will embed the developing university even further into the local economy. It will support local businesses to innovate and grow, create high value jobs and drive demand for skills provided by ARU Peterborough.
"This building will help accelerate Peterborough as a pioneer of manufacturing technology and foster a new wave of business growth and creation, supported with a highly skilled, highly productive local workforce.
"I look forward to working with Photocentric in making this important part of ARU Peterborough a success."
Councillor Wayne Fitzgerald, Leader of Peterborough City Council, said:
"This is a significant milestone for the future of Peterborough and its residents. By investing in education and skills we are not only investing in the economic and cultural growth of our city for years to come, but also the prosperity of future generations.
"The research and development building will put Peterborough on the map as an epicentre for innovation and new technology."
Professor Ross Renton, Principal of ARU Peterborough, said:
  "The start of construction of the research and development centre marks an important step for ARU Peterborough and the city as a whole, as attracting cutting-edge companies and research organisations to Peterborough is vital for our future economic success.
"This building will provide significant opportunities for us to collaborate with the businesses and organisations making the new facility their home, whether through research and innovation links between the university and industry, or through employment pathways for our highly-skilled graduates.
"The new research and development centre will also form an important part of the University Quarter development, which will anchor ARU Peterborough into the local community for the benefit of everyone in the city and region."
Paul Holt, Managing Director of Photocentric, said:
"We are delighted to see the construction of the centre commence and excited about the important role that the Centre will play in developing the engineers of tomorrow – so vital for the net zero economy. A strong and innovative manufacturing sector is at the heart of a modern economy and at Photocentric we are helping global businesses to reimagine their manufacturing processes. This Centre will play a key role in the development of the disruptive technologies that will shape tomorrow, helping to place this region at the cutting edge of manufacturing innovation."
Member of the Business Board, Rebecca Stephens, said:
 "With funding from the Business Board via the Getting Building Fund, its naturally fantastic to see works start on site.
"This investment will support the Business Board's aim to promote growth in the economy and create jobs. We have a strategic aim to support our advanced manufacturing sector and this research and development facility will add real momentum to that aim, encouraging greater innovation and investment potential for the city and the wider region."