Published on October 28, 2022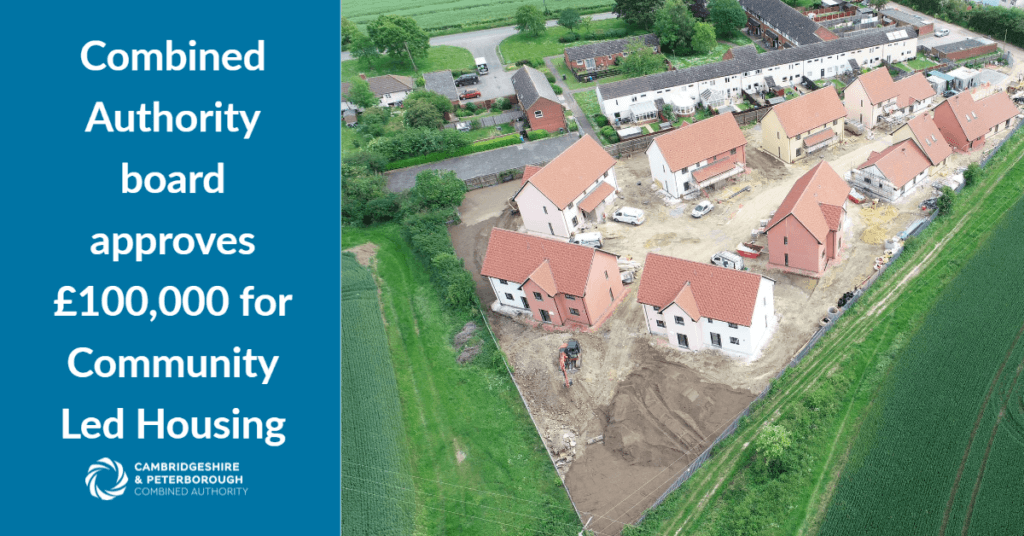 COMBINED AUTHORITY BOARD APPROVES £100,000 FOR COMMUNITY LED HOUSING
At the Combined Authority Board meeting on the 19th October 2022, it was unanimously agreed that a further £100,000 of funding would be made available to support community-led housing initiatives across Cambridgeshire and Peterborough.  
Community-led housing involves local people playing a leading and lasting role in solving housing problems, creating genuinely affordable homes and strong communities. It can involve building new homes, returning empty homes to use and managing existing homes.  
Funding challenges are often met by incorporated community led housing groups in the early stages of a project. Examples include meeting the costs of viability appraisals, addressing legal and planning issues, addressing site specific issues such as ground investigations, entering into arrangements for securing a legal interest in a site, conveyancing and preparation of partnership arrangements.  
The approved £100,000 will provide a source of follow-up funding in circumstances where it can be demonstrated that it could address challenges and maintain project momentum. 
Speaking of the decision by the board, Mayor of Cambridgeshire and Peterborough, Dr Nik Johnson, said "Community led housing is an essential part of our commitment to providing affordable housing across our districts, and I'm delighted that the board unanimously agreed to this additional funding. By supporting our communities and their desire to build community assets, not only will we increase the overall supply of affordable homes, but we will also see an increase in empowered and engaged communities across Cambridgeshire and Peterborough."