Published on October 28, 2022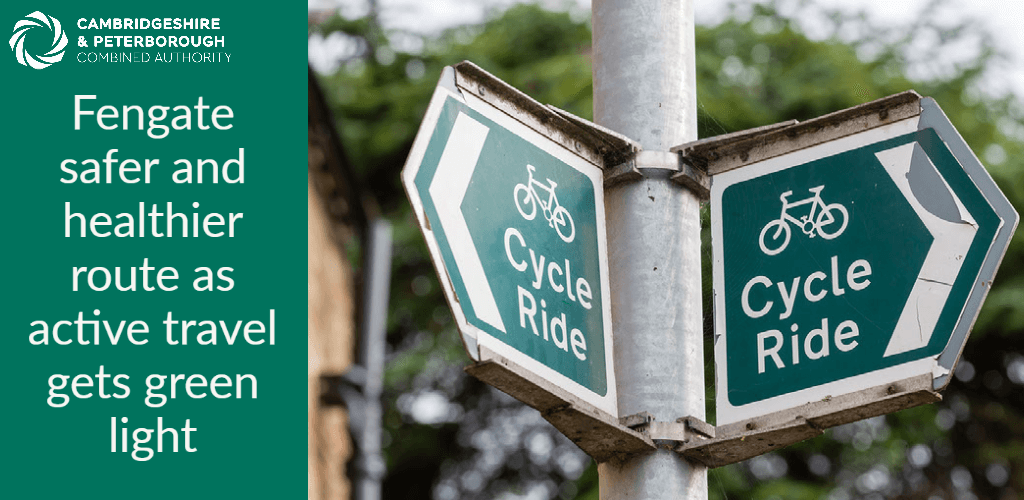 FENGATE ON SAFER AND HEALTHIER ROUTE AS ACTIVE TRAVEL GETS GREEN LIGHT
In a move set to speed up the delivery of better and safer facilities for cyclists and pedestrians, members of the Combined Authority Board today voted to release over £550k to push through active travel projects within Peterborough's Fengate development scheme.
After an update on the progress of Fengate Phase 1 Full Business Case, members gave the green light to draw down the money to accelerate the active travel elements of the overall Fengate scheme.
Releasing the £550,424 can accelerate the construction funding of two of the active travel schemes which form part of the Fengate Access project ahead of the main highway works, scheduled to start in April 2023, subject to Combined Authority Board approval in January.
The schemes identified for accelerated delivery are the Newark Road Footpath and  Oxney Road improvements for pedestrians.
Well-planned infrastructure for people walking or cycling will encourage active travel – exercise for leisure, pleasure, or commuting – and can generate benefits in mental and physical wellbeing and public health generally.
The Combined Authority hopes that improved walkways and cycleways will encourage people to change their habits and get about by foot or bike instead of by private car, and therefore help reduce current and future traffic jams and delays.
Fengate is a particularly car-dependent employment hub, and the quality of the active travel infrastructure is lower than elsewhere in Peterborough. Without an improvement in routes for biking and walking, Fengate will remain reliant on cars, with their associated congestion and emissions, and less accessible for those who would otherwise welcome travelling by foot or cycle.
On top of the £550,424, the Board also approved the drawdown of £315,000 to accelerate utility costs ahead of construction. It was requested that these costs be approved early to get the paperwork done so the project is 'shovel-ready' for construction to start in January 2023.
An initial value for money assessment has confirmed, ahead of submission of the Full Business Case in December, that the Fengate Access Study active travel package of schemes offers high value for money.
The Combined Authority and Peterborough City Council have been looking for ways to accelerate delivery as the scheme is funded by the Transforming Cities Fund which has a spending deadline of March 2024 attached.