Published on August 22, 2021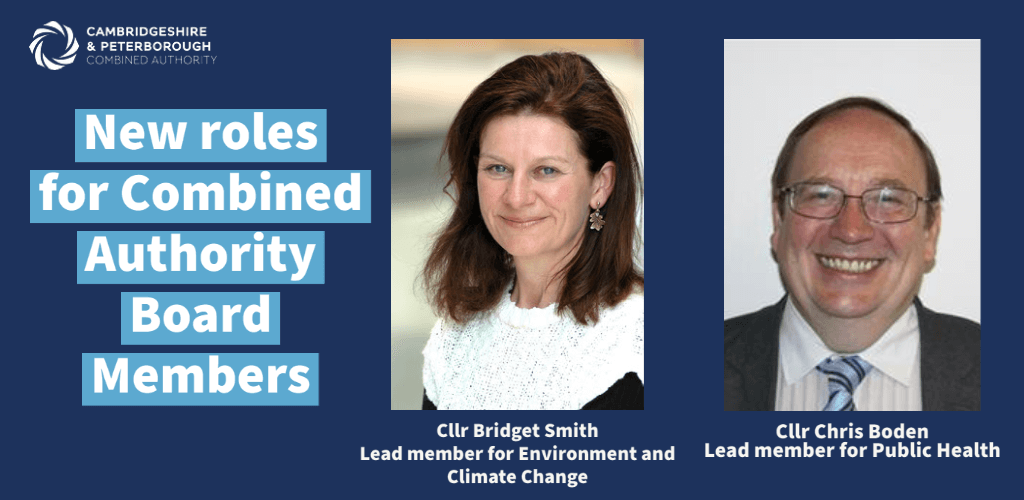 Combined Authority Board members start roles championing public health and the environment
Lead members responsible for newly created Combined Authority portfolios in Public Health and Environment and Climate Change have spoken about what they will bring to the roles.
Combined Authority Board member Cllr Chris Boden, who is also leader of Fenland District Council, is the new lead member for Public Health. Cllr Bridget Smith, who is also leader of South Cambridgeshire District Council, is the new lead member for Environment and Climate Change.
Mayor Dr Nik Johnson proposed creating the roles to emphasise and promote both public health and the environment and climate change as central to the Combined Authority's work. The Mayor's nominations for the roles have been approved by the Combined Authority Board.
The roles will sit alongside existing lead member responsibilities for housing (Cllr Lewis Herbert), Skills (Cllr Lucy Nethsingha), Transport (Mayor Dr Johnson) and Economic Growth (Cllr Wayne Fitzgerald).
The main responsibilities for the Environment and Climate Change role are to lead on the 31 recommendations of the Cambridgeshire & Peterborough Independent Commission on Climate, which were approved for adoption by the Combined Authority Board in June. Cllr Smith will also focus on net zero carbon targets, renewable energy, and fostering strategic relationships with public bodies, the private sector and voluntary groups on environmental issues.
Cllr Smith is already lead member of the Environment Working Group for the developing OxCAM Arc, where she is spearheading a shared ambition among local leaders to turn the Oxford to Cambridge corridor into a 'Green Arc'. This includes a series of principles on reducing carbon emissions, significantly increasing the amount of space for nature and for the corridor to be an exemplar for environmental sustainability.
Cllr Smith, new Lead Member for the Environment and Climate Change, said:
"There is no greater threat to all of our futures than that posed by climate change and if we do not act now the consequences will be catastrophic both for our region and for the rest of the world.  There is an opportunity here for the Combined Authority to lead the way and I am delighted to be offered this role which I hope will build on what South Cambridgeshire District Council is already doing and on what there is potential for the OxCam Arc to do given sufficient government support and commitment."
The main responsibilities for the Public Health lead member are to promote how the Combined Authority's work can improve reducing health inequalities in the region, including via healthy life expectancy, healthy active ageing, mental health and wellbeing, preventative health, Covid-19-related public health infrastructure and community support, and through strategic relationship building with Cambridgeshire & Peterborough Clinical Commissioning Group and health providers in the region.
Mayor Dr Johnson said:
"It is essential that alongside our core work of supporting people and the economy by investing in upgraded transport, much needed housing, skills and business support, that public health and the environment is at the top table.
"Climate change is by far the biggest threat humanity has faced and every action we take must recognise this fact. And improving public health in a region where so much inequality exists, not least in measures of life expectancy, is a moral imperative. These roles were created because progress in these two areas will help define what a successful Combined Authority looks like.
"I'm really pleased Cllr Smith and Cllr Boden agreed to take them on and I know they will offer both passion and scrutiny in equal measure to help make sure their respective responsibilities are properly embedded in the work we do."