Published on February 15, 2023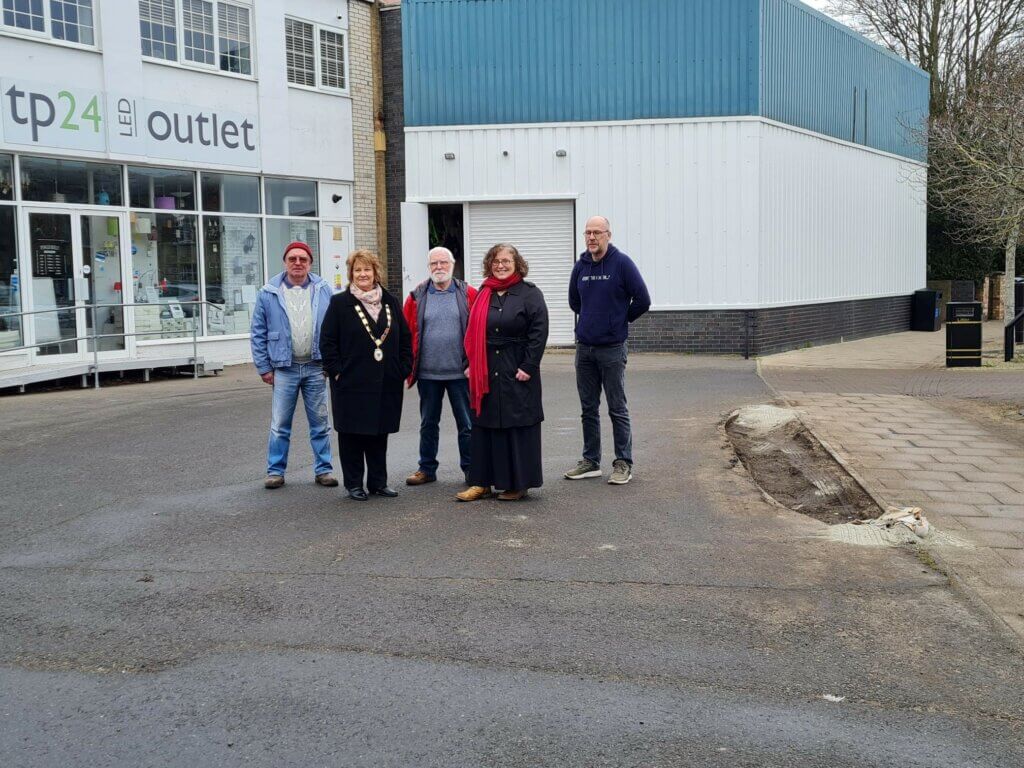 Deputy Mayor sees Renaissance work in Chatteris
Building improvements in Chatteris brought about with funding from the Cambridgeshire & Peterborough Combined Authority were  welcomed by the Deputy Mayor when she visited the town on Saturday.
Cllr Anna Smith was invited by the Mayor of Chatteris, Cllr Linda Ashley, to visit the Fenland market town to see for herself how Chatteris Town Council has spent money given by the Combined Authority.
Cllr Ashley showed Cllr Smith and her husband Cllr Mike Todd-Jones the new-look Empress building, which has been transformed thanks to shuttering and roller doors, and the former Barclays Bank, which will soon be new home for the town museum.
Improvements to the Empress building were partly funded by the Town Renaissance Fund,  included in the Growing Fenland scheme for Chatteris, and partly by the Town Council, with the remaining costs met by the team behind the scheme, the Christmas Lights Committee.
The Renaissance Fund awarded grants of up to 60% of the costs of refurbishment works leaving businesses to find just 40%.  Funded by the Combined Authority and administered by Chatteris Town Council,  the Renaissance Fund has invested £92,000 to make the town centre more attractive, improving the appearance, and enabling refurbishment works to help businesses recover post Covid-19.
The Growing Fenland project itself received £200,000 of Combined Authority funding to produce masterplans for the towns of Wisbech, March, Whittlesey and Chatteris.
Chatteris Christmas Lights Committee members Reg Tibbitts and Richard Leney joined Chairman Chris Savill explained to the Deputy Mayor that the look of  Park Street overall has been improved but  work has also increased security for the Christmas Lights collection, stored in the one-time car showroom at the front of the Empress building.
Cllr Smith also visited the former Bank with the Mayor and Chatteris Town Clerk, Joanna Melton, to see work under way to convert the bank into a new home for the museum. Cllr Smith said she was fascinated by the history of the building and the museum and was keen to return when the works were completed.
Cllr Ashley thanked Cllr Smith for the Combined Authority's support for the projects which were improving the town. Funds from the Growing Fenland scheme have also been used to refurbish shop fronts, street furniture and lighting columns in the town centre, all contributing to Covid-recovery and work to keep town centres attractive and vibrant.
The town clerk Joanna Melton praised staff at the Combined Authority who were working in collaboration with the Town Council to deliver all the projects.