Published on February 15, 2023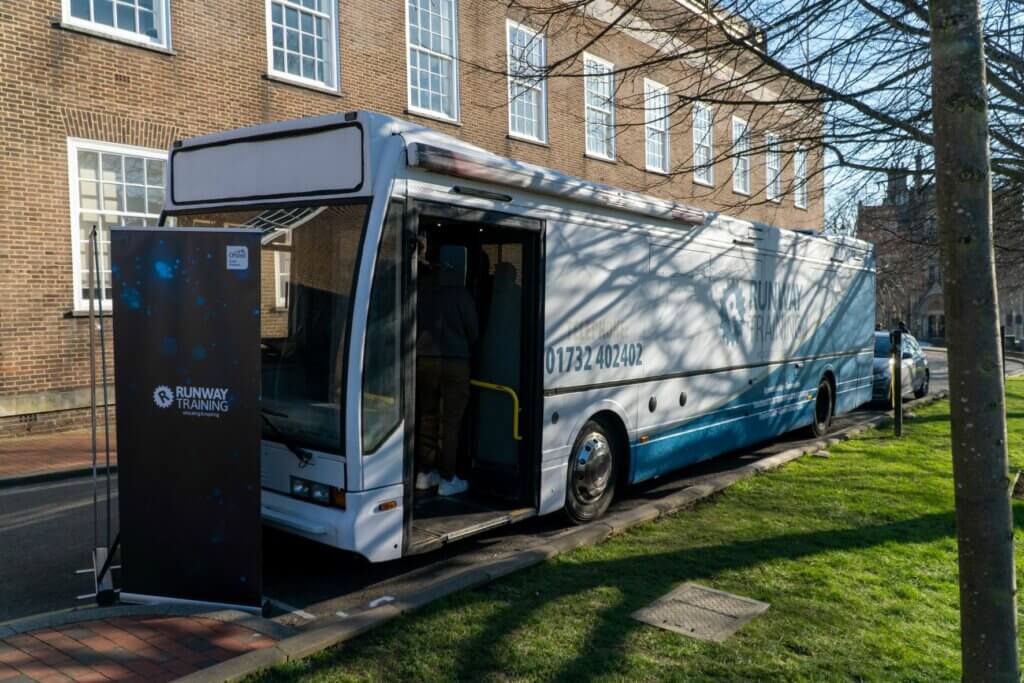 Multiply bus rolling into towns to help people become more number confident
A bus roadshow is touring across Cambridgeshire and Peterborough to help people become more number confident.
The Cambridgeshire and Peterborough Combined Authority was awarded £4 million by Government to help improve numeracy across the region as part of the national Multiply programme.
Colleges and training providers across the region are providing ways people can sharpen up their maths to help everything from better household budgeting through to getting the skills needed to advance in a career.
A Multiply bus, operated by one of the training providers, Runway Training, will be stopping across the region. People are invited to hop on board and find out how Multiply can help them build number confidence and improve their maths skills.
The bus is fully equipped with ten laptops, wi-fi, screens and a coffee machine, and has a relaxed, friendly feel. In addition to visiting major towns, this mobile learning venue aims to bring Multiply to the rural communities across the region.
Members of the public are encouraged to check out the Multiply bus at the following locations and dates
Monday, February 20, 9am-4.30pm, Peterborough Cathedral Arch
Wednesday, February 22, 8.30am-3.30pm, Ely Market Place
Thursday, February 23, 10am-3.30pm, Wisbech Market Place
Friday, February 24, 10am-3pm, Huntingdon Market Square, Market Hill
The Multiply programme is also about making people aware of all the opportunities for upskilling available across Cambridgeshire and Peterborough – many of which are free and can support career changes or advancement.
A whole range of colleges training providers across the region are offering courses and training, which are free for residents.
Cllr Lucy Nethsingha, Deputy Mayor of Cambridgeshire and Peterborough and chair of the Combined Authority Skills Committee, said: "Having sound numeracy skills are really important in people's day-to-day lives for everything from good budgeting for the weekly shop, to reading bus and train timetables or helping your kids or grandchildren with their homework. This roadshow is a great opportunity for people of all ages to find out more and to take advantage of free support to improve their confidence and skill with numbers."
Oliver Trailor, Managing Director, Runway Training, said: "We're looking forward to welcoming people onboard to find out about the support and courses on offer. They will also be able to try a game of Maths Jenga and undertake the National Numeracy Challenge."
57% of the working age adult population in England are estimated to have low numeracy skills. Three in 10 (31%) say they are not a "numbers person". Women are more likely to say it and are more than twice as anxious as men about maths and numbers.
A good way to test and improve your number confidence is by taking the National Numeracy Challenge.
To sign up to a range of courses to improve your maths and number confidence, visit https://www.growthworkswithskills.com/individuals-hub/multiply-maths-skills-for-life/. Growth Works With Skills is the service established by the Combined Authority and Business Board to support a better skilled Cambridgeshire and Peterborough.