Published on August 15, 2023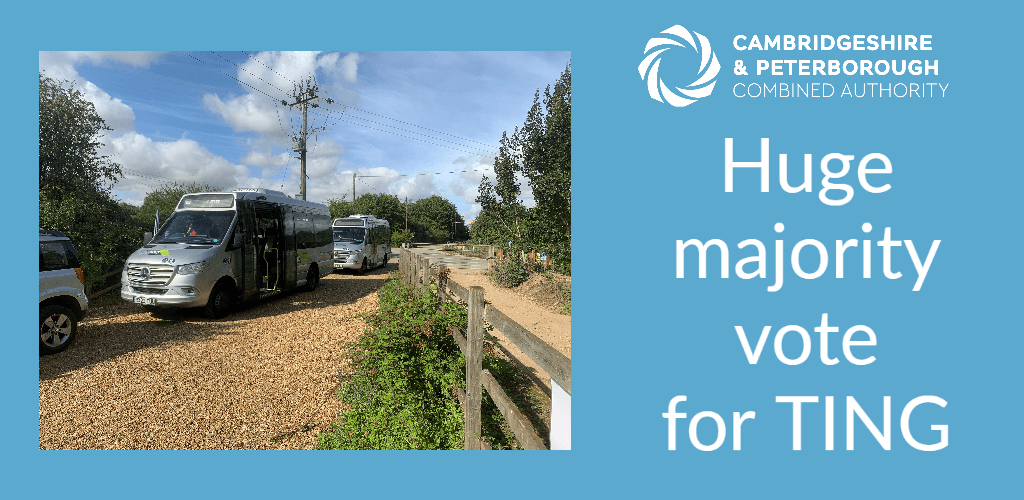 Huge majority vote Ting!
A survey of 296 people who have used Ting found that 94 per cent preferred the taxi style service to regular bus services.
Of the people surveyed, a higher percentage of young people, aged under 20, used Ting compared to regular buses, 20 per cent for Ting compared to just 3 per cent for regular buses.
51 per cent of people aged 21-59 also opted to travel on Ting buses compared to 33 per cent for regular buses.
A higher number of people aged over 60, however, chose to travel on regular buses over Ting, at 63 per cent compared to 19 per cent.   We will be looking into this further, to see whether there are things that could be done to make Ting more attractive to older residents.
The survey revealed people used Ting for a huge spread of reasons including commuting to work, education, health services, errands, childcare, government or social services and leisure.
Three times as many people opted to use Ting to commute to and from work over conventional buses, and a higher percentage used Ting for leisure too, suggesting that the Ting service can be beneficial for lots of different purposes.
Ting, a taxi-style bus service, has been running in West Huntingdonshire since October 2021, and is a great way to get around without having to rely on a car or fixed bus timetables.
Ting was recently used to take 30 people from Love's Farm community association in St Neots to Paxton Pits Nature Reserve for a day out, organised by Cllr Lara Davenport-Ray.  The event was funded by the HDC Health Inequalities Project with the aim to get residents of Love's Farm, particularly families with financial barriers to get moving and active and enjoy a day out during the school holidays.
The Ting bus service is not fixed to a specific route or timetable. It provides passengers the option to book an on-demand service in real time, allowing people across all age groups to order a bus from even the most remote locations and travel any one-way ride for just £2.
Deputy Mayor Anna Smith said:
"These are really encouraging results and point to the success of Ting so far. Services like Ting are an innovative way of ensuring that more people, especially in rural areas, have access to a bus service that gets them where they need to be. I'm thrilled to see so many people using this service for both work and leisure. I am particularly encouraged to see the numbers of young people using the service.
"The results of this survey tie in with the stories that we hear from residents. I have, for instance, recently been told about a young mum, living in a remote village, who couldn't drive because of a recent surgery, but who was able to get out and about because of Ting.
"I look forward to seeing the next steps for Ting, as we hope to roll it out to more areas as part of our ambitious bus reform programme."
Peter Nathanail, Commercial and Operations Director at Vectare, who operate Ting on behalf of the Combined Authority, said:
"I'm delighted with these survey results, and this shows that there are innovative and effective ways of improving public transport in rural areas. This has positive social, environmental, and economic effects. We're proud to provide both the technology and vehicles and drivers for Ting in partnership with the Combined Authority".
Passengers in West Huntingdonshire could use Ting for day trips, including to the following spots:
Hamerton Park Zoo – an animal park set in 25 acres of beautiful countryside;
Grafham Water – England's third largest reservoir;
Buckden Towers – a medieval fortified house and bishop's palace in Buckden, Cambridgeshire
Booking journeys can be done using the app from the App Stores and Apple Stores by searching 'Vectare DRT'. People can also call to book by ringing the booking line on 0115 777 3187.