Published on July 24, 2023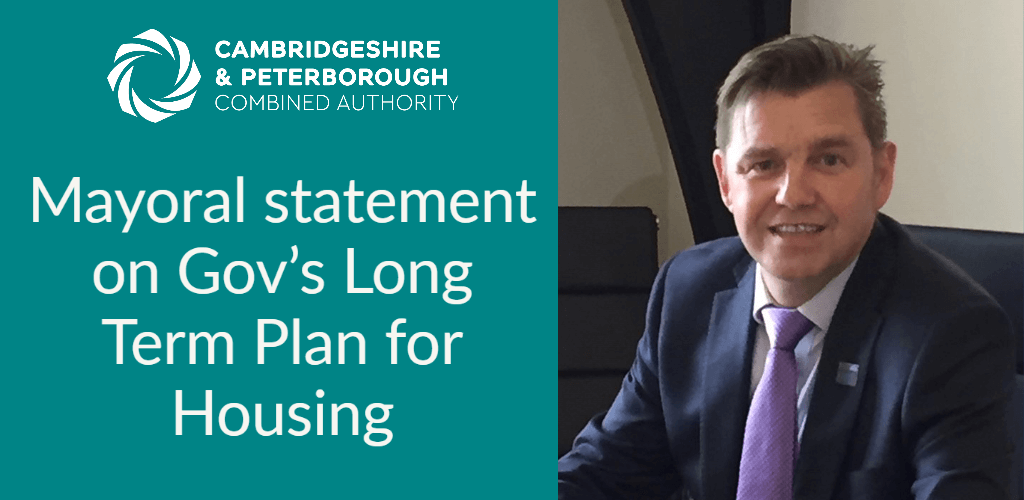 Mayoral statement on Gov's Long Term Plan for Housing
Residents often speak with me about the unaffordability of homes in Cambridge. Indeed, Cambridge City is frequently listed within the least affordable places to live in the UK. Additionally, businesses are increasingly providing the feedback that the limited housing supply and it's unaffordability is stifling their ability to recruit talent and limits the productivity of our economy.
I have therefore, listened with great interest, to Housing and Levelling Up Secretary, Michael Gove's announcement on the Government's long term plan for housing. I share the Secretary of State's ambition to see Cambridge "super charged as Europe's science capital". Known informally as Cambridge 2040, Gove has announced an ambition to speed up housebuilding in the city, including a new urban quarter to anchor new homes, laboratories, green space and state of art facilities.
I share the concerns of many, that Cambridge infrastructure is currently not ready for such a development. Water scarcity is a very real issue that is limiting the growth of our marvellous city.
Within the announcement, it is anticipated that a Delivery Group will take forward immediate action to address barriers, such as water scarcity across the city. This will include convening a Water Scarcity Working Group with the Environment Agency, Ofwat, central and local government and innovators across industries to identify and accelerate plans to address water constraints. I very much look forward to the Combined Authority playing a key role in addressing these concerns, and being the voice of local residents and businesses within that Delivery Group.
My call to the Government is simple, utilise the existing institutions in our region to deliver your ambitions. 6,000 sustainable, genuinely affordable, well-designed homes, as well as schools, parks and over 1 million square feet of much needed commercial life science research space, is not unwelcome. Especially if the delivery of that will solve the current water crisis in Cambridge.
As the Mayor the whole of Cambridgeshire and Peterborough, I will work to put the connectivity infrastructure in place to ensure that Government investment in Cambridge City benefits our wider economy in areas like Peterborough and Fenland.
The Combined Authority stands ready to meet with you, and work together to get on with delivering what is needed for our region and it's residents.