Published on March 28, 2023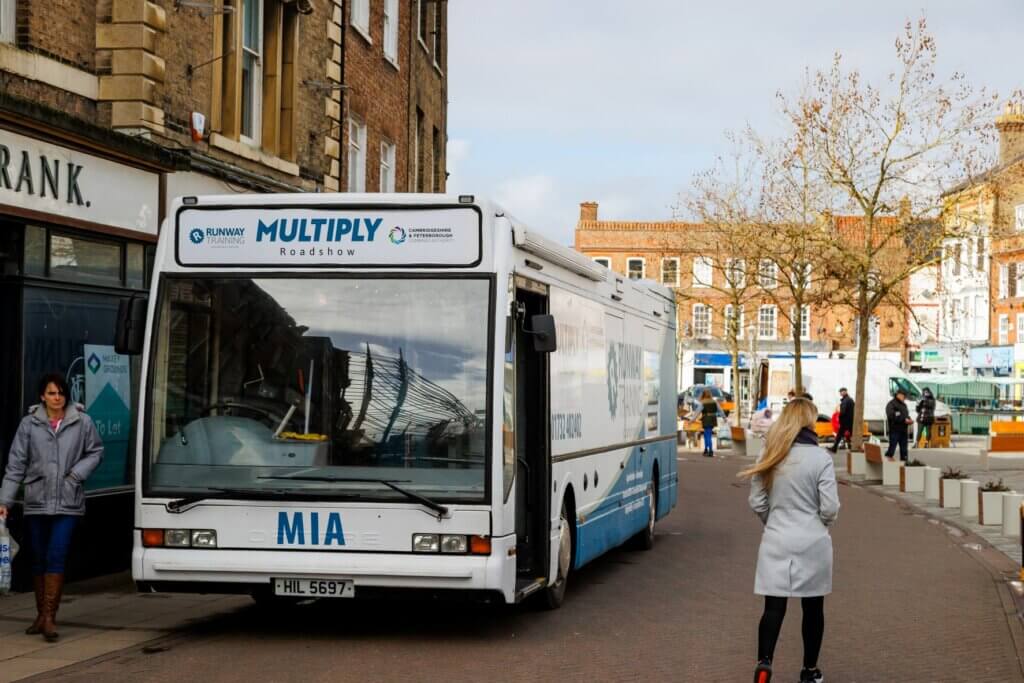 On the road again! Multiply bus tour promoting free courses to improve number confidence
The Multiply Bus Roadshow is back, aiming to help even more people in Cambridgeshire and Peterborough to become more number confident.
The Cambridgeshire and Peterborough Combined Authority was awarded £4 million by Government to help improve numeracy across the region as part of the national Multiply programme.
The Mutiply Bus Roadshow toured the region at the end of February is back again for four more dates ending on April 1
People will be able to find out how Multiply can help them build number confidence and improve their maths skills. Multiply offers a range of courses, and at various levels, from the very basic through to more formal qualifications.  For example parents can do a short course to help their children with homework, workers can access maths skills to help in their jobs, and personal finance and everyday maths courses can help people with life in general.
The bus is fully equipped with ten laptops, wi-fi, screens and a coffee machine, and has a relaxed, friendly feel. In addition to visiting major towns, this mobile learning venue aims to bring Multiply to the rural communities across the region.
Members of the public are encouraged to check out the Multiply bus at the following locations and dates:
Wednesday, March 29, 10am-3pm, Lancaster Way, Ely
Thursday, March 30, 10am-3pm, Market Square, Huntingdon
Friday, March 31, 10am-3pm, Market Square, St Neots.
Saturday, April 1, 9am-4.30pm, Peterborough Cathedral Arch.
The Multiply programme is also about making people aware of all the opportunities for upskilling available across Cambridgeshire and Peterborough – many of which are free and can support career changes or advancement.
A whole range of colleges training providers across the region are offering courses and training, which are free for residents.
Parminder Singh Garcha, Combined Authority Senior Responsible Officer for the Multiply programme, said: "It's fantastic to see the Multiply Bus back on the road and touring the region again, making people aware of these fantastic free courses to improve number confidence and maths skills.
"Getting the message of what Multiply can offer out into communities is so important. The welcoming and well-equipped roadshow bus is a great place to be inspired to improve your maths skills.
"We know that a lack of maths skills can hold people back in the world of work and at home. Multiply is a great opportunity to improve day-to-day life by sharpening your number skills.
Oliver Trailor, Managing Director, Runway Training, said: "We're delighted to once again be touring with the Multiply Bus. Building on the success of the last tour, we are looking forward to welcoming visitors on to the bus to meet with staff and find out more about how we can support them to improve their numeracy skills. We are also launching our new offer supporting businesses and includes modules on: managing budgets, cost centres and understanding risk, come onboard to find out more!"
A good way to test and improve your number confidence is by taking the National Numeracy Challenge.
To sign up to a range of courses to improve your maths and number confidence, visit https://www.growthworkswithskills.com/individuals-hub/multiply-maths-skills-for-life/. Growth Works With Skills is the service established by the Combined Authority and Business Board to support a better skilled Cambridgeshire and Peterborough.