Published on November 3, 2020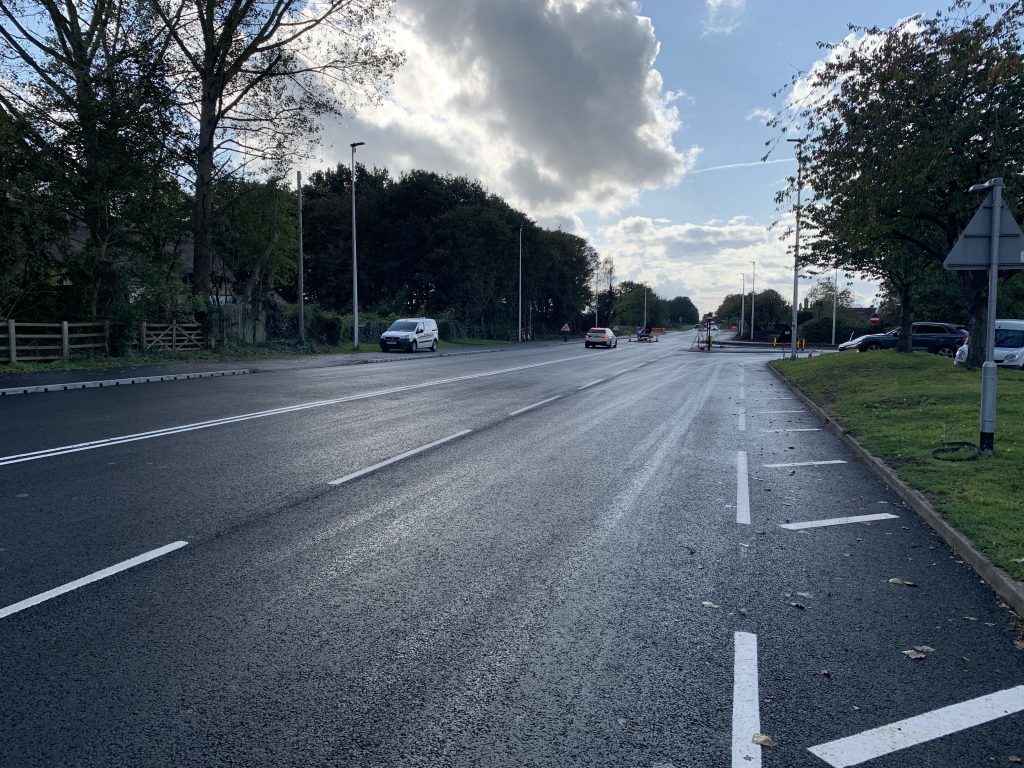 Peterborough A605 improvements completed to benefit all road users
Improvements to a busy section of road in Peterborough have now been completed, benefiting motorists and pedestrians.
Work to widen and enhance a stretch of the A605 between the A1 Alwalton junction and Lynch Wood got under way earlier this year and were completed this week., including a new environmentally-friendly footpath made of recycled rubber.
The £1.6 million scheme, funded by Cambridgeshire & Peterborough Combined Authority, headed by Mayor James Palmer, and carried out by Skanska on behalf of Peterborough City Council, has centred around the widening of Oundle Road to create an extra traffic lane.
The project has also seen the Alwalton village junction re-configured to improve access, as well as the installation of new pedestrian crossing points, and a new footpath to the south side of the highway.
The 'jam-busting' measures are aimed at alleviating traffic leaving the A1 and travelling along the A605 into Lynch Wood. They were carried out following a public consultation and discussions with businesses in the area.
James Palmer, Mayor of Cambridgeshire & Peterborough: 
"The Combined Authority is about delivery, about getting things moving and creating the right environment for good growth. I'm pleased that we've been able to fund this scheme and get it into action, so people feel the benefit straight away. We're committed to bringing the region's whole transport infrastructure up to scratch, attracting new business and new jobs.
"Schemes like this show how the Combined Authority delivers for people right now, while putting in place plans for longer term improvements across the whole of Cambridgeshire and Peterborough."
Cllr Peter Hiller, Peterborough City Council's cabinet member for growth, planning, housing and economic development, said:
"This project has been a real joint effort between our teams, the public and businesses in Lynch Wood and I'm delighted with its successful conclusion. Traffic congestion has been an issue in this area for some time and the improvements will provide a long term solution for motorists and pedestrians.
"The success of this project has been helped by the continued support and co-operation of local councillors, the Parish Council and most notably local residents. We would like to thank them all for this and their patience while the works were ongoing and delayed due to the outbreak of Covid-19.
"It's important to the city's economic development that we continue attracting business to the city. And by and large, we have a good transport foundation that can support this, with some of the lowest congestion levels of any UK city."