Published on June 14, 2023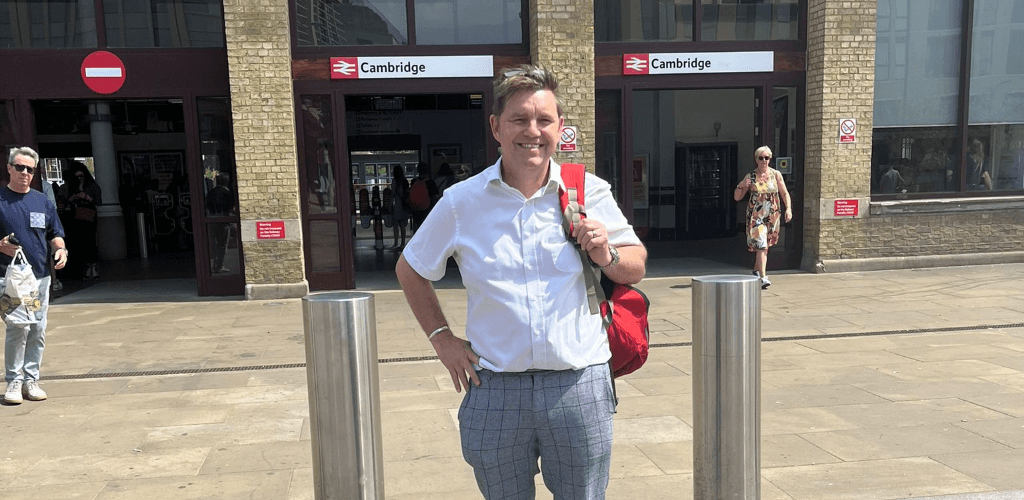 The Six District Challenge – Completed!
On Monday 12th June 2023, Mayor Nik Johnson took part in the Six District Challenge, which involved getting around each of the six districts in Cambridgeshire, within 24 hours, using only public transport and active travel routes.
With no prior plan on which routes to take, the Challenge was a unique opportunity to celebrate the progress made in delivering good public transport and identify challenges remaining in Cambridgeshire and Peterborough.
Starting in Wisbech at 10am, the Mayor's journey took him through the following locations and modes of transport before arriving back at Wisbeach at 8.30pm:
From Wisbech bus station he got the B bus to Peterborough bus depot in Queensgate (£2)
Walked to ARU Peterborough for a quick pit stop to have a catch up with University Principal and Professor Ross Renton
Walked from ARU Peterborough to the train station
Got the train from Peterborough to Soham station (£18)
Walked from Soham station to Viva Arts for a quick pit stop
Walked from the Theatre to the White Heart Lane bus stop to get the 12 service to Ely (£2)
Got the train from Ely to Cambridge (£4.50)
Got the train from Cambridge to Foxton (£4.50)
Got the bus from Foxton to Trumpington Park and Ride (£2)
Got the guided bus from Trumpington Park and Ride to St Ives (£2) – which he had to get off when he realised by the time he would get to St Ives the buses to March would have stopped running so had to re-route. Got off at Parkers Piece in Cambridge
From Parkers Piece he got the bus to St Neots (£2)
Walked from the St Neots bus stop to St Neots train station
Got a train from St Neots to Peterborough station (£7.80)
Walked from Peterborough station to Peterborough bus depot
Got the bus from Peterborough back to Wisbech bus station (£2)
The Challenge is in support of Better Transport Week, which this year takes place between 12th – 18th June 2023 and is a week-long celebration of sustainable transport. Pioneered by Campaign for Better Transport, it brings together industry partners, national and local government, sub-national transport authorities and NGO partners to highlight positive, innovative work being done across the transport sector.
Insights gained from this experience will be used to inform the Cambridgeshire and Peterborough Combined Authorities plans to transform local public transport.
Mayor Dr Nik Johnson said:
"It has been fantastic to take part in the Six Districts Challenge – and a challenge it was!
"On Monday I spent nearly 12 hours on our public transport system, travelling the length and breadth of the region and speaking to people who use buses for all kinds of reasons including work, college and even getting to the gym.  To get their feedback and experience firsthand some of the challenges faced will be invaluable in shaping our plan for reforming local transport going forward.
"Lessons learnt on things to address include accessibility – many of the bus stops didn't have clear signposts or timetables, coverage was patchy in the more rural areas and after 5pm our options for travelling back to the Fens were limited, as well as there being poor access for wheelchair users on many stations.  We also need to think about single ticketing options, as paying for multiple journeys stacked up quickly and on aligning services so that people can move between buses and trains with ease to make longer journeys.
"There were also some real highlights, including the friendliness of the bus drivers, the cooperation of many bus services in offering the government's £2 fare and how easy it was to travel to ARU Peterborough.  Overall a great day and has given us lots of food for thought on how to effectively transform our public transport network so it is fit for residents in the region now and in the future."
As well as improving bus stop signage and timetables and looking at streamlining ticketing, making public transport more accessible to people with disabilities was clearly highlighted as a priority by the Challenge.
The Combined Authority recently held a roundtable with disability groups and representative groups to hear first-hand how public transport and active travel can be made more accessible for all.
Representatives made clear that public transport, like buses, are a lifeline to many people with disabilities. However, their ability to get outside and enjoy the world is heavily dependent on how confident carers are in using public transport, especially with wheelchairs. Often this can just be too difficult.  Simple solutions were offered, like talking buses and talking bus stops to help the visually impaired know where buses are stopping.