Published on July 22, 2022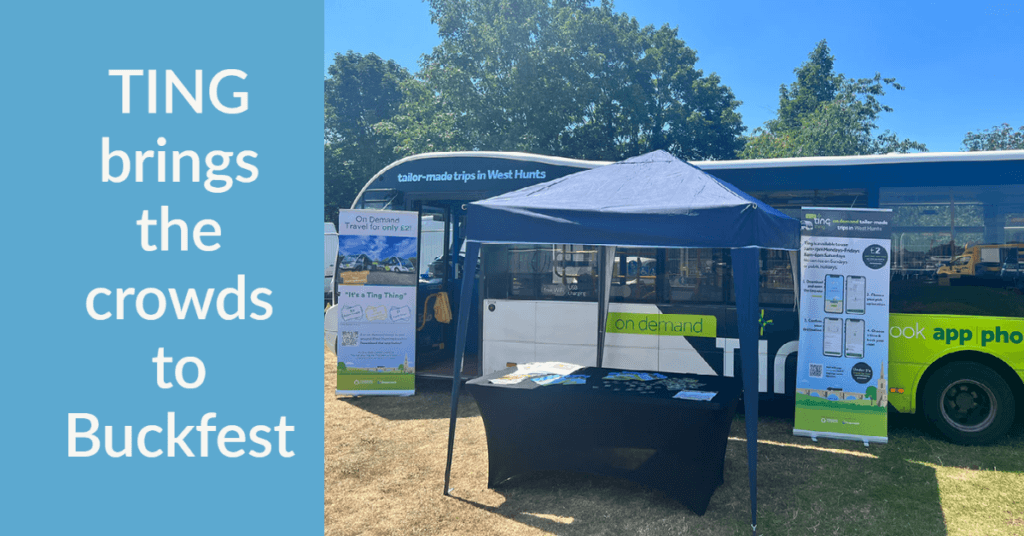 Ting brings the crowds to Buckfest
Last weekend saw Ting carry over 600 passengers to and from the popular Buckfest music festival on their free shuttle which operated between St Neots and Huntingdon via Buckden. In addition, the Ting team had a stall at the event so that locals could ask questions and learn more about the service. This is just one of many community events that the Ting service is supporting over the summer. 
Nicky Warnock, Organiser of Buckfest Music Festival, said: "We are very grateful to Stagecoach for their support in running the Buckfest shuttle bus service, not only was the shuttle very popular with festival attendees it meant that we were able to run a more sustainable event which is very important to us. We were very pleased to support Stagecoach with their public engagement activities for TING – lots of people visited the display bus at Buckfest and talked to members of the Stagecoach team to learn more about the TING service. We look forward to continuing our partnership with the Stagecoach team!" 
David Boden, Business Development Director for Stagecoach East, said: "We were delighted to attend the Buckfest festival in Buckden last Saturday, along with our 'Ting' team, to showcase our popular on-demand bus service and meet local residents who were keen to find out more about the service's app.  
We were pleased to also provide a free Ting shuttle bus for the festival, between St Neots and Huntingdon, which helped over 600 attendees travel to the event; taking away the stress of parking or having to fill up their cars, especially in light of the rising cost of fuel. 
Our on-demand bus service 'Ting' has already transformed the way many passengers use our services, allowing customers to book on-demand tailor-made bus trips on their smartphones, unrestricted by timetables. The service has been very well received by passengers, particularly those located in more rural areas of our network, and we are thrilled with the positive feedback received so far. 
We encourage our passengers to try out the new Ting service, if they haven't already, for more freedom when it comes to bus travel."  
A Cambridgeshire and Peterborough Combined Authority transport initiative, Ting covers the West Huntingdonshire area including key towns such as St Neots, Cambourne, Sawtry and surrounding villages. The service has been introduced to West Huntingdonshire to improve transport links for those living in rural areas, removing young people's dependence on parents for lifts and allowing local residents to lessen their reliance on cars.