Published on July 7, 2023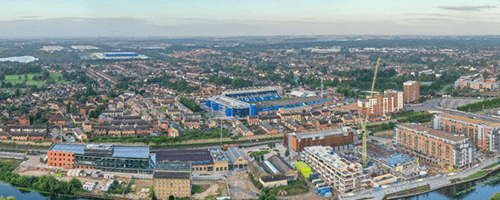 Work starts to beat traffic jams at key Peterborough junction and free City growth
Important improvements to a crucial junction on one of Peterborough's most congested parkways  starts this month as part of a major project funded by the Combined Authority to boost capacity at the busy intersection.
Following preliminary work to make walking and cycling routes near the junction safer and better, core construction at Junction 3 of Fletton Parkway is planned to begin on July 17. It aims to cut heavy rush hour traffic jams and improve the Junction's flow and efficiency, benefiting users of the whole local road network, and releasing opportunity for Peterborough's growth.
The £9.3million scheme is funded by Cambridgeshire & Peterborough Combined Authority  and is being delivered by Peterborough City Council and its contractor Milestone Infrastructure.
Work is expected to be completed early next year.
The junction is a keystone of the parkway network, linking the A1139 Fletton Parkway and A1260 Nene Parkway, offering access to south-west Peterborough and the Serpentine Green retail mall.
By making active travel better for walkers, wheelers and cyclists and boosting capacity at this strategic intersection, Peterborough's ambitions for housing and business growth are made more achievable and sustainable.
The project delivers the following work:
Adding a flare of 150m to A1139 Fletton Parkway westbound off-slip, creating a third lane.
Signalisation of the Nene Parkway approach to J3, with a four-lane approach.
Signalisation of The Serpentine approach to J3, with a four-lane approach.
A new footpath on Malborne Way between Saltmarsh and the Phoenix School.
Upgrade to cycleway between Shrewsbury Avenue and gated access of the Nature Reserve.