Published on July 29, 2022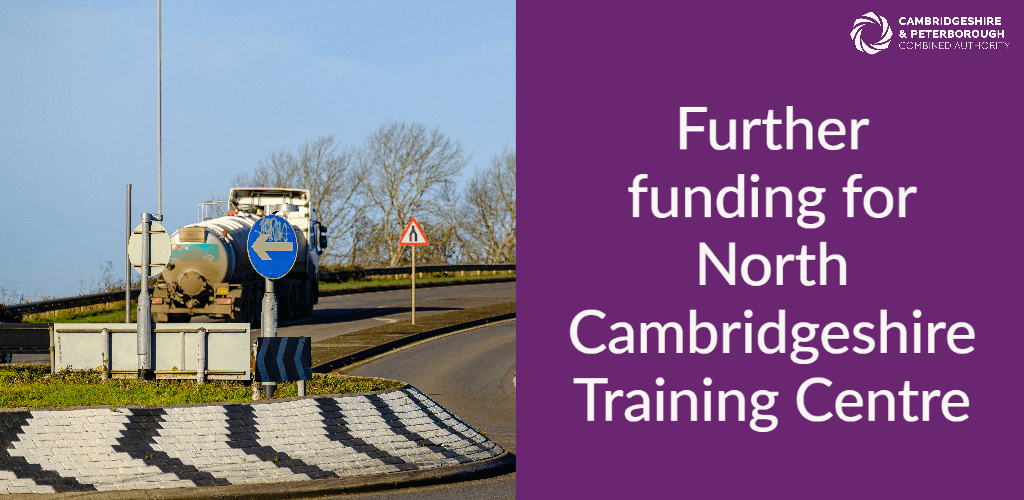 Further £300K allocated to North Cambridgeshire Training Centre by the Combined Authority
The Cambridgeshire & Peterborough Combined Authority Board have voted to allocate a further £347,000 to the North Cambridgeshire Training Centre (NCTC), Chatteris. The money is additional to £3.16m of Local Growth Funding the Business Board awarded the training centre in January 2020.
NCTC, which has been built on land owned by Stainless Metalcraft in Chatteris and will be managed and operated by West Suffolk College, will specialise in offering Engineering, Advanced Manufacturing, Management and Business Support apprenticeships to trainees from Fenland.
The further funding, which was allocated by Combined Authority Board Members on Wednesday 27th July 2022, is to make safety improvements to a roundabout off the A141 junction to allow entrance to the site. It has been allocated from the Transforming Cities Fund.
With the approval of the grant funding, Stainless Metalcraft and West Suffolk College, have agreed to increase the training that is to be delivered at the site:
New higher level 4 and 5 Apprenticeships and qualifications
To expand the range of qualifications being delivered to include Leadership & Management
To deliver courses for adult learners from across Fenland and adjoining Huntingdonshire
Plus provide much sought after additional commercial training to Fenland companies
Mayor of Cambridgeshire & Peterborough Dr Nik Johnson, said: 
"North Cambridgeshire Training Centre is going to be a fantastic asset, not just for Chatteris, but for the surrounding towns and villages too.
"The Combined Authority have committed to boosting the advanced manufacturing and engineering sector in Fenland and to improve levels of skills, which in turn will lead to better paid jobs and careers. NCTC will achieve just that.
"The Centre will cater for at least 80 local apprentices each year, helping them secure quality jobs and providing a pool of talent for businesses to grow."
Martin Lawrence, commercial director at Stainless Metalcraft, said: 
"We are grateful for the support we have received from the Cambridgeshire and Peterborough Combined Authority throughout this project and are excited by the opportunities the North Cambridgeshire Training Centre will bring to the local community over the coming years.
"With 41 organisations already committed to delivering apprenticeships at NCTC, it is clear there is strong demand for its offer and we are working closely with all parties to finalise the development as quickly as possible. We're looking forward to welcoming the first cohort of apprentices over the coming months, helping them forge rewarding, long-term careers in their chosen sectors and adding real value for the local community."
Laraine Moody, Principal Strategic Growth and Partnerships at West Suffolk College, said: 
"The significant demand for high quality training to be delivered in Fenland and the surrounding areas is an exciting opportunity for West Suffolk College and we are thrilled to be expanding our offering in response to this.
"Our wide range of courses will be informed by local businesses, and we very much look forward to working with new and existing partners to drive the economic success of Cambridgeshire and beyond. We truly believe that NCTC will make an incredible difference to the area, and we can't wait get started."