Published on March 10, 2021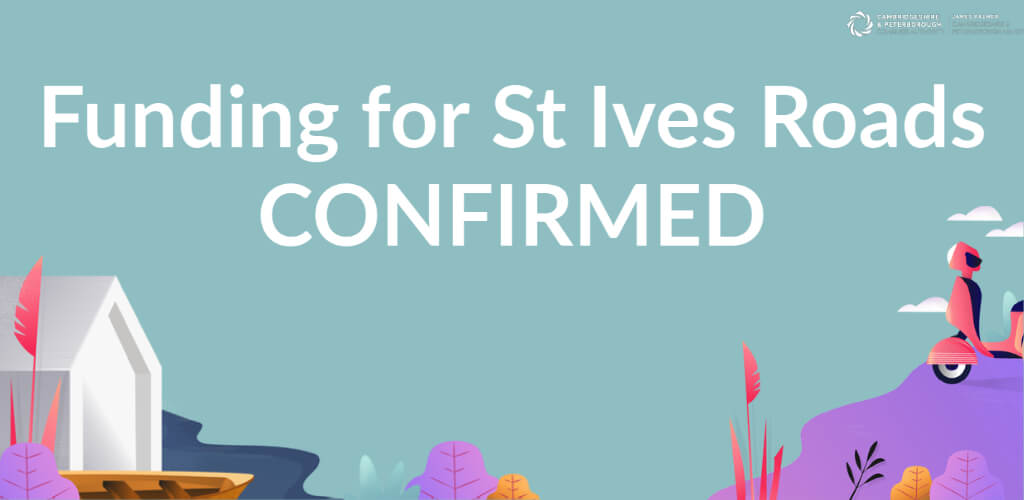 'Smart savings' on A141 to fund St Ives travel improvements
'Smart savings' on A141 business case can fund St Ives – with work starting this month        
Good housekeeping and joined-up planning hallmark the Cambridgeshire and Peterborough Combined Authority's proposal for the St Ives road network, with efficiency savings from one scheme's Strategic Outline Business Case – SOBC – being used to fund another.
Today's Mayoral Combined Authority Transport & Infrastructure Committee heard how savings on the A141 Huntingdon business case can now be used to fund the St Ives Transport SOBC – instead of using £500k allocated for the purpose from the Capital Budget.
Committee members unanimously approved the proposed programme of work for St Ives and agreed to recommend the Combined Authority Board reallocates £137k left over the A141 budget to funding the St Ives work.
James Palmer, Mayor of Cambridgeshire & Peterborough:
"This is great housekeeping and I congratulate my officers whose canny and prudent tendering has made these efficiency savings which can now be used to pay for the St Ives business case and get it moving ahead really quickly, starting this month.  And that £500k from the capital budget can be put to something else.
"We're currently engaging with road users, residents and local employers on the strategic options for the A141. If the Board agrees, we're planning a similar engagement for St Ives that will kick off in May.
"What we learn from both these public engagements will help us develop a joined-up and holistic strategy for both the A141 Huntingdon area and St Ives – enabling sustainable growth in housing and employment, the best overall solution for the wider area and finally delivering on this long- promised transport improvement."
Work on the St Ives project will start this month, with public engagement on the potential options in May, and the whole SOBC aligned with the A141 results and , back to the Transport & Infrastructure Committee by October this year.
Deputy Executive Leader of Huntingdonshire District Council Councillor Jon Neish:
"You won't be surprised to hear that I'm fully supportive of this. St Ives has a massive problem under normal circumstances, it's a really difficult area to manage, to stop St Ives becoming completely logjammed at certain times of the day. St Ives transport really does link in very strongly with the Huntingdon A141 – the two are inextricably linked – it's a conduit for a lot of transport coming down the improvement will help St Ives too and other areas of growth.
"I really do value this work and I'm really pleased to see that it's coming on board in alignment with the A141 and the speed that we hope it's going to move forward."