Published on November 10, 2021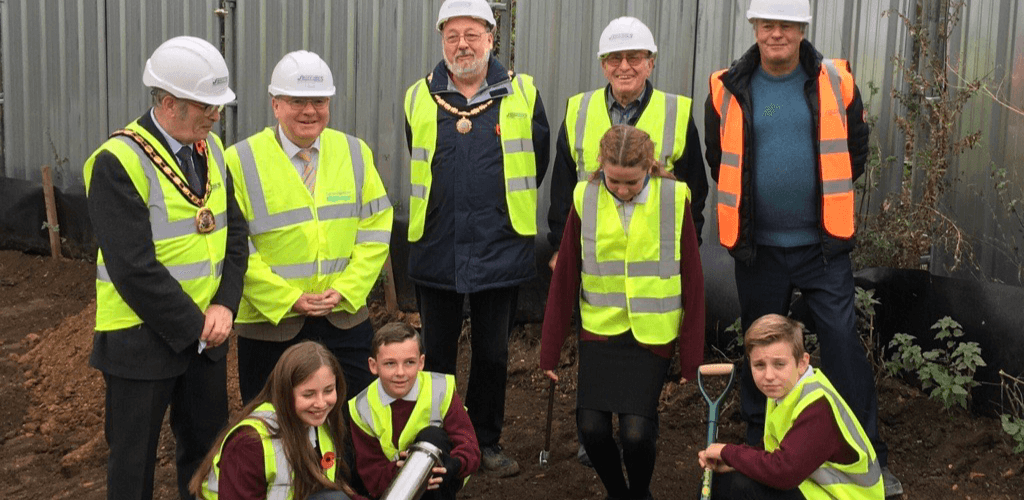 Time capsule looks to the future as partners celebrate progress at King's Dyke
Looking to the future and making the long wait for a new bridge at King's Dyke a thing of the past was the job in hand this week when a time capsule about the landmark project was buried at the site to inform generations to come.   
The bridge over the Ely to Peterborough railway line on the A605, is part of the King's Dyke Level Crossing scheme which also entails building a new road and the removal of the crossing. 
The Combined Authority has funded 75% of the £32 million development to improve traffic flow and improve travel locally and regionally, especially for communities around Whittlesey and Peterborough. The £24.4 million provided by the Combined Authority includes £8 million from the Local Growth Deal.  
A huge amount of work was commemorated on Wednesday when the time capsule, containing items documenting the history of the Cambridgeshire County Council scheme, was buried to enlighten those who in 25 years will have no recollection of being stuck at the level crossing day after day. 
The project to ease traffic congestion on the A605 is progressing at a fast pace and is on track to be completed by the end of 2022, with the time capsule ensuring that the huge efforts made by many to get to this point – and the struggles of construction during a pandemic – are properly documented for decades to come. 
The time capsule has captured moments through postcards, letters, photos and newspaper cuttings, and shares the memories of all those involved. Local school children have also included elements of living during a pandemic with letters, a face mask and a lateral flow test kit.   
Among those taking park in the ceremony were representatives from the county council, Fenland District and Whittlesey Town councils, the Combined Authority, which has chiefly funded the project, and engineers Jones Bros Civil Engineering UK. 
Cambridgeshire County Council's Chair of the Highways and Transport committee, Cllr Peter McDonald, said: "Building a bridge at King's Dyke will hugely benefit future generations living in Whittlesey and Peterborough, and the many years of hard work to get to this point deserve to be commemorated. 
"It is exciting to see how fast the project is being delivered and I can't wait to come back when everything is completed, which remains on course to be by the end of next year." 
Jones Bros was appointed by the county council to carry out the milestone project, beginning on site in March 2020. Piling work was recently completed at Star Pit – one of many large elements of the scheme.