The Combined Authority's Corporate Management Team oversee and drive the delivery of the projects that make a difference to you. Who are the Corporate Management Team?
While the Combined Authority's overall direction is decided by the democratically elected Combined Authority Board, the delivery of projects and the strategies that we use to fulfil the Board's decisions are driven by our senior Corporate Management Team.
As part of our commitment to transparent local government, our Corporate Management team's salaries are published annually in the Statement of Accounts.
Gordon Mitchell: Interim Chief Executive of the Combined Authority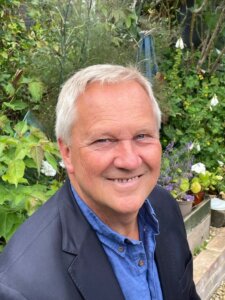 Gordon has extensive experience of supporting councils and partnerships through transitions. He has a strong track record as an interim CEO, having worked in four varied councils and after nine years as a permanent CEO in two unitary councils. He brings experience of sub-regional partnerships combining growth, transport, housing, action on climate change and inclusive economy initiatives from the Thames Valley, East Midlands, West Yorkshire and Oxfordshire.
"I am looking forward to working with the Mayor and Combined Authority to help them tackle the current challenges and strengthen the effort to improve the prospects and prosperity for Cambridgeshire and Peterborough. I have already got a strong sense that the key individuals want to more strongly develop their collective leadership, re-focus on delivery and champion the area as effectively as possible. There is much to do, but I am struck by the huge potential to improve the quality of life for people, communities and business in Cambridgeshire and Peterborough."
Nick Bell: Executive Director for Resource & Performance and Section 73 Officer for the Combined Authority
Nick and his family have lived and worked in and around the Cambridgeshire and Peterborough area for a number of years. He is passionate about helping to improve people's lives and is looking forward to helping the Combined Authority make a positive difference for residents, communities and businesses in the area.
Nick has been a senior manager in the public, private and charitable sectors for over 25 years. A qualified accountant with a degree in law, Nick has had responsibility for finance and other corporate services in a number of large organisations and subsequently was Chief Executive for a council and Federation of Colleges.
Richard Kenny: Executive Director for Economy & Growth
Richard is a lifelong advocate of devolution and has led strategy and delivery at multiple levels for local government, including working for two city councils focused on the comprehensive regeneration of two major core cities, led two inclusive economy and place portfolios for two county councils, and contributed to one of the biggest devolution deals in the country.
His work is also deeply embedded in other sectors that are the key partners of Combined Authorities, especially universities and senior business leadership teams, but also central government, health, policing, colleges and regions.